SpinSheet's Blue Friday 2017: Are you the type of person who'd rather be outside than in a shopping mall? We thought so. 
Box stores boast that they'll be open at 7 p.m. on Thanksgiving Day, giving you a happy two hours to spend with your family before you are clawing at a complete stranger over a $39 microwave. Maybe there's a part of your brain that thinks, "Perhaps I'd rather be in my office," when you're sitting in a lawn chair outside a dark Target at 2 a.m. in your child's sleeping bag.
And maybe there's a part of you that knows that, however much the kids love the iPad you just scored them, it really wasn't worth what you said to that woman in order to get it. 
But that's not you, is it? That isn't you at all. You're in with the "less is more" crowd,. So this Black Friday, you'll help us celebrate something different: Blue Friday. The idea is simple: on Friday, November 24, go down to the water.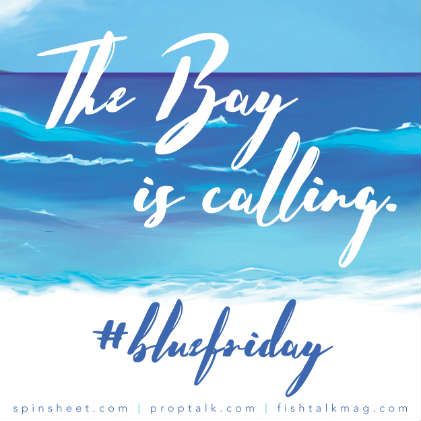 Take a friend, take a picture, take some trash with you when you go if you have a chance. It might be a little chilly, but you don't have to be there long. The whole point is to get outside and do something different the day after Thanksgiving. The whole point is to find a way to celebrate the day with something that's absolutely priceless, not clearance.
Take your picture and post it to social media. #bluefriday... Encourage your friends to do the same. Even better, encourage them to join you.From group paddles to beach cleanups, there's something to do wherever you are. There's no reason to find yourself at the mall if you don't want to be there. 
Blue Friday is a movement, and its revolutionaries are a tribe. We believe in the greater good; we believe in celebrating the real. Join us.