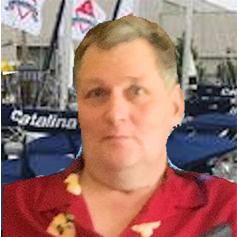 John Middleton has 40+ years of boating experience on vessels ranging from Sailboards & Hobie Cats to larger Power & Sail cruising yachts. As a child, John started out boating on the lakes of northwestern New Jersey. He has boated on the East & West Coasts of the US, the Great Lakes, Gulf of Mexico and even as far afield as France. His love of the water led him to a career in the marine industry. John started selling boats in Annapolis in 1986 and has been doing so ever since. He is very well known for his close association with the sale of Catalina Yachts in Annapolis, MD for over 30 year. In 1998 he and his partner formed Sail Annapolis, Inc. and it soon became one of the premier Catalina Dealerships worldwide.
Always one to keep up with the newest developments and changes in the yachting community, John was one of the very first Certified Professional Yacht Brokers in MD.
With the belief that the right boat, right equipment, and right budget are key elements, John has helped well over fifteen hundred boat buyers, some with 2 and 3 boats over the years, with the correct choices. He enjoys spending his free time with his wife, Julie, their 2 children and numerous friends.

Location: Annapolis, MD
Experience: 30+ Years
Hobbies: Sailing, Cruising, Family time
Email: [email protected]
Phone: 410.280.8878
---