We've gathered this list of places to watch Fourth of July fireworks from our calendar. Where will you watch?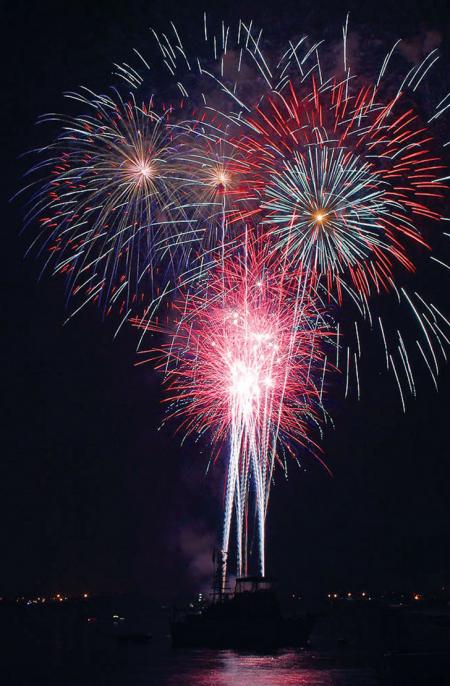 July 1
CBMM Big Band Night and Fireworks: 7 to 10 p.m. at the Tolchester Beach Bandstand of the Chesapeake Bay Maritime Museum in St. Michaels, MD. Rain date July 2. $6 CBMM members, $10 non-members. $2 if entering after 8:45 p.m. to watch fireworks only.
Crisfield Freedom Fest: 5 to 9 p.m. at Somers Cove Marina in Crisfield, MD. Family-oriented day with food, arts and crafts, military color guards, games for kids, and fireworks at 9:15 p.m. Hosted by the American Legion.
Yankee Point Fireworks: 2 to 11 p.m. at Yankee Point Marina in Lancaster, VA. Independence party with live alternative rock music by Black Velvet and fireworks. $5.
July 2
Chesapeake Beach Fireworks Over the Bay: Chesapeake Beach, MD. Rain date July 3.
Havre de Grace Independence Day Celebration: 2 to 4:30 p.m. traditional parade beginning at Warren Street and continuing down Union Avenue toward Tydings Park. Fireworks beginning around 9:30 p.m. at Tydings Memorial Park.
July 3
Oxford Fireworks: Beginning at dusk. Brought to you by the Tred Avon Yacht Club in Oxford, MD.
Rock Hall Fireworks: Presented by the Rock Hall Volunteer Fire Company and the town of Rock Hall at 9 p.m. Rain date July 5.
Salute to Cecil County Veterans: 8 a.m. to 5 p.m. Patriotic ceremony, food and refreshments, live music. North East, MD.
July 4
Annapolis Fourth of July Parade: 6:30 to 8:30 p.m. beginning at Amos Garrett and West Street, continuing around Church Circle, down Main Street, and ending at Market House. U.S. Naval Academy Band will perform from 8 p.m. to dusk at Susan C. Campbell Park at City Dock. Fireworks at 9:15 p.m.
Baltimore's Fourth of July Celebration: Commemorate Independence Day with live music and celebratory fireworks in the heart of downtown Baltimore. 7 to 10 p.m., fireworks start at 9:30 p.m. Presented by Ports America Chesapeake.
Chestertown Fourth of July Fireworks: 9:20 to 9:40 p.m. Wilmer Park, Chestertown, MD. Free.
Cape Charles: Old-fashioned Fourth of July parade from 10 to 11 a.m. with fire trucks, horses, children's decorated bikes, and the singing of the national anthem. Fireworks off the Cape Charles, VA, beach at dusk.
Cambridge: Free concert at 7 p.m. with the Mid-Shore Community Band playing patriotic favorites at the Amphitheater at Sailwinds (next to the Dorchester Visitor Center at 2 Rose Hill Place). Watch the fireworks at dusk from there, or from Long Wharf Park or Great Marsh Park.
Newport News Fourth of July Stars in the Sky: 7 to 10 p.m. at Victory Landing Park in Newport News, VA. The Virginia peninsula's largest Fourth of July event, featuring live music, food vendors, free children's rides, and fireworks over the James River. Free admission and parking.
Norfolk Fourth of July Great American Picnic and Fireworks: 5 to 10 p.m. at Town Point Park along the Downtown Norfolk, VA, waterfront. Guests can buy traditional all-American fare, including hot dogs, hamburgers, corn on the cob, and watermelon, and then relax on the lawn listening to live entertainment. Fireworks at 9:30 p.m.
Dundalk Independence Day Celebration: 83rd annual parade will begin around 8:15 a.m. Fireworks around 9:15 p.m. at the North Point Government Center in Dundalk. Presented by Dundalk Heritage Fair Association.
OC July 4 Concert and Fireworks: Northside Park, 125th Street, Ocean City, MD. Enjoy a free concert at 8 p.m., followed by fireworks at 9:30 p.m.
Solomons Fourth of July Celebration: Fireworks beginning between 9:15 and 9:30 p.m. Solomons, MD. Presented by the Solomons Business Association.
Washington, DC: The National Independence Day Parade begins at 11:45 a.m. along Constitution Avenue, between 7th and 17th Streets. The parade consists of bands, fife and drum corps, floats, military units, giant balloons, equestrians, drill teams, national dignitaries, and more. The parade is followed by the Capital Fourth Concert at 8 p.m. on the West Lawn of the U.S. Capitol. Fireworks begin around 9:30 p.m. after the concert. The parade, concert, and fireworks are free.
If you see any errors or omissions in this list, please email [email protected]
For safety tips while anchoring during fireworks, click here.