THIS JUST IN: PLEASE NOTE THAT THIS EVENT IS POSTPONED UNTIL SPRING. STAY TUNED TO SPINSHEET FOR MORE
Chesapeake Outdoor Group's 12-Ounce regatta is an annual fundraiser for local charities. Here's how one member describes it: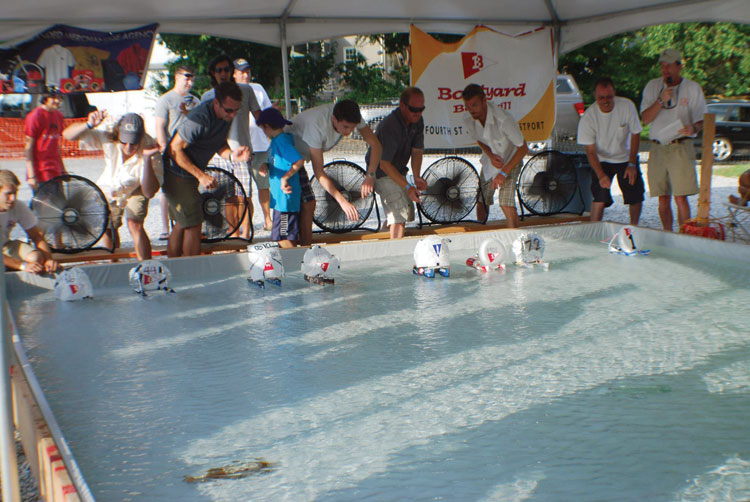 And then it came to pass that Ron Katz, our race committee chairman, said let the gracious supporters of Back Creek Conservancy and the Annapolis SPCA build small boats out of a can and sail them to win the Chesapeake Outdoor Group's (COG) 14th annual 12 oz. Regatta!
For those unfamiliar with this event, teams and individual competitors build boats out of identical materials given out by the race committee. These downwind monsters race multiple heats in a pool built in the front area of the EDC. Fans provide the breeze and the competitors provide the excitement. Legends are made and champions are defeated in the quest for a faster boat (built out of a couple cans).
At any rate, it is a lot of fun, and the proceeds go to benefit the Back Creek Conservancy and the Annapolis SPCA. This is a kid- and pet-friendly event and runs rain or shine. There will also be the normal Oktoberfest fare of bratwurst, sauerkraut, and oysters on the half-shell.
For more information contact Winston Kinard at (410) 263-2380. Vendors are encouraged to attend and display their wares. See more about COG and what it does for the community at our website.
by Winston Kinard