The Chesapeake Yacht Club (CYC) has awarded scholarships to two Shady Side students and two Shady Side schools. These awards, sponsored by CYC's Silver Stars (consisting of CYC's previous Commodores), were based on competitive applications submitted by students and educational institutions in Shady Side. The applications were evaluated by a committee which included representation from the community as well as several members of the Silver Stars.
The student awards were given to Cassandra Keenan and Shannon Donnelly and the school awards were given to the Shady Side Elementary School, Geoffrey Casey-Principal, and Anne Arundel Early Head Start, Carmelia Hicks-Director.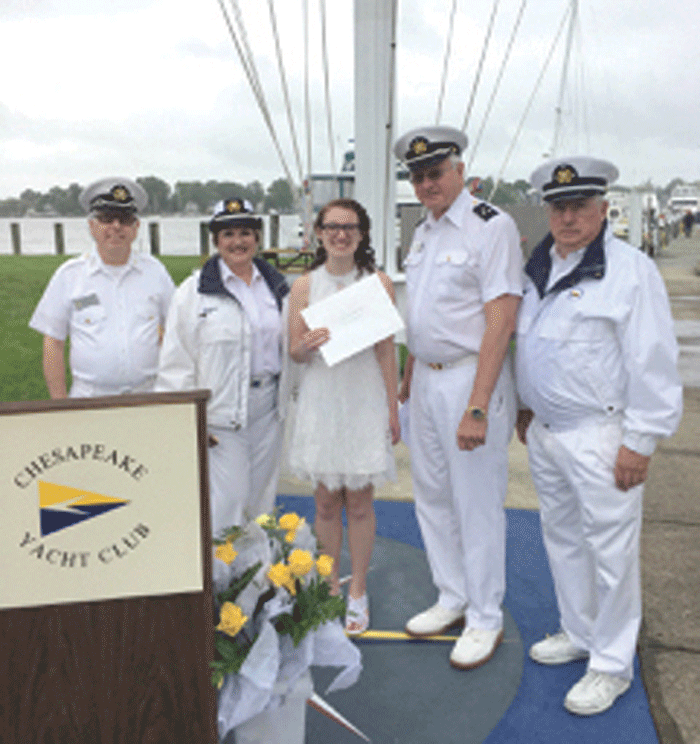 Cassandra Keenan is a senior at Southern High School with a weighted GPA of 4.38, which included many AP courses. She has worked as a lifeguard for Anchor Aquatics, volunteered at Cedar Grove Methodist Church Nursery, organized and distributed food to low income families for South County Area Network, participated in a youth mission to fix up low-income housing, and been a swim coach a well as a Girl Scout leader. Her letters of recommendation cited her musical talents (she is also a mezzo soprano), academic achievements, leadership, and enthusiasm.
Shannon Donnelly is a freshman at Anne Arundel Community College (AACC). At Southern High School she was an outstanding student, with many Advanced Placement awards, and was an athlete and elected school government representative. Although she was accepted at 17 colleges and universities, a serious illness in her family forced her to forgo attending a four-year institution. Not to be stopped, she enrolled at AACC and has continued to excel. At AACC she is a Dean's List student. Shannon has worked at CYC for several years in various positions in support of CYC's dining room operation. Shannon's recommendations stressed her leadership capacity, work ethic, and commitment to excellence.
Situated conveniently on the West River in Shady Side, Maryland, Chesapeake Yacht Club welcomes a diverse community of boaters and offers the finest sail and power boating experiences on the Bay. Members enjoy a casual, family and pet-friendly environment featuring social activities, organized cruising, regattas and the camaraderie of fellow members set in a beautiful location.