The Annapolis Fleet Corinthians Sailing Association kicked off its annual spring cruise at Hemingway's Restaurant (Bay Bridge Marina) Saturday, June 3. Twenty-nine boats in total were registered to participate in the two-week adventure for a portion or all ports.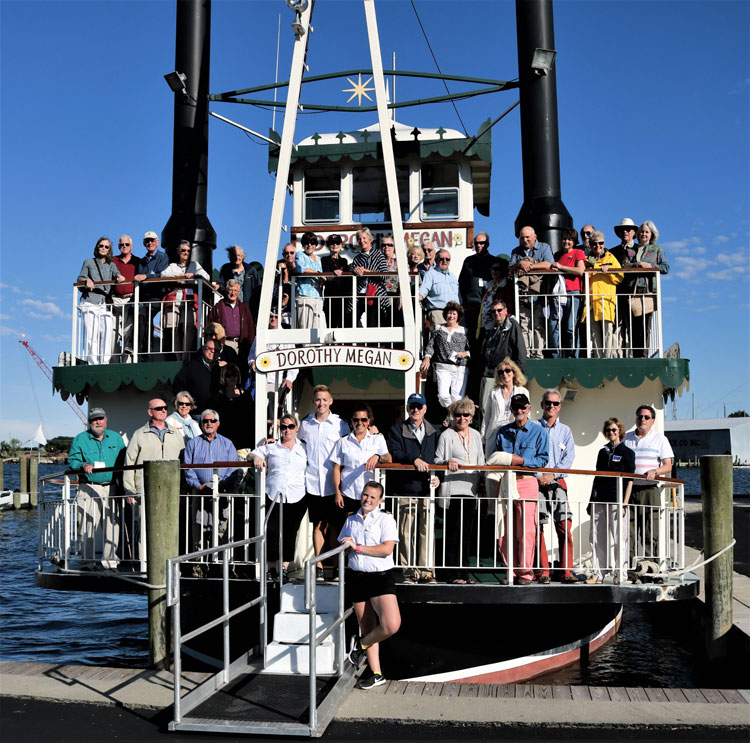 Other ports of call for the first week included Eagle Cove, off the Magothy River for raftup dinners, then south to the West River and Galesville, followed by Boby Owl Cove off Broad Creek (Choptank River). On the West River, most docked at historic Hartge's Yacht Harbor and others anchored out, which was a good place to ride out the overnight rain. On June 6, racing commenced at 10 a.m. for the 15-mile course. Once rafted in the cove, 21 boats participated in its first progressive dinner via dinghy. Boats were assigned courses and the "movable feast" proved most enjoyable and was a very successful event that will most likely be repeated in future cruises.
Cambridge Yacht Club was our destination for Day 5 and Day 6. A "Dark & Stormy happy hour" in the tiki bar set the theme for the first evening as the weather truly was dark and stormy, more typical of October rather than June. Fleet Captain, Hank Recla, served as the celebrity bartender for most of the evening. The pinnacle of the 2-day stay was the riverboat cruise aboard the Dorothy Megan. Members and guests had dinner and dancing to the sound of a live Dixieland band as we cruised the Choptank.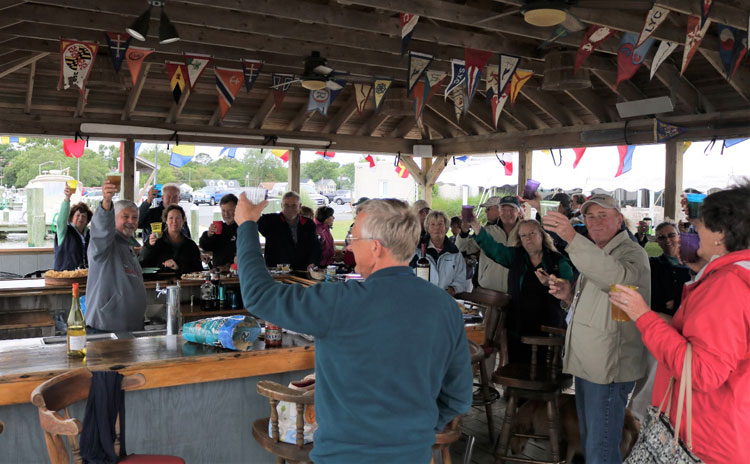 Day 7 took us to Trippe Creek off Tred Avon in Oxford for an anchor-out with dinghy race the next morning. Teams of three dinghies performed a monkey relay race with sock monkey hand-offs. Master Seaver served as the race mark for this freestyle race. No monkeys were harmed in the event. After a nice lay day in Oxford, the fleet enjoyed an impromptu happy hour at Brewer-Oxford Marina's new clubhouse followed by an outdoor performance of A Midsummer Night's Dream or watching the Belmont Stakes.
The next two days were plagued by heat and zero wind, so races were cancelled. Eleven boats rafted in Hudson Creek while the remainder of the fleet made a beeline for Solomon's where they rejoined for cocktails and potluck at Zahnhiser's Yachting Center the following day. As always, Terry Walters and her magnificent staff took care of everyone with the utmost efficiency.
June 13 was another scorcher with the heat index over 100 degrees. Nearly 40 Corinthians and two guests traveled to Sotterley Plantation for a private afternoon tour preceding a catered barbecue with live music overlooking Sotterley Creek. Despite the heat, many made it to the dance floor for what was an enjoyable event. Many thanks to Chris and Bud for their wonderful music sets!
Day 12 took us back to the Choptank to Dun Cove this time for an anchor-out before heading for the final destination of St. Michael's. Winds clocked as high as 30 knots on the nose with three- to four-foot seas made the slog a slow challenge. The next morning, many boats ventured through Knapps Narrows as a shortcut to St. Michaels.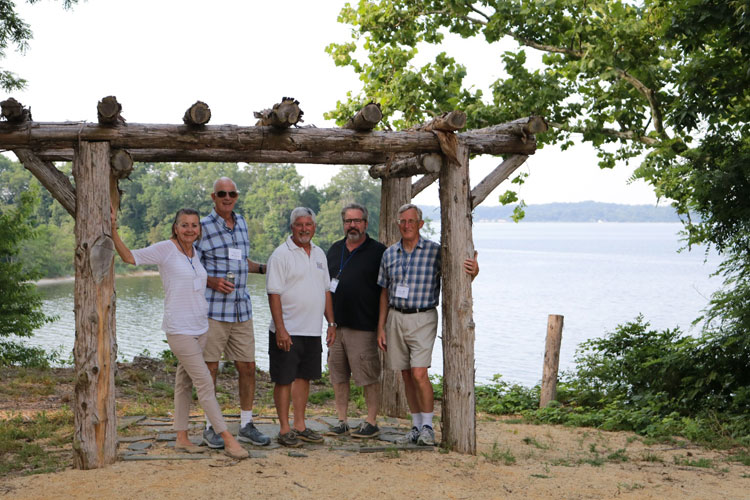 Closing dinner was held at the Miles River Yacht Club with appetizers overlooking the marina. Dinner included an awards presentation for the spring cruise racing results: First place went to David and Jenny Shinkfield on Carpe Diem, second place to Hank Recla and Crew on Bay-Tripper, and third place to Keith and Helen Drewett on Excalibur. Special mention to Walt Parsons on Eco Lima. Walt placed third in two races and single-handed to each port of call.
Many thanks for all of the hard work of Afloat Chair, Hank Theuns, and port captains Denise Gill, Rich Tull and Michael Zoll for another superb event. The weather for most of the fortnight was pleasant and leant itself for an enjoyable spring cruise. We are now looking forward to the other sailing events of the season and a few will be heading north for the annual cruise in Narraganset Bay.
By Susan Theuns