The Patapsco River Power Squadron (PRPS) invites the public to attend a navigation seminar Saturday, February 10, from 9 a.m. to 1 p.m. at the West Marine store on Ordnance Road in Glen Burnie, MD. The cost is $50 plus materials.
"Navigate the Bay in a Day" will cover coastal piloting, celestial navigation, use of a compass, chart reading, dead reckoning, plotting, and position-fixing skills. NOAA charts of the Chesapeake and the Maryland Cruising Guide will be used to plot trips to your favorite cruising or fishing destinations on the Bay.
This course is designed to either get the novice pointed in the right direction or help the old salt hone his or her skills. Use your own charts or purchase from us. Seating is limited seating. To reserve your spot please contact Brian Becker at (410) 442-1230 or [email protected]. Questions may be directed to Louis Kates at (410) 655-3445(h) and (410) 937-0338, or [email protected].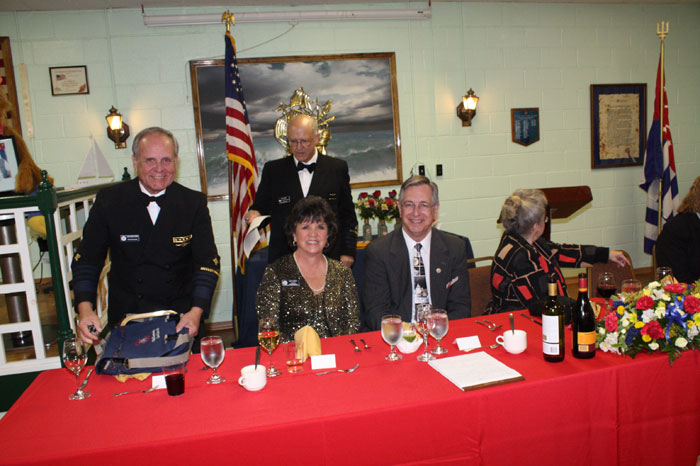 Pictured in the photo, which was taken during the PRPS's 100th anniversary are, from left to right: Luis Ojeda, SN, Chief Commander of the United States Power Squadrons, his wife Dot, Jeff Hoedt, head of boating safety U.S. Coast Guard, standing is Louis Kates, AP, past commander of PRPS, and seated,his wife Sharon
The PRPS is a unit of the United States Power Squadrons, America's Boating Club. Learn more at

usps.org

.