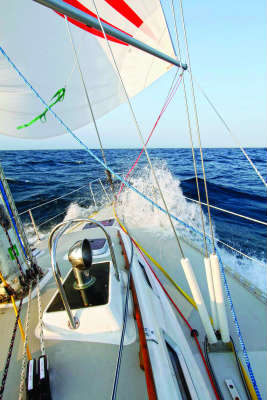 To accompany Tracy Leonard's article, "Sailing Offshore Takes Practice and Preparation," in the April issue, here are some resources for more information:
If you can't make the US Sailing sanctioned Safety at Sea seminar held in Annapolis, but are still looking for ground school learning opportunities, here are several:
Safety at Sea seminars in other cities. US Sailing offers Safety at Sea seminars in cities across the United States. Click here to see if another date and location fit into your learning schedule.
Download the slides from the 2016 US Sailing Safety at Sea seminar held in Annapolis
The Storm Trysail Foundation holds Safety at Sea seminars for adults and juniors. The next adult Safety at Sea is scheduled for May 20 at the campus of the State University of New York (SUNY) Maritime College at Fort Schuyler in the Bronx, New York. A Junior Safety at Sea seminar will take place in Annapolis on June 22.
The Seven Seas Cruising Association hosts a gam at Camp Letts every fall and gives sailors new and old a chance to learn about all things cruising.
The Annapolis Newport Race committee hosts a series of seminars for registered racers to prepare them to go offshore. A list of upcoming seminars is available at annapolisnewportrace.com
The Annapolis Bermuda Race committee hosts a similar series of seminars open to all interested sailors. For a schedule of upcoming seminars, check out bermudaoceanrace.com/events.
UK Sailmakers has an educational video library currently consisting of 10 safety at sea videos. The videos are available through uksailmakers.com/learning-and-safety-at-sea-videos.
Plus, there are many more resources, including books, blogs, and seminars at local chandleries.
Navigation Courses
Man cannot rely on electronics and GPS alone. For those wanting a primer on old-fashioned navigation using paper charts, compasses, and parallel rulers, the following hands-on, instructor-led seminars are available:
Annapolis School of Seamanship offers a trio of navigation courses on basic navigation and piloting, navigation 2, and introduction to celestial navigation.
J World in Annapolis and Sail Nauticus in Norfolk teach US Sailing's Coastal Navigation Seminar. For more information, click here or click here.
Books That Help Bring the Whole Skill Set Together
These are but a few of the books that can help a sailor understand some of the skills and equipment needed to sail offshore successfully.
Annapolis Book of Seamanship by John Rousmaniere
The Art of Seamanship: Evolving Skills, Exploring Oceans, and Handling Wind, Waves, and Weather by Ralph Naranjo
The Voyager's Handbook: The Essential Guide to Blue Water Cruising by Beth Leonard
Nigel Calder's Cruising Handbook: A Compendium for Coastal and Offshore Sailors by Nigel Calder
Marine Medicine: A Comprehensive Guide by Eric Weiss and Michael Jacobs