Old Point Comfort Yacht Club hosted a multi-state field for the first 2017 Mid-Atlantic Regional Sunfish Championship. The race was a qualifier for the 2018 Sunfish Worlds. Winds for the weekend tended toward 20 knots or more for Saturday where only four of the nine boats entered finished the five races Saturday. Winds were more manageable on Sunday starting around 12 knots, but ending with gusts into the high teens. An additional three races were run on Sunday for a total of eight to allow one throw out. Prizes were awarded for places one to four, and for the masters classes, where Brian McGinnins from Patchogue, NY, placed bullets in all his races for seven points and was also the Apprentice Master. John Butine from Charlotte, NC, was second behind Brian all weekend with 13 points and was the Master Champion. Johnnie Meyer, Jr. from Mechanicsville, VA, was in third place with 24 points. Tim Etherington from Hampton VA, was in fourth place with 36 points and the Grand Master Champion. John Meyer, Sr. was the Great Grand Master Champion and placed eighth with 61 points. What a great sport were a dad and son can compete and also still be sailing into their 70s.
The field was rounded out with Frank Patch, Jr. from Moyock N.C., who was fifth with 44 points; John Herron from Hampton, VA, was sixth with 46 points; Kevin Mitchell from Andover, OH, was in seventh place with 58 points; Ken Damon from Suffolk, VA, was in ninth place with 68 points. Thanks to Jonathan Romero, the Principal Race Officer for the event for a flawless effort. Thanks to all the sailors who traveled to make the event a success.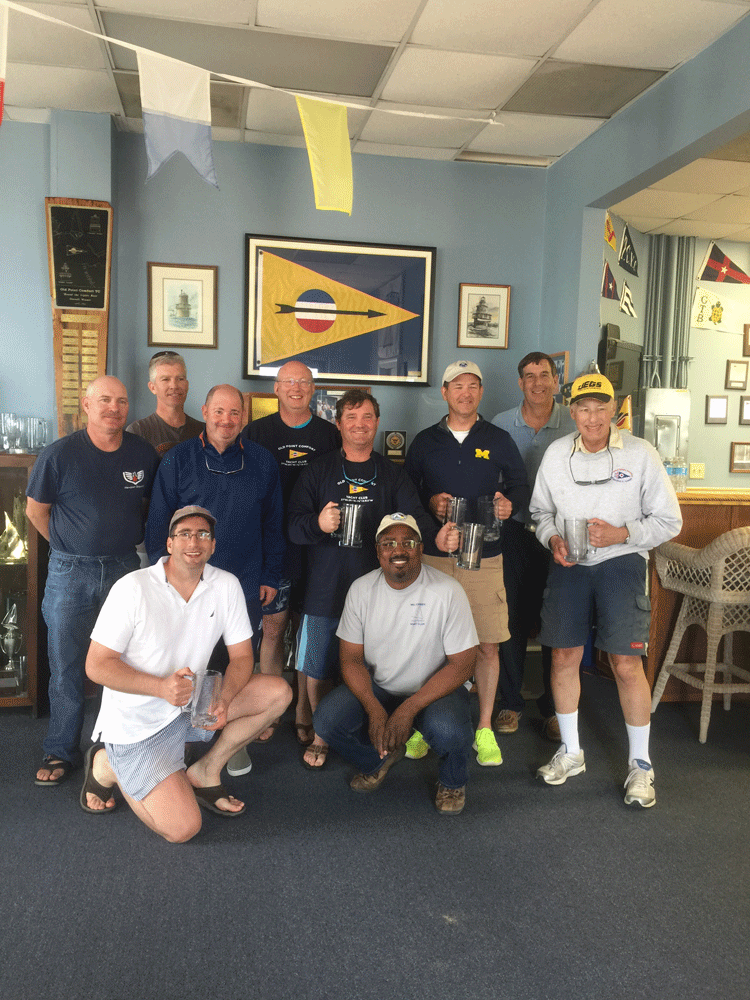 Pictured in photo, standing from left to right, are Frank Patch Jr., John Herron, Kevin Mitchell, Tim Etherington, Brian McGinnis, John Butine, Ken Damon, John Meyer Sr. Kneeling left to right are John Meyer Jr. and Jonathan Romero (Principal Race Official)
Saturday May 13 was the start of Old Point Comfort Yacht Club's Yankee Station Series. Saturday racing will be held in Hampton Roads with a series of short races. Racing in June will be out at Yankee Station. Non-members are welcome in the series. Registration is online at opcyc.org.
By Tim Etherington, Rear Commodore of Racing, Old Point Comfort Yacht Club