Dockside Raft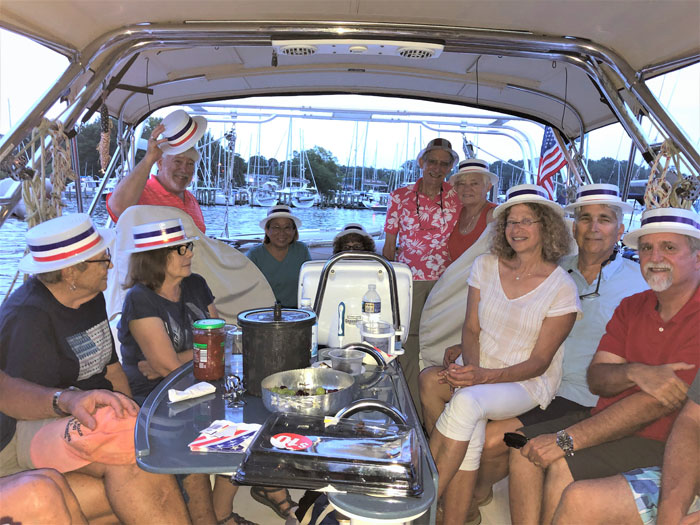 As most sailors on the Chesapeake Bay know, the best plans allow for weather that doesn't agree with the plan. The Sailing Chavurah had a great plan for the entire weekend of July 4-7 to get together and celebrate our Nation's independence, watch fireworks, and enjoy great foods and camaraderie. We were going to raftup in different locations, sail during the day, and perhaps jump in the water of a spring-fed creek with no jellyfish.
Well, Mother Nature laughed and threw us curveballs of feel-like temperatures of 100 degrees with enough humidity to curl everybody's hair. And to make it even more interesting, storms with big gusts and plenty of rain. We just shifted the anchor to a centrally located boat, brought the food and drink, and partied in Eastport on sailing vessel Harvest Wind. After dark, we had an ideal location to watch the Annapolis fireworks, and they were really great this year.
Chavurah is a Hebrew word that describes a group of friends who come together to share common interests. We raft up in beautiful places on weekends and on extended cruises and visit towns and cities while sometimes staying at local marinas. Our members have sailboats docked in the Chesapeake Bay area. For more information click to our club webpage.
by Julien Hofberg