The 2017 Wilmington Sail and Power Squadron annual summer cruise, which included sail races, was a big success. Races were for the most part held with very breezy conditions, often with headwinds and adverse tidal currents. Courses were laid out generally along the paths between the various evening destinations, and allowed sailors to experience some friendly competition without diverting too far from the course to their afternoon anchorages or ports of call.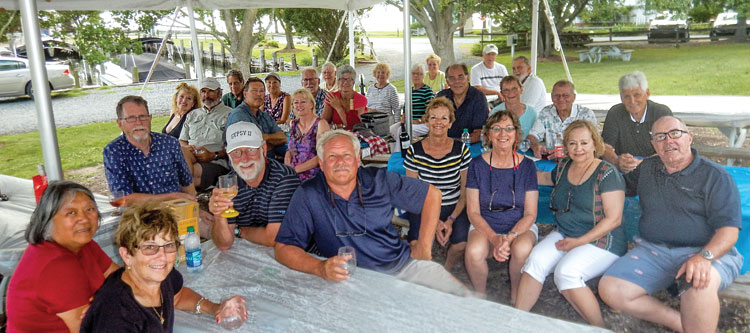 We continued with our informal procedure in which boats timed their own starts and finishes with a set "window" of time for the start each day from 9:30 to 9:45 a.m. Starts were held on each of the five days with good participation from among the 11 sailboats on the cruise.

Eight of the boats made at least one start, but only two completed races on three of the four days that they were held, namely Brio and Mystic Star. Our "Wrap Party" took place under the tent at Brewer Oxford Boat Yard and Marina in Oxford, MD.
Wilmington Sail and Power Squadron members hail from Delaware, Maryland, New Jersey, and Pennsylvania. Our boating is mainly done on the Chesapeake Bay and its tributaries. We offer many social events, including on-water activities, picnics, and meetings. If you'd like to learn more, check out our website.

By Don Engler