Annapolis sailor Jack Sherwood says farewell to his beloved sailboat Erewhon...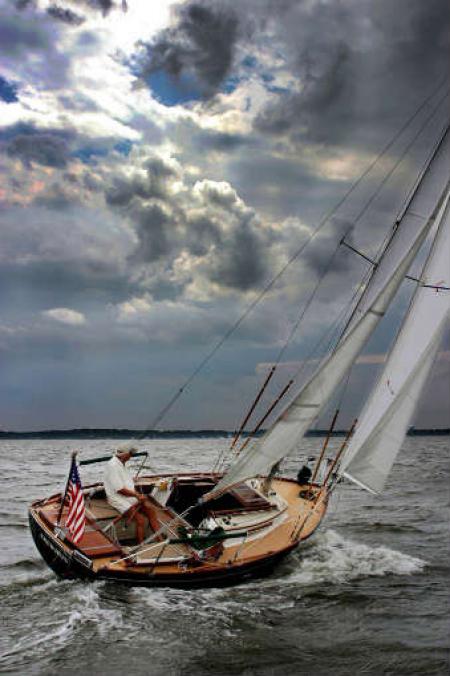 My demanding, intimate, and all-consuming relationship with a classic Sailmaster/C sloop built in Holland in 1962 has run its course after 30 years of cruising the middle Chesapeake Bay and environs. An unfortunate illness has forced me to put her on the market and retire from solo sailing. (Am I actually writing these words?)
Perhaps you have missed seeing us daysailing several times a week out of Spa Creek—a white-haired geezer in a dark green, S&S-designed 22-footer with ample varnish. I found this vessel after being inspired by Robert DeGast's classic accounting of his solo Sailmaster cruise of the DelMarVa Peninsula in "Eastern Shore, Western Shore" [Johns Hopkins University Press].
Our typical daysailing course in a southerly was a close starboard reach over to Kent Island, tacking over toward Thomas Point Light and beyond, with a broad starboard reach back to Kent Island, followed by a gybe and a reaching run homeward.
Boring? Hell, no. I always focused on performance and never tired of this routine. Over the decades I had carefully rigged and tricked out Erewhon for single-handing with what I like to think were some innovative ideas and solutions. Arthritis was a curse I learned to sail with, and it made me improvise ways to make things easier on the old man. The boat never failed me in three decades.
We had cruised as far away as Lewes and Rehoboth Bay; south on the Eastern Shore to Crisfield, and to the Rappahannock on Virginia's Western Shore. In between were many, many obligatory visits to Oxford and St. Michaels with river explorations to Chestertown, Gibson Island, Solomons, and poking about rivers such as the Patuxent, Choptank, Miles, Tred Avon, and Chester.
My monthly "Bay Tripper" column in Soundings Magazine had a run of almost 15 years. I also wrote for other boating magazines and major newspapers. In 1992 my critically-acclaimed book, "Maryland's Vanishing Lives," was published by the Johns Hopkins University Press and is in its second printing.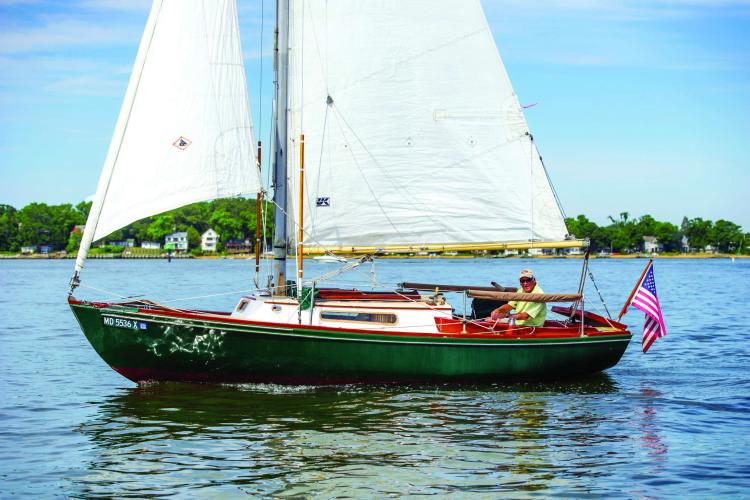 Last winter, prepping for the 2016 season, I rehabbed and refashioned my varnished lazerette hatch and refinished other varnished woodwork, which I protectively covered with Sunbrella. The Cover Loft made a beautiful set of cockpit cushions. New sheets, halyards, lazyjacks, main downhaul, and jiffy reefing lines were added. The boom was sanded and refinished.
Erewhon was hauled out and painted the end of April, and we were ready to start the season. Then my 2014 Yamaha 4/4 outboard inexplicably failed but was covered by warranty. During a month-long replacement of the gear-shift mechanism, I bought a new Mercury 4/4—which gave me two months of sailing (June and July) before my real world came crashing around me in tremors.
In early August, as I was planning an annual cruise to Oxford, a startling crisis enveloped my family. My middle son, Eric (surfer, not sailor), who was my on-call boating helpmate for years, died suddenly of cardiac arrest on August 3. He, alone, was responsible for extending my sailing life into the age of 83.
My last sail was August 9. I missed Eric's funeral mass and memorial reception on August 11 when I was stricken the day before with severe stomach cramps, and my primary physician dispatched me to E/R. In the meantime, my youngest son, Scott, of Washington, DC, took charge of the complicated operations involving his late brother, sister-in-law Mary Barkanic, and hospitalized father.
Where Eric had extended my sailing life, Scottie has assumed responsibility for extending whatever is left of my real life—such as it is in a bucolic horse-farm setting with no water in sight.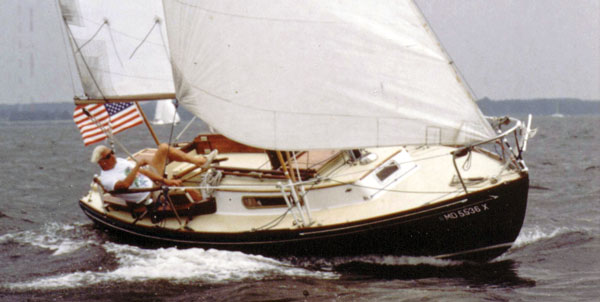 My best friend, retired Caribbean schooner captain John Barry of Oak Island, NC, arrived for two weeks to handle Erewhon's new dockside life. He listed her with another good friend, broker Michael Johnson of Eastport Yacht Sales. I hope she finds a new owner/caregiver with a kind and gentle touch; maybe even a senior single-hander who is downsizing and looking for an early fiberglass classic rigged specifically for soloing.
My oldest son, Mark, arrived on emergency family leave from Bangkok with wife Betsy and my only grandchild, Claire, 15, who is very keen on sailing. He is a Foreign Service diplomatic courier with the U.S. State Department.
A final family sail in Erewhon with Barry at the helm is planned before all out-of-towners depart for home. They will circle Thomas Point Lighthouse, long my favorite historic Bay landmark.
So keep an eye out for Erewhon this autumn, looking her best on a close reach with the self-steering rig fine-tuned and responsive, as always—as if I wasn't even needed onboard.
This Just In…
Erewhon has been purchased by Winston Groom, a Southern novelist and accomplished non-fiction writer. Best known as the creator of Forrest Gump (the Oscar-winning Tom Hanks film), Groom, of Point Clear/Mobile Bay, AL, is an old friend of Sherwood. They were reporters at the old Washington Star newspaper (in DC) and charter members of the "Star Navy" of wooden sailboats in the 1970s. Erewhon will be transported to Mobile Bay and tied up at a private dock. The brokerage was handled by Mike Johnson of Eastport Yacht Sales in Annapolis. ~JS
Top photograph by Bob Grieser, middle one by Al Schreitmueller, bottom one by John Barry.