Wind the Children's Book and its Maryland Author: We recently caught up with Maryland author Marcia G. Moore, whose new children's book, "Wind and Oyster Jack"—a story about an waterman, his boat, and Wind (a speaking character)—is available as a last-minute holiday gift at regional stores. Here's what she had to say:
What kind of sailing or other boating do you do and where?
I've been studying the effect of wind on sail and sailors for more than 40 years. When my husband Jack and I lived in New York, we explored the Hudson River in a vintage O'Day Daysailer (hull number 63). Later, we cruised on Long Island Sound and the Jersey coast in Catalina sloops.
In 2002, we moved to Maryland's Eastern Shore so we could spend more time sailing. What we've done is spend more time sitting on our deck, cool drinks in hand, watching the sun set behind the cruising boats anchored on the Miles River.
We recently acquired a Boston Whaler 17, which is fun for quick trips to St. Michaels and the local picnic beach. We still have the O'Day Daysailer, plus an inflatable dinghy, canoe, kayak and rowboat. And a Labrador Retriever that's suspicious of them all.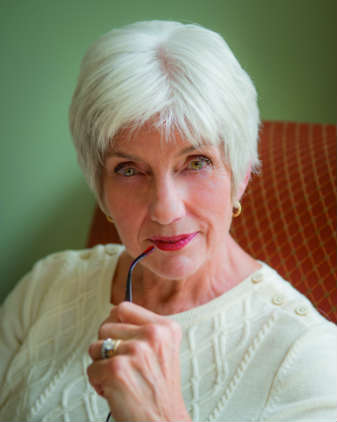 What inspired the story?
Years ago, we were driving along the New England coast, and we passed a small airport with a windsock flying. That night, I literally dreamed up this story, but I needed to have a reason for Jack to go sailing. It didn't all come together until we moved to Maryland. Chesapeake Bay skipjacks are the last American boats to work under sail. They look like big white birds skimming over the water. They are beautiful!
How did you choose your illustrator?
Our illustrator, Heather Crow, is a well-known local artist and art teacher. We had one requirement: She had to draw a cat in every illustration, to honor the memory of my very dear cat Latte. Heather doesn't like cats, but we were persistent. Oyster Jack's cat drawings are just wonderful. But I'm not sure if Heather wants to do a sequel with more cats.
Do you think this book would be of interest to powerboaters as well as sailors?
I think this story is really about friends learning to help each other. Of course, if the story is about a boat and one of the characters is Wind, so it helps to have a sailboat. I'm thinking of a new "Wind" story that might have a powerboat. Don't tell Heather.
Where can we buy your book?
The Chesapeake Bay Maritime Museum in St. Michaels which sells "Wind," and it's available now at the Annapolis Maritime Museum, plus Crackerjacks Toys and The News Center in Easton and other local stores. It's just out, so I think that more places will stock the book, and I'll have the chance to do readings (in the future).