Top Racing Events To Put on Your 2020 Calendar
This is NOT a complete Chesapeake Bay sailboat racing calendar, but rather a rough list to help you plan your schedule; it's (mostly) based on larger big-boat regattas. The CBYRA-sanctioned events have now been added (as of Feb. 11). Send updates to [email protected].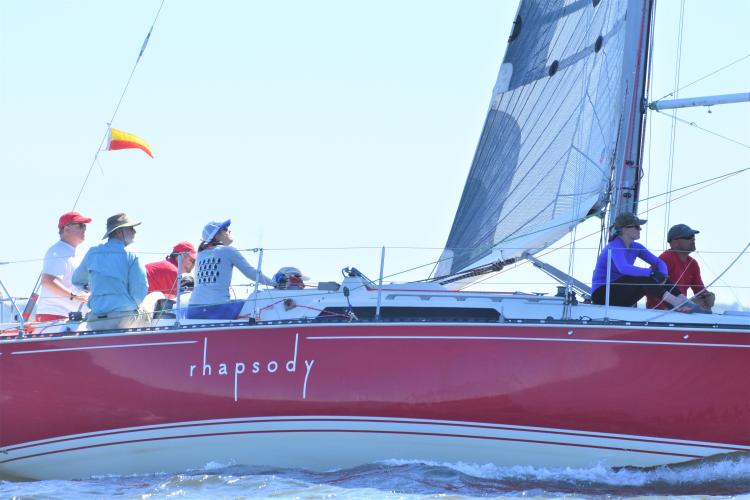 The list below is for the mid- to upper Bay. Find the Southern Bay racing calendars North division here and South division here
If you seek dinghy racing events, it's best to keep your eyes on individual club websites—for example, Severn Sailing Association will host events almost every weekend in season!
April 11 Naval Academy Sailing Squadron Spring Invitational
April 19 SMSA Annual Spring Regatta
April 19-Oct 18 (Sundays) WRYC Ware Yacht Club Albacore Races
April 22 AYC Wednesday Night Races
April 23-26 Solings North American Championships
April 25-26 Hampton Yacht Club Spring Fling
May 2 SCC Spring Race
May 2-3 Viper 640 Mid-Atlantics
May 3 AYC Spring One Design
May 9 Annapolis YC Spring Oxford Race
May 9 AYC Spring Harbor Regatta
May 15-17 Helly Hansen Annapolis NOOD Regatta (it's also the beginning of USNA Commissioning Week!)
May 22 Down the Bay Race
May 23 Miles River Race
May 24 EYC Miles River Race Back
May 29-31 Southern Bay Race Week
May 30 Leukemia Cup
June 5 Mustang Survival Annapolis to Bermuda Race
June 6 Don Backe Memorial CRAB Regatta
June 6 CHESSS Poplar Island Race
June 6 PSA Moonlight Race
June 12-14 Hampton Yacht Club 505 East Coasts
June 13 NERYC Invitational
June 13 SCC Twilight Race
June 14 SMSA Summer Invitational
June 19 Newport Bermuda Race
June 19 BCYA Summer Sailstice Regatta
June 21 Ted Osius Memorial Regatta
June 24-28 Snipe U.S. Nationals
June 27 Eastport YC One Design Invitational
June 27 Herrington Harbour Sailing Association Women's Regatta
June 27-28 GSA Northern Bay Regatta
June 30 AYC Junior Annual
July 11 Eastport YC Boomerang Race
July 11-12 Hampton YC Annual
July 18 BCYA Race to Baltimore
July 19 RCRA Star Spangled Classic
July 25 Corsica River YC Annual One-Design Regatta
July 25 HYC Hampton Yacht Club Bow ties-OD
July 25-26 AYC Annual Regatta
July 30 Indian Landing Boat Club Annual Regatta
July 31 St. Mary's College Governor's Cup
Aug 1-2 WRYC Ware Yacht Club Virginia's Gov's
Aug. 7 Race to Oxford
Aug. 8-9 Tred Avon YC Oxford Regatta
Aug. 15 CRAB Cup
Aug. 15-16 Cape Charles Cup
Sept. 4-6 FBYC Stingray Point Regatta
Sept. 5-6 Annapolis Labor Day Regatta
Sept. 12 NASS Oxford Race
Sept. 13 TAYC Hammond Memorial Race
Sept. 19 Hospice Cup
Sept. 23-26 Shields Nationals
Sept. 25 AYC 3-2-1
Sept. 26 AYC Fall Race to Solomons
Sept. 26 Havre de Grace YC Fall Invitational Heffner Memorial
Sept. 27 Cove Point Classic Regatta
Sept. 27-28 SMSA Screwpile Lighthouse Challenge
Oct. 3 Cambridge YC Admiral Byrd Regatta
Oct. 3 PSA Race to Rock Hall
Oct. 3-4 AYC Doublehanded Distance Race
Oct. 3-4, 10, 17-18 AYC Fall Series
Oct. 10 GSA Frigid Digit
Oct. 19 Shearwater SC Good Old Boat Regatta
Oct. 15-18 Melges 24 US National Championship (TAYC)
Oct. 17 BCYA Harbor Cup (CBYRA SAYS NO DATE? BCYA says this is it. Stay tuned!)
Oct. 18 RCRA Francis Scott Key Classic
Oct. 18 SMSA Fall Invitational
Oct. 24 AYC Fall Etchells/ Lippincott/ Halloween Howl
Oct 24 HYC Hampton Yacht Club Viper Day
Oct. 29-Nov. 1 J/105 North Americans & J/111 NAs (AYC)
Nov 7-8 HYC Hampton Yacht Club Fall Fling
Nov. 8 AYC Frostbite Racing 1st half
Keep this page bookmarked, as we will update it and enter links as the season unfolds. Find more racing news here.
Missed racing photos from 2019? Link to last year's photos here.