SpinSheet's Racing Roundup is sponsored by Interlux / Awlgrip
Racing? In March? Heck yes.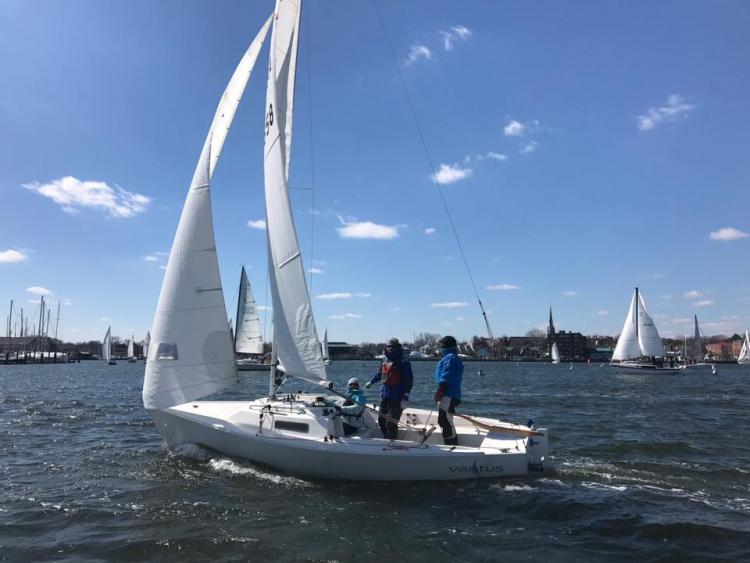 First up, the second half of the Frostbite Season at Annapolis Yacht Club is coming to a very tight and exciting close. Yesterday winds were brisk but participation was great, and in many classes the top five finishers are separated by just a handful of points. In the PHRF 1 fleet, Grady Byus is the only skipper who completed a race, leaving four boats tied for second. All you'd need to do is come out and race two races (and possibly beat Grady, if he decides to come out again) to get some nice hardware for the wall.
Next week is the last weekend of frostbiting, and in many instances the winner will be decided after Sunday's racing concludes.
Cal 25:
1. One Eyed Jack, Lee and Kyle Bollhorst 22 points
2. Makani, Jim Burdick 25
3. White Cap, Steve Bardelman 30
Harbor 20:
1. Meadeor, Jim and Rachel Mead 16
2. Skimmer, Peter Trogdon 24
3. Merlyn, David Leach and Ward Anderson 38
J/105
1. Bat IV, Andrew Kennedy and Ted Haaland, 17
2. Crescendo, Angelo Guarino 31
3. Helios, Steve and Gregg Sunshine 31
J/22:
1. Ekas, Jason Ipe 24
2. Villain, Aaron Freeman 25
3. No Problem, Scott Libby 26
J/80:
1. VAYU, David Andril, 19
2. No Name, Kevin McKee 21
3. Mango, Ken Mangano 27
PHRF 1
1. Alice, Grady Byus 9
2. USA 65, Norman Olson 9
3. Saykadoo, Steve McManus 9
PHRF 2:
1. Swiss Miss, Gisela Shaughnessy 9
2. Shamrock, Bruce Irvin 23
3. Infectious Smile, Tristan Keen 23
PHRF 3
1. Rush Hour, Kelly Fitzgerald 15
2. Sensation, Rod Rowan 15
3. Spaceman Spiff, Pete Kassal 18
---
On the other end of the country, the 2017 Bacardi Miami Sailing Week concluded with some light winds. Quite a few Chesapeake sailors trekked down for racing in Stars, J/70s, Viper 640s, and VX Ones. Annapolis pro sailor Geoff Ewenson got pulled in to do some commentating for the Star fleet before going on to win the Viper 640 fleet.
The week started out with great winds for the Stars but tempered a bit for the latter half of the regatta. Representing from the Chesapeake was Shane Zwingleberg (43/71) in the Star fleet, Ewenson (1/23) in the Viper 640s, and Allan Terhune (11/36), Thom Bowen (10/36), and Peter Firey (28/36, 4 Corinthian) in the J/70.
---
And finally, Chesapeake Bay racers got together at the Gibson Island Yacht Club on Saturday to present the CBYRA High Point Awards.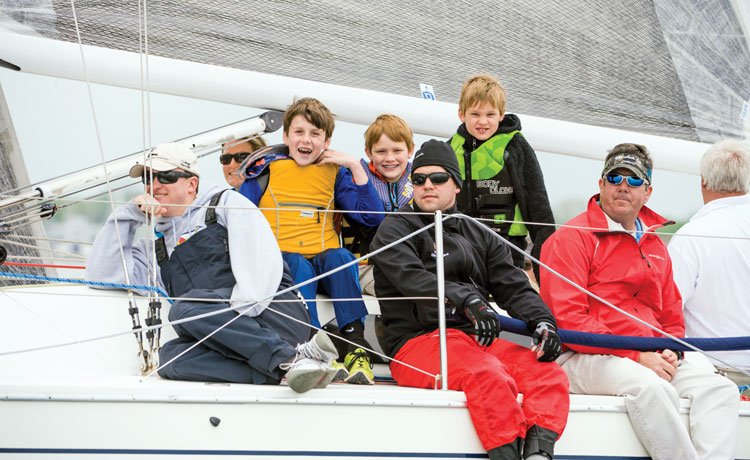 Martin Roesch took home the Labrot Trophy for the great year he had on the J/111 Velocity. James Sagerholm and Jerry Christofel were presented with the J.F. Healy Memorial Trophy for their work on Aunt Jean in the J/35 class, and nameless boat skipper John White received the Lady Anne Arundel Trophy for the strongest performance by a skipper from Anne Arundel County. Pat Seidel won the Decker Award for his work on the Capri 22 '45.'
You can see the full list of High Point winners here.