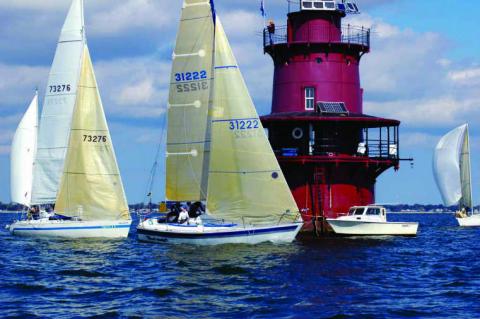 October 15 will mark the 19th running of the 'Round the Lights Race, sponsored by the Old Point Comfort Yacht Club (OPCYC) at Fort Monroe in Hampton, VA. This unique 18.5-nautical-mile, CBYRA-sanctioned race starts in the extreme southern Chesapeake Bay off the docks of Old Point Comfort Marina (OPCM), goes around Middle Ground Lighthouse and Thimble Shoals Lighthouse, and then finishes where it began. Skippers have the option of selecting which lighthouse they want to round first, continuing to round the next lighthouse, and finally heading back to the finishing line. The only requirement is to start, round each lighthouse, and finish.
An astute skipper will study the direction and velocity of the current, as well as the forecasted wind, and then decide which lighthouse to favor for the first rounding. Since the tide usually shifts during the race, each skipper needs to determine which starting direction might be the best for that particular boat. Usually half go in one direction, and the other half go in the other direction.
While racing, skippers and crew will be enveloped in history. As the race takes place in the Southern end of the Chesapeake Bay and Hampton Roads, one can imagine the battle of the first ironclads, the Monitor and the Merrimac, in these very waters.
Protecting the Northern shore is the historic Fort Monroe with its 1803 lighthouse at Old Point Comfort, and protecting the opposite side of the entrance to Hampton Roads is historic Fort Wool, while at the same time you can see the world's greatest Naval Base with huge aircraft carriers and submarines. Nearby is the city of Hampton, with enough history of its own to satisfy the appetite of any history buff.
The overall winner of this race has the boat name inscribed on a perpetual trophy made from an original plank of the historic Middle Ground Lighthouse, circa 1891, that is situated at the confluence of the James River and Hampton Roads. The plank was gleaned from the upper catwalk and donated by the lighthouse owners Bob and Joan Gonsoulin of Williamsburg, VA. A companion trophy made of material from the Thimble Shoals Lighthouse and donated by the lighthouse owner, Pete Jurewicz, is being developed that will record the history of the race.
Read more at opcyc.org and click on the "racing" tab or contact the OPCYC rear commodore racing Tim Etherington at [email protected] or race captain Dennis Miner at [email protected]
~ by Captain Michael Turner