SpinSheet is the Chesapeake Bay Sailing Magazine
Written by sailors for sailors. Our sailing coverage goes "deep" rather than "wide," and we use this platform to celebrate the people, places, boats, personalities, and events that make the Chesapeake one of the world's premier sailing grounds. SpinSheet's reputation has been built over 24 years of delivering high-quality editorial and high-impact, targeted advertising to the mid-Atlantic sailing community. Every issue of SpinSheet is distributed at more than 750 carefully-chosen and closely monitored locations throughout the mid-Atlantic. Interested in becoming a distribution point? E-mail [email protected].
SpinSheet welcomes editorial contributions in the form of stories, anecdotes, photographs and technical expertise. Articles should pertain to our coverage area or be about Chesapeake Bay sailors and boats in far-flung locales. All editorial submissions should be accompanied by a variety of identified, pertinent, and in-focus photographs. When sending material to SpinSheet, please refer to the guidelines for editorial and advertising on this website.
SpinSheet was founded in the summer of 1995 by Mary Iliff Ewenson and Dave Gendell. Since our early days, the SpinSheet staff has grown to a dozen full-timers, with a few dozen contributing writers and photographers, and a handful of devoted distribution drivers. We have also launched PropTalk Magazine (2005), Start Sailing Now (2008), and produce several annual publications, such as PortBook (2011). In April 2017, we launched FishTalk. Thank you for reading SpinSheet, the Chesapeake's only sailing magazine!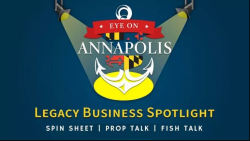 Eye On Annapolis's John Frenaye talks with publisher Mary Ewenson about how SpinSheet, PropTalk Magazine, and FishTalk Magazine fit into the boating community (2019).

Learn more about publisher Mary Ewenson's leadership skills in John Burnham's "Lessons From the Boat: Part VI"... "This crew keeps a boating attitude in their workplace..."
Click here for the 2019 Soundings Trade Only Today article.