A special cruise
The Corinthians Chesapeake Bay Fleet has tried for two years to rendezvous with our UK sister club, and it has finally come to fruition. The Share the Sail/Follow the Flag was held in the British Virgin Islands beginning on January 29 out of Tortola.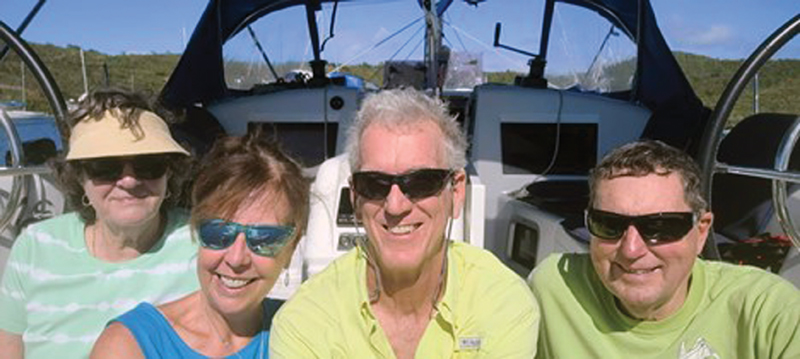 Neil Ross put his idea into motion by arranging a fleet of charter sailboats for the event. The Corinthians has had an association with the Little Ship Club (LSC) since 1934. The LSC, founded in 1926, has a brick-and-mortar clubhouse on the Thames River in London. Every two years we share events on alternating sides of the Atlantic for crewing experiences with our sister club. As with everything else, the pandemic put the kibosh on our plans last year. However, 2022 brought everyone together in the Caribbean.
From our CB Fleet, new members Vince Tuminello and Karen Szymczak, John and Diane Butler, Jerry and Christine Cully, John and Noel Dickson, Hank and Susan Recla, and Bob and Ann Whitcomb chartered for the week of sailing. Master Bill Burnham and his wife Alice and several northern fleet members also attended. At least three LSC sailors flew in from the UK to enjoy the fun. It was a great event and got people out of the sub-freezing conditions that the rest of us endured.
Cruise plans closer to home
Back in the Mid-Atlantic, Woody Leach and his activities committee have been planning out the upcoming sailing season with a tentative calendar for some of the fleet's classic events such as the Non-Procrastinator in April, the Spring Cruise in June, and Fall Cruise in early October. In between, there will be raftups and other on-water events planned. The Non-Procrastinator will be held April 23-24 on Clement's Creek. March 19 Captain Jan Miles from the Pride of Baltimore II will give a presentation for us in Edgewater.