Tripled the Number of Guest Served This Year
The Eastport Yacht Club (EYC) in Annapolis has been partnering with Sailing Heals for over six years to provide uplifting experiences for cancer patients and caregivers in the Anne Arundel County region. In the past year, EYC and Sailing Heals have worked closely with Wellness House of Annapolis to triple the number of guests served. Patients, guests, and caregivers, known as VIPs, are offered a complimentary lunch, courtesy of a generous EYC member, followed by a healing sail or powerboat cruise.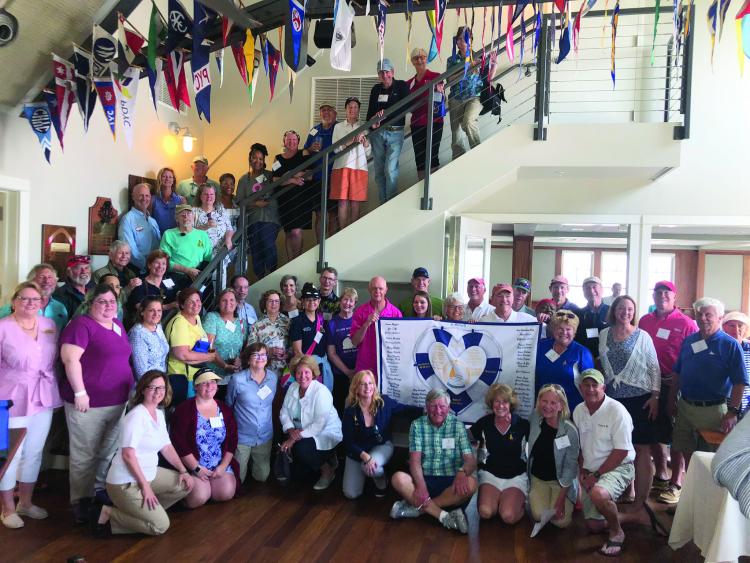 The most recent event was held on May 23, when 45 cancer patients and caregiver guests enjoyed a beautiful day of sailing on the waters that surround Annapolis, thanks to a dozen volunteer host captains from EYC.
Lead host captain Rob Greve, who has been instrumental in organizing the many details of these special days since Sailing Heals and EYC first partnered together, said this about the day: "The members of the EYC are very engaged in the community and are especially pleased to provide this memorable afternoon on the water to so many cancer patients—many of whom are our neighbors that we just haven't met yet. I know that I, and the other host captains and volunteers, enjoy the day as much as the VIP guests do."
Sailing Heals board president, Dr. Lori Wirth of Mass General Hospital Cancer Center, says: "Sailing Heals offers a wonderful free service for anyone going through a serious health issue. Being able to personally prescribe a day of restorative healing on a beautiful boat on the water is extremely motivating. The most rewarding part of my work is hearing how my patients had the time of their life by being on the water."
After the event, VIP guest Charlene H. shared how much she "thoroughly enjoyed" her "sailing debut aboard the Erin Brie with my captain, his lovely wife, and my new friends… As a cancer patient undergoing chemotherapy, I really appreciate when I can enjoy a relaxing day with no worries. Since I love the water, the Sailing Heals outreach is perfect for me." Sailing Heals, which receives 85 percent of its funding through private donations, has hosted events in over 20 ports in nine different states for 3700 VIP guests since they began in 2011.
Invitations are by word-of-mouth through medical or cancer support personnel. The group typically hosts about 30 sailing events throughout the year. Featured "themed" sails include a "Pirates & Princesses Treasure Hunt Adventure" for kids going through a serious health challenge, and the annual Wicked Strong Sail for Boston Marathon Bombing survivors.
For more information, visit sailingheals.org.