A Christmas Cruising Tale from 2015
We unearthed this Bluewater Dreaming article, "A Portuguese Christmas Branch" by Annapolis liveaboard sailor Cindy Fletcher-Holden from 2015 about a Christmas in Portugal, where she spend a winter aboard her 47-foot ketch with her husband Robert.
Christmas tree farms are not common in Portugal. At least not in Oeiras (pronounced oh AY dish with a very soft "d"), which is a small town west of Lisbon. We spent the winter there on our boat after sailing to Portugal from Annapolis. The marina in Oeiras is friendly, well protected, and they charged half price to sailors who crossed the Atlantic. That would be us. We decided it was a good spot to hunker down for the winter, and a great place to spend Christmas. And we wanted to get a Christmas tree. A real one.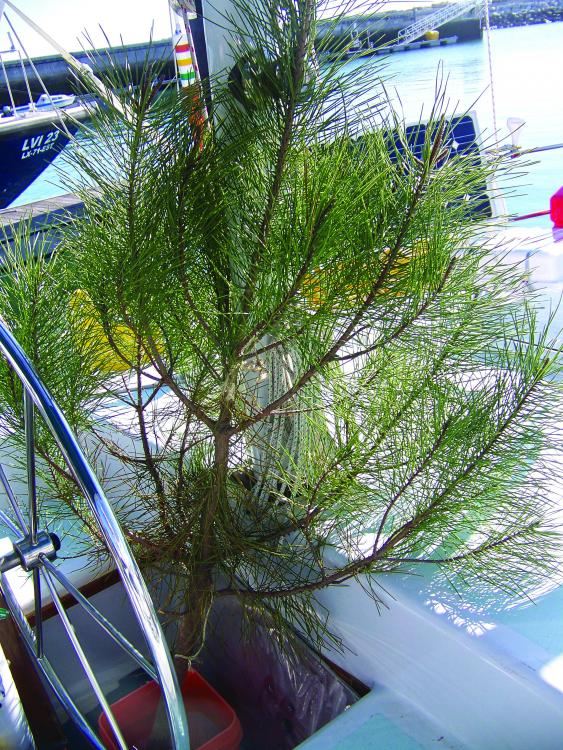 Without tree farms, the locals in Oeiras decorate artificial trees for Christmas. There were plenty of these. There were glittering trees four stories high inside malls. Artificial trees that look very real, as well as ones that were shiny silver, pink, white, tall, skinny, short, and fat were in homes, offices and stores.
But all fake. Nothing real. None of these trees smelled like pine and needed water.
When my dad was alive, tree shopping was a ritual. We would go to the Christmas Tree Lot and do the classic tree shaking, standing back, and then picking the perfect tree for our house.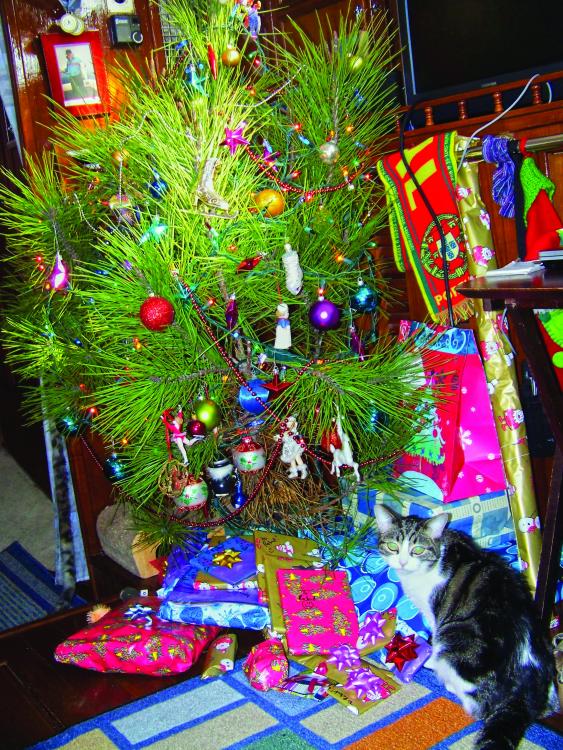 Robert and I have been continuing this tradition for more than 25 years. Having lived on a boat for all these years, our trees started out small. Now we have a big enough boat that we can buy a regular size tree, five feet tall or more, to put inside the cabin. Complete with hundreds of lights and a growing collection of ornaments. I look forward to our boat tree every Christmas.
Our Christmas in Portugal, however, was quite different. We were in another country far away from friends and family.
One day we did a little Christmas shopping in Cascais, a short train ride from the marina in the opposite direction of Lisbon. When I saw the Christmas decorations all over town, I got homesick. Suddenly I wanted to go tree shopping. I mentioned to our new marina friend, Henrique, that we really wanted a live tree. He said he knew of a place that was selling live cut trees in his hometown of Perede, very close to Oeiras. I was so excited!
Henrique offered to take us there in the marina's new shiny Nissan four-door pick up, a perfect truck to haul our new tree. We were going Christmas tree shopping! Henrique picked us up and we headed to Perede. I felt like a kid in the back seat, peering out the window looking for the Christmas trees.
I was looking for the string of lights around a section of a parking lot, or a giant inflatable Frosty the Snowman, next to a grassy area full of trees. You know the scene, tree salesmen in cheerful moods and cash in pockets. Guys wearing thick gloves cutting the bottoms of the trunks with chainsaws and tying trees onto tops of cars. Vince Guaraldi tunes coming from some speakers somewhere. A warm wood stove in a little cabin where the cashier rings up your tree, the wreath, and all the greens that you bought on impulse.
I didn't see any of this. Instead Henrique pulled up and parked next to what I swear was the tiniest RV trailer I've ever seen, smaller than a Volkswagen beetle.
There were maybe six or so cut branches on the ground next to it... These were branches! I suppose if you squinted, used your imagination, and maybe put down a couple of bottles of wine, they might have "resembled" a tree. But these were in fact just branches. Not a trunk in sight.
But we bought a branch, anyway. We put our Christmas Branch in the back of the Nissan and headed back to the boat, with me sitting in the back seat longing for the string of lights around Frosty and dozens of assorted pines. All with trunks.
We put our branch in a bucket of water in the cockpit. We got the cabin corner ready and put the branch in the tree stand. We then proceeded to put lights and ornaments on it all the while pretending it was a whole tree. And to our most pleasant surprise, it was beautiful.
Our Christmas in Portugal ended up being a wonderful experience. We cooked a turkey with all the extras. We cranked up the holiday tunes. We made phone calls to folks back home from a phone booth at the marina. (Phone booths are still everywhere there and are cheap, cheap, cheap! You can talk for hours for less than $5.) We opened gifts and gave treats to the cats. We are back in Annapolis now. Last year we managed to fit the biggest tree yet into the cabin. Pushing six-feet tall. It was spectacular!
This year we'll do it again. But even though we are back with abundant tree lots with live trees for sale in December, I will always have a fond memory of our Portuguese Christmas Branch.
by Cindy Fletcher Holden
Thank you to M Yacht Services for being the longtime sponsor of our Bluewater Dreaming column!