The United States Sailboat Show Returns to Annapolis
The beginning of October is always a special time in America's Sailing Capital. For five wonderful days, running over Columbus Day Weekend, October 10-14, sailors from around the world flock to this historic waterfront for the Annapolis Sailboat Show.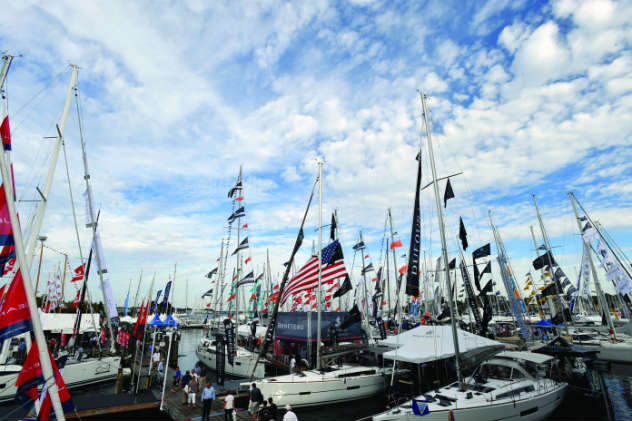 Why this show stands out: Fondly referred to around the country simply as the Annapolis Show, it all began almost 50 years ago. Back then it was the first in-water show of its kind. Today the Annapolis Show attracts all the top manufacturers in the industry, hundreds of knowledgeable industry experts, and special boat show pricing, all in a beautiful town that's easy to explore. That's why this show annually draws 50,000 sailors from around the country.
Boats on display: Walk the temporary floating docks and be amazed, but don't be shy. Slip off your topsiders and board them! Sit at the helm, tip-toe out to the pointy end, check out the galley, and ask to peek at the engine room. You'll find every type of hull from car-top models, to family cruisers, to sleek racing hulls, and luxurious catamarans. Speaking of catamarans, don't miss Vacation Basin, a special section of the show with everything you need to plan a fabulous sailing vacation.

Industry experts: Once you're inside the gates, you'll soon see a lot more than boats. The land booths are filled with industry experts displaying all kinds of gear. Ask these people questions! They're here to help. Where else will you find so much sailing knowledge in one location? Whether it's an engine issue, sail configuration, cruising route, or instrument issue, step on up and find the answers you need. If you're not sure where to go, start at the SpinSheet booth F6/7. We've been working the show for 24 years, and we'll have a good idea of where to point you. We love to meet our readers.
Have fun while learning a thing or two: Come and dream. The show features free seminars led by real experts, a First Sail Workshop for newbies, Cruisers University, and other fun, interactive experiences. The show brings lots of yummy food we look forward to every year. A pit beef sandwich, cold beer, Nutty Buddy ice cream cone, and a Pusser's Painkiller complete the day for many of us. Come, take it all in, and welcome to the Show!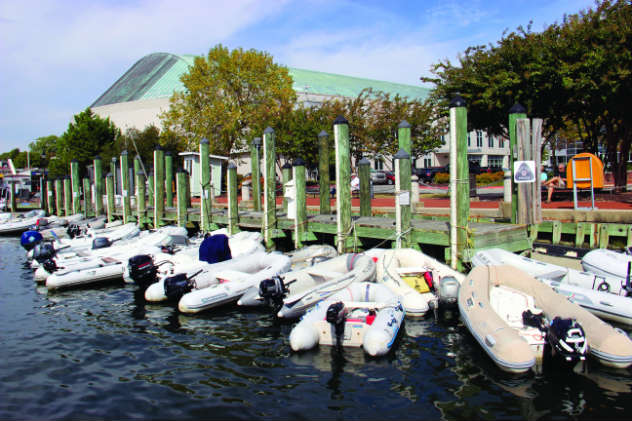 Dates and Times
Thursday, October 10 (Preview Day):
10 a.m. to 6 p.m.
Friday, October 11: 10 a.m. to 6:30 p.m.
Saturday, October 12: 10 a.m. to 6:30 p.m.
Sunday, October 13: 10 a.m. to 6:30 p.m.
Monday, October 14: 10 a.m. to 5 p.m.
Tickets
Thursday, Preview Day (all ages): $35
Adults: $18 in advance: $20 at the gate
Children: $5 (6 and under FREE)
Two-day Combo Ticket: $31
Two-day Preview Combo Ticket: $48

Tickets may be purchased at the gates or online and printed at home. No pets, and for safety reasons, strollers are strongly discouraged.
Parking costs $10 at the Navy-Marine Corps Memorial Stadium, and free school buses shuttle attendees to the show. The stadium's GPS address is 511 Taylor Avenue, Annapolis, MD 21401. Shuttles begin running at 9 a.m. until one hour after the show closes.
Getting Around: On land, use the Circulator, Annapolis' free shuttle that has regular stops within the city's business district, and at Church Circle, City Dock, Park Place, and all four city garages. The Circulator runs Monday through Saturday from 7:30 a.m. to 11 p.m., and Sunday 8 a.m. to 8 p.m. on a 20-minute interval. The mobile app is available in both iPhone and Android app stores at no charge. Download the app named "RLS Shuttle" and select "Annapolis Circulator" to start tracking the shuttle. Get the details at annapolisparking.com.
On the water, we love the water taxis, which run continuously from 8 a.m. to midnight Thursday through Sunday during the show (until 11 p.m. Monday). Catch it at the water taxi stop between the Annapolis Waterfront Hotel and Spa Creek Bridge, or call (410) 263-0033. Or hail "water taxi" on VHF radio channel 68. Prices are $3 to $8 depending on the destination.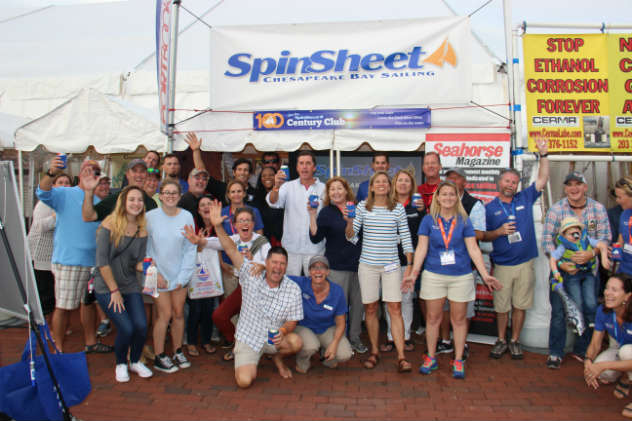 Meet Team SpinSheet: We'll be in our usual spot, Booth F6/F7 along Ego Alley. Stop by and enjoy popcorn and happy hour with our writers, editors, publishers, graphic designers, distribution drivers, and photographers. We love to meet our readers.
Hit the Head: Fancy port-a-johns are centrally located within the show. "Real toilets" are located on the first floor of the Harbor Master's office, just outside the show gates. They're free and open to the public.
Water Refills and Reusable Bags: Bring a reusable water bottle and refill it at the SpinSheet booth (F6/F7) in the show or at the Annapolis Market House near the coffee bar. Also, make sure to bring your own bag and skip plastic bags and plastic straws whenever possible. Every little bit helps to keep trash out of the Chesapeake!