Posted September 25, 2015
"If it feels good, do it" should be the motto of all vacations as it was for six friends and me the first week in March for our sailing charter in the Abacos, Bahamas. After a grueling wake-up call at o'dark 30, we jumped into a shared van in Annapolis, flew to Miami, FL, and on to Marsh Harbor on Great Abaco Island. By noon, squinting in the sunlight, we stepped barefoot aboard our 45-foot Lagoon Incommunicado.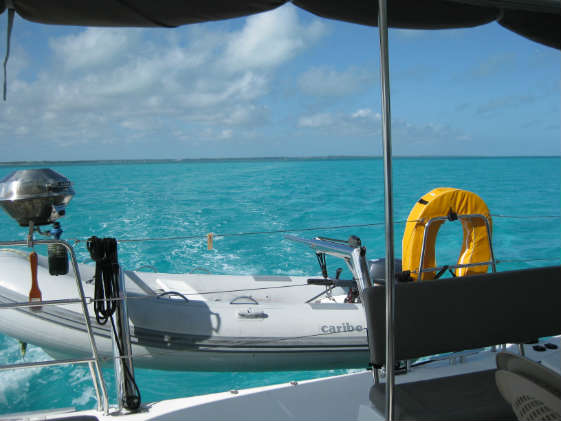 Our host at Dream Yacht Charter's base, Tierrence, kindly let us board early and gave us a briefing of the sleek catamaran. While waiting for other friends to arrive, we spent most of the afternoon napping and reading. Tierrence recommended Curly Tails for dinner, and as we learned was the trend with all of his recommendations, he did not steer us wrong. It was the best meal of the trip. And as would remain the trend for the rest of our trip, we crashed early.
Bahamian sloop
Our group of friends has traveled together to cabins in the mountains as well as on sailboats on the Chesapeake for several years. For this adventure, we agreed to a floating classroom theme for which each person or a team of two would do a happy hour presentation on an aspect of Bahamian life. After a stunningly beautiful sail through skinny blue-green waters, we anchored at Lynyard Cay on our first afternoon March 2, Rebecca's birthday. Beachcombing, kayaking, and paddleboarding filled the rest of our day.
After 5 p.m. for happy hour, Michael and Charb teamed up to discuss the Bahamian sloop, gaff-rigged fishing boats with "pries" similar to the boards thrown on Chesapeake Bay log canoes. The history was not unlike that you may hear about other traditional working fishing vessels turned race vessels (log canoes, sandbaggers); they were built in the 1800s, and building started to die down in the 1920s.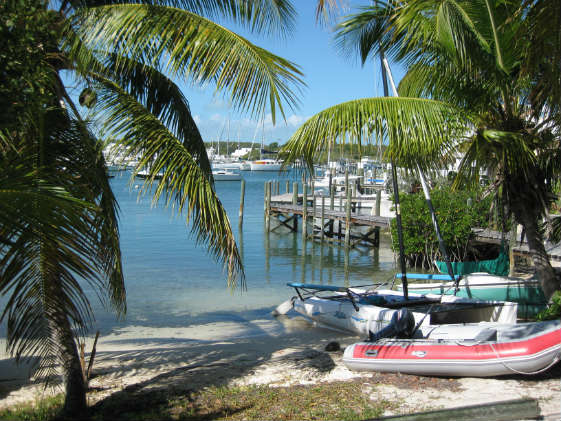 Although they were raced previously, sailors did not start keeping race records until 1954. There are five racing classes from 14-28 feet. The rules state that the boats must be all wooden, with no engines, winches, or windvanes, with sails made of canvas. Charb earned brownie points for providing a slide show on his iPad, complete with the Beach Boys' song "Sloop John B," originally a West Indies folk song.
The Hammock
As if having a giant catamaran with several cushioned seating areas and a trampoline was not enough, one of our crew, who shall remain nameless for wimpy knot-tying skills and rum-blurred thinking, decided to string his own hammock up on deck, in the dark, about four feet above a large winch, and camp out in it. The rest of us, full from a grilled chicken dinner, lay around nearby on the trampoline stargazing. About 30 seconds after John said, "I'd be worried about my coccyx with that hammock hanging there," a crewmember, who shall remain nameless for boneheadedness, dive-bombed the hammock guy. As the hammock knots failed, both guys hit the deck in a thud.
The hammock guy was in worse shape the next day than the dive-bomber, who landed on top of him. A little hungover but looking pretty fit the next morning over pancakes, the bomber asked, "Why does your tailbone hurt?"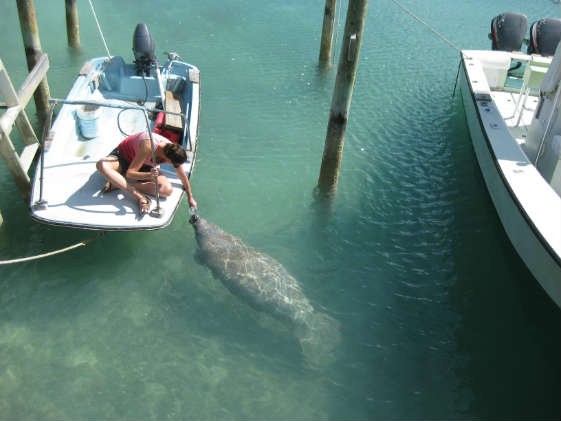 Little Harbour and baja mar
You pay attention to tides in the Bahamas, even if you only draw four and a half feet as Incommunicado did. We made our way into the narrow cut of Little Harbour at high tide, tied up to a mooring, and were greeted by one… and then two and three sea turtles. We paddled over to the cave where Canadian Randolph Johnston, his wife Margo, their daughter, and three sons lived in the 1950s. Son Pete later started Pete's Pub and Gallery, the center of the "action" in this quiet place.
In a cove on the other side, I met Georgie, the local manatee (very unusual in the Bahamas), who makes friends easily and will drink out of your water bottle. At lunchtime, among a number of tasty sounding items on Pete's Pub's menu, I chose the coconut conch crunch, which stands out in memory as my top pub meal.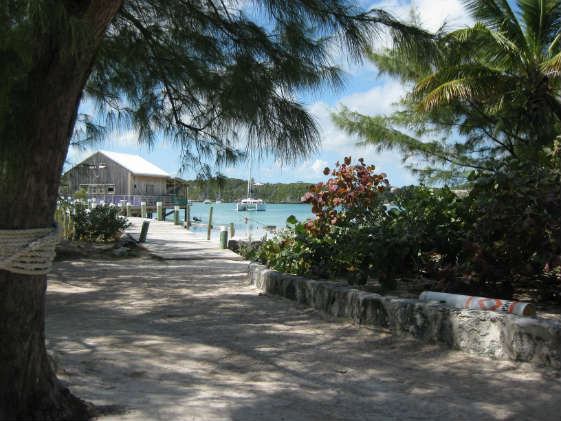 John chose Bahamian history for his floating happy hour topic that evening. We learned that the name of the islands comes from the Spanish baja mar for shallow sea. When sea level was as much as 250 feet lower than it is today, the limestone was eroded by acid rains leaving fossilized coral and hundreds of underwater caves. The Lucayan National Park on Grand Bahama Island is the site of the world's longest known underwater cave and cavern system.
Dean's Blue Hole (west of Clarence Town, Long Island) is the world's deepest known salt water blue hole with an entrance below the sea level at 663 feet. The Lucayan Indians were the original inhabitants; they lived throughout the Bahamas between 900 and 1500 A.D. Christopher Columbus made his first landfall in the New World on San Salvador (called Guanahani by the Lucayans) in 1492. Today, the Bahamas is comprised of 1400 square kilometers of land on more than 700 islands and islets with the clearest water in the world and visibility of more than 200 feet.
The Hopetown Lost and Found
After years of hearing that the Abacos were overpopulated, I laughed to see how tiny Hopetown looked from its signature 150-year-old, candy-striped Elbow Reef Lighthouse. From the pink, green, and yellow shops and inns lining the harbor to Captain Jack, who, when asked what we owed him for our mooring, shrugged and said, "20 dollars?"; there's not much to dislike about the town. If Hopetown is crowded, I'll take crowded. When our driver took us in a taxi van, with salty windows, over the hill to the Abaco Inn just before sunset, he said, "Welcome to paradise."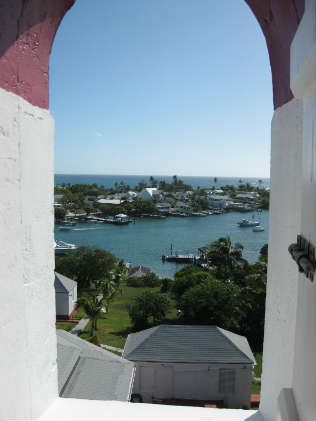 With the Atlantic crashing against the beach on one side, and the turquoise of the Sea of Abaco calm on the other, the outdoor patio bar seemed the perfect place to watch the sunset and full moon rise. The dinner wasn't as memorable as the company and dramatic surf, but we would all do it over again. The next morning on the cruisers' net (a radio rendezvous every morning at 8:15 a.m.), we made an announcement.
The day before, while snorkeling at Sandy Cay en route to Hopetown, we found a swamped dinghy, obviously abandoned and/or washed up on the beach, but in good working condition. We had it in tow. We were careful to not give too much information over the radio to ensure only informed responses. Will from the cruisers' net quickly responded and noted particular characteristics of the dinghy (registered in Maine). He knew the owners, the couple from Maine who cruised on October. Ten days before, they had been heartbroken when they'd lost their dinghy at Little Harbour. His theory was that it had washed out to sea and been brought back in by the tide.
Will, who was only a few boats over in the harbor, came by to retrieve the dinghy to return to the October crew. We learned that Will Heyer and his wife Muffin are from Annapolis. A few years back he'd written a SpinSheet article on Abaco sloop racing that I remembered fondly. He was generous enough to provide me with great local photos as well as a few of our group up on the lighthouse. Maybe this is where the "crowded" reputation comes in. You're probably not going to visit Hopetown without running into a Chesapeake sailor.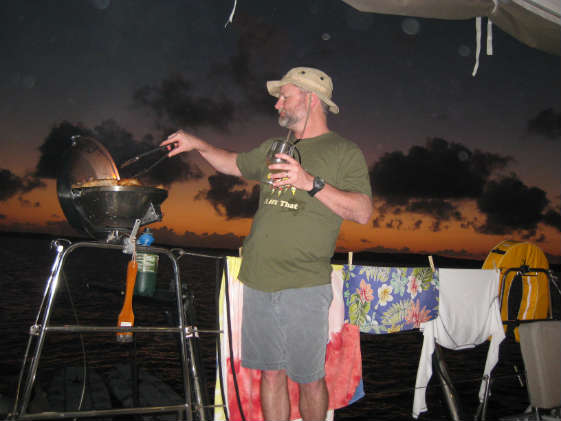 Conch this, conch that
While visiting Nipper's Beach Bar and Grill, Charb waved me over to look at the TV behind the bar. A weatherman was getting pelted by snow. "That's Washington, DC," he said with a devilish grin. I celebrated that snow storm day by walking down to the dreamy white beach below and floating in the salty surf. We resumed the happy hour classroom theme after our bar hop and nap. As the friend who's most obsessed with what we're having for dinner (and dessert!) even at home, it was fitting to have Rebecca talk about food. Almost all food you'll eat in the Bahamas is imported except for fish: spiny lobster and conch. Conch salad, conch in a bag, conch fritters, and conch ceviche show up on menus everywhere.
Rice and beans (or pigeon peas you get canned) are common, as is cole slaw since fresh veggies are hard to come by. Of course, we had to talk a bit about coconut and key lime pies. We tested some of the latter. We've had better, but we liked it enough to polish it off at breakfast the next day.
Wildlife and some rain The beach at Treasure Cay came highly recommended—but first, we had snorkeling on the brain, so we searched around the tip of Great Guana and were well-rewarded for our efforts however choppy the short dip was. After a few failed attempts to find much, we came across the top-notch reef at the northwestern tip, filled with neon colored tropical fish.
The beach at Treasure Cay is postcard perfect, if the sun is out. A substantial tropical cloudburst messed up our sunning and left us wet at the bar waiting it out. We found the island to be more geared toward fishermen and lacking in some of the charms we found elsewhere. It didn't stop us from enjoying our final floating classroom and Kate's presentation on Bahamian wildlife.
Wildllife
At one time, there were more than 200 Abaco barbs, descendants of the Spanish barb, small feral horses shipwrecked on Bahamian reefs. The paving of roads in the 1960s and dogs (brought in to chase boars) killed them, and the herd decreased to about 35 by 1995. By 2010, only six remained. In the water, there are more than 20 marine mammal species, including sperm, short-finned, and dense-beaked whales and Risso's and Atlantic spotted dolphins.
The invasive lionfish have been around since a hurricane in the 1990s smashed a Florida aquarium. The Bahamas is also known for its elkhorn coral that creates a habitat for lobsters, parrotfish, snapper, and shrimp. On land, the Bahamian pine, which needs extensive sunlight to grow, can also be found in the Turks and Caicos. The fan palm is a native plant. The yellowed parasitic vine we noted along the way intrigued us enough to look it up when we got home: the love vine, known to natives as an aphrodisiac.
Man O'War lunch
We had one final lunch stop before we had to head in for the week. We enjoyed Man O'War Cay and its charming harbor and boat-building history enough to know that we will give it more than a few hours next time around. We made some mimosas on the boat (in this dry town), even though it wasn't yet noon and repeated our mantra: If it feels good, do it. We proposed a toast to friends sailing in beautiful places. Who wouldn't drink to that? dreamyachtcharter.com BACK TO MAIN CHARTER PAGE