A Cruising Family Lands (for a While) in Luperon
We never planned to stop here. We didn't even know Luperon existed until one blustery day in George Town, Bahamas, when some fellow cruisers gave me a dinghy lift back to my boat and mentioned it. They told their story, and said they now split their time between winters in the Bahamas and summers in Luperon, Dominican Republic.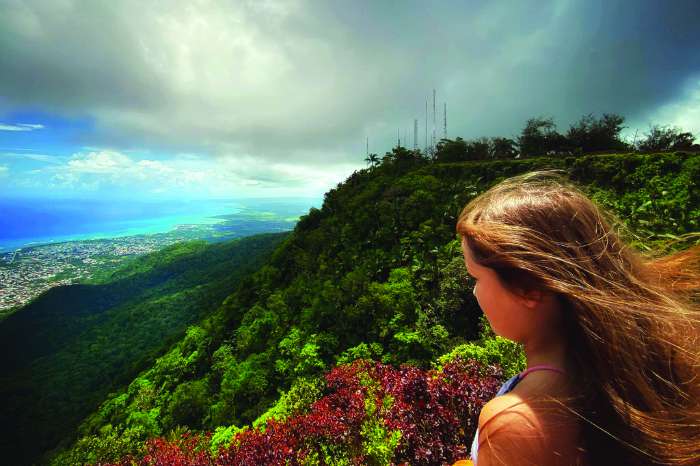 I went back to my boat, and we looked it up. From my tiny cell phone screen on Google Earth this lush, green harbor surrounded by tall mountains seemed a world away from the flat, arid islands of the Bahamas. We studied the charts, did some research, and became intrigued with the idea of this uniquely protected harbor on the north coast of Hispaniola. We read up on the statistics for hurricanes and saw how Luperon is a cozy, safe hurricane hole right in the middle of what the marine insurance companies tell you is the worst place for storms. The combination of the shape, placement, and entrance to this harbor make it a natural barrier to tropical systems. At the same time the trade winds still blow in, keeping it very temperate and pleasant during the hot Caribbean summers.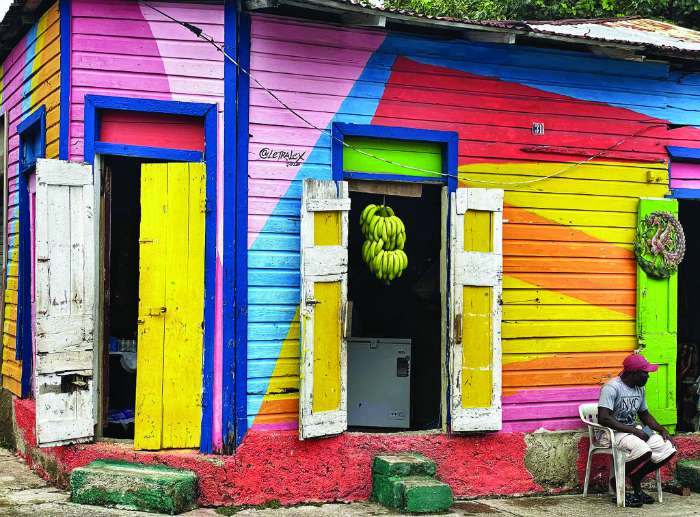 So, we pointed our bows towards Luperon, without a promise or plan, but full of intrepid optimism. The arrival was everything we imagined. Sailing in the predawn darkness along the Haitian coast, we could smell wood fires, simmering spices, and the unmistakable scent of thick vegetation. As the sun came up, the silhouette of mountains seemed to go on forever southward over the second largest island in the Caribbean.
Our check-in was smooth, as we stumbled over our lack of sleep and rusty Spanish. The captain of the Armada wanted nothing more from us than official papers, a cold drink, and a selfie with our dog. We started the customs and immigration process on land, but seeing how tired we all were, they did the minimum and told us to get some rest and come back tomorrow whenever we felt like finishing. We dinghied to the small marina, Puerto Blanco, for dinner that first night. We still didn't have our currency sorted out, and we were embarrassed to be short on money for the meal. We could pay by credit card, but there was a significant upcharge for that. The woman who ran the marina and restaurant said, "No problem, you pay tomorrow." And sent us away with a warm smile, not even knowing our names or our boat names.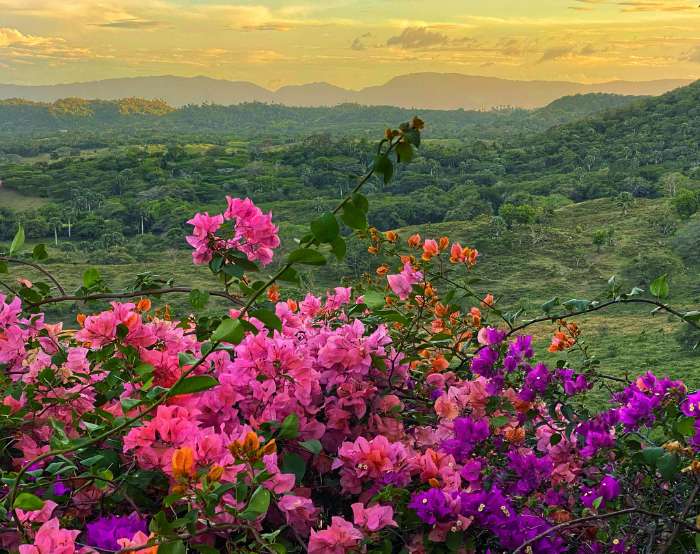 We came here intending to pass through for a few weeks and head to Grenada for the hurricane season, but the warmth of the Dominican people drew us in quickly. And the beautiful mountains. And the affordable prices for everything. And the fresh fruits and vegetables. And the community. And the fast, reliable WiFi. And the passionfruit, definitely the passionfruit. But it wasn't as easy as just deciding to stay.
The first box to check was immigration. How do we go about getting an extended visa? No problem of course. "Whenever you decide to leave, we will figure it out, and you can pay the fees upon exiting the country." Check. The next item on the list was our boat insurance. It took a month or more and lots of paperwork, but we finally found a company that would sell us a special policy to cover us for hurricane season outside the official zone. Check.
We had to pick a spot to settle in for the season. Most long-term boaters here rent a mooring ball from the two official harbor guys who run things for cruisers. They rent and maintain moorings and offer boatside service for everything from laundry to fuel to drinking water. Being lazy dog owners, we decided to tie up at the little marina, which is just one long dock off that restaurant. It's away from the busy little town and gives us walking access to the two local beaches, little farms, the swimming pool, and places for the dogs and kids to run free.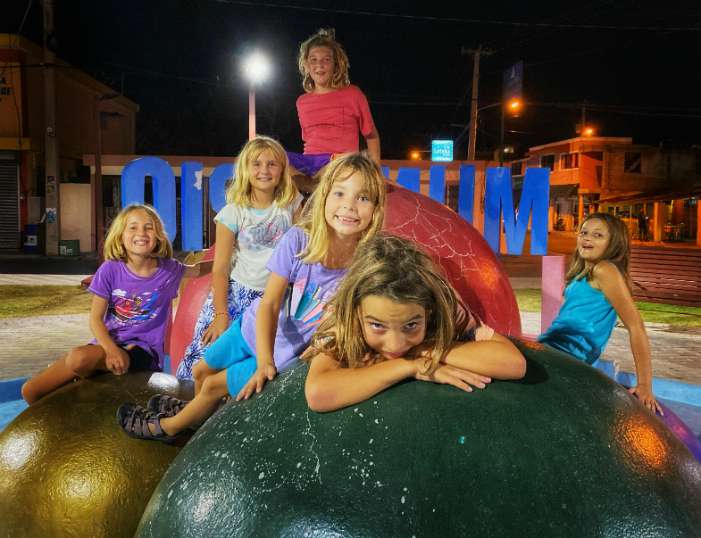 Staying here in the Dominican Republic not only feels right, but it also makes sense. From a long-term cruising perspective, it positions us perfectly to launch onward to the east, south, or west in November. If we had continued down the Thorny Path in springtime, as so many sailors do, we would only have enough time to check in, fuel up, provision, and jump at the next rare weather window bashing to windward. What's the point of beating yourself and your boat up all of those miles only to spend a few days or a couple of weeks on each island? It's no different than flying in, just a lot more work. This way rather than six weeks, we have six months or more to take in the rest of the Caribbean before tucking in for the next hurricane season.
Time became our number one motivating factor. We don't want to be tourists; we want to be travelers. It is important to our family to get to know cultures, language, foods, and most of all the people who live in the places we are privileged to sail. We feel so fortunate to have more than six months to land travel around this big, beautiful, diverse country. Luperon is a great place to leave the boat and see land things, from the mountains to the bigger cities to the funky beach towns.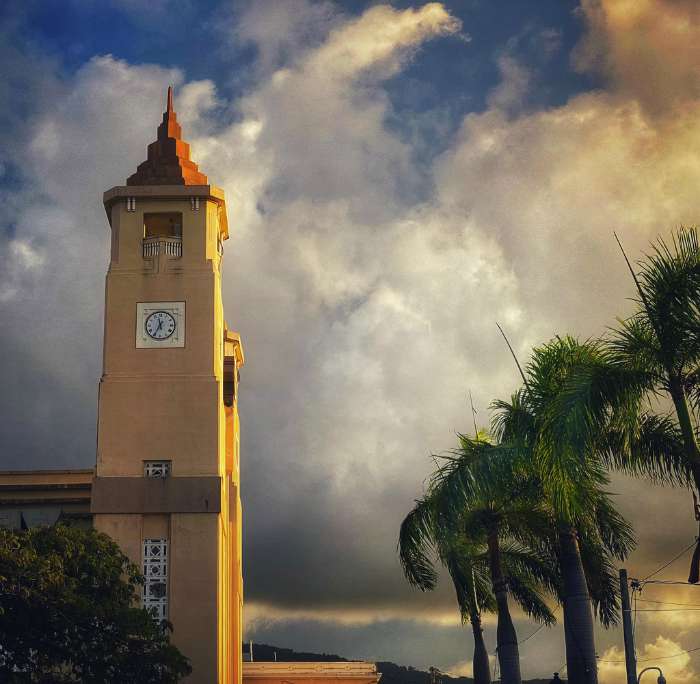 The kids have cooked with Haitian refugees, floated in old-fashioned inner tubes down a winding river, and make their way each Sunday to the town ice cream shop with spare change for 50-cent ice cream cones. My teenager volunteers a few days a week with other boat teens at the local dog rescue. We know the old guy who guards an empty lot up the road, and we bring him home-baked goodies and talk about the weather, and the cows. We are taking our time, reaching beyond cervezas and selfies, and slowly soaking in a world different from our home on the Chesapeake.
About the Author: Longtime SpinSheet contributor Cindy Wallach cruises aboard her St. Francis 44 catamaran with her husband, two children, and two dogs.
For many years, SpinSheet's Bluewater Dreaming column has been presented by M Yacht Services.