What's in a Boat Name? Her Destiny.
Island Girl's Caribbean adventure began the moment I first saw her in the early spring of 2016. If you believe, as I do, that a well-loved boat possesses some sort of a spirit, then you might agree that, in the course of her lifetime, she may also possess some sort of a destiny. Unfortunately, for a variety of reasons, some cruising dreams and destinies are left unfulfilled, often, subjecting the boat and/or her master to the destructive forces of time and nature.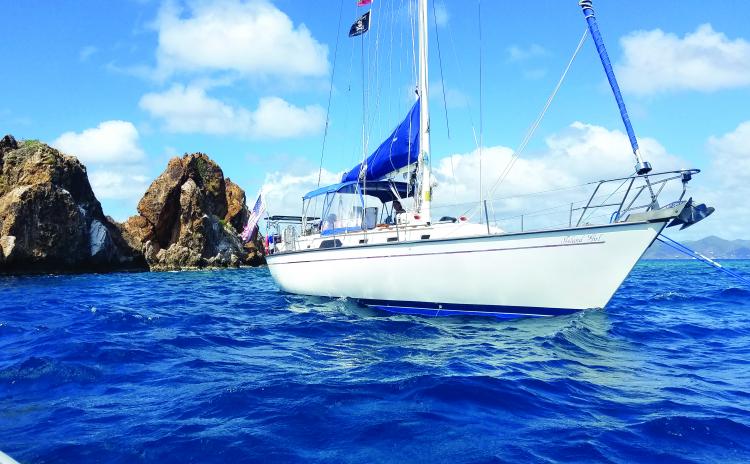 I have never owned a new boat for my Rock Hall sailing charter business, Blue Crab Charters. Rather, mainly due to economics, I have wound up with boats that have been left high and (not so) dry in the limbo of unfulfilled cruising destinies, seemingly unsellable, yet waiting for a new lease on life. Such was the case with the original Blue Crab, the 29-foot Maxi that I purchased in 1995, the 36-foot Watkins Crab Imperial that had been donated to Washington College in 2002, and the Irwin 40, Crab Royale, which we bought in 2012. At first look, each of these gals seemed to be on her last leg but came back to sail thousands of miles and generate thousands of smiles.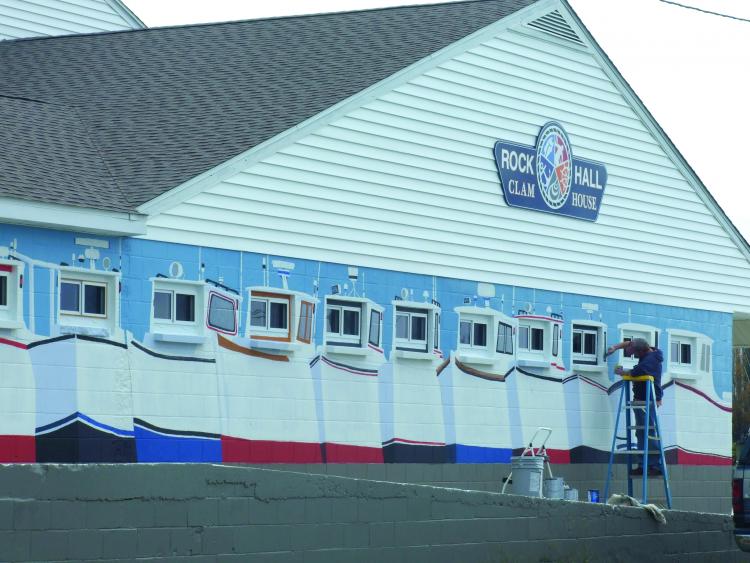 In 2015, in anticipation of my upcoming retirement from teaching, I started looking for a second boat to take to the Caribbean for winter charters. As I considered several prospects, I learned that a very generous donation, the 43-foot Island Girl, had been made to Rock Hall Marine Restoration and Heritage Center (RHMRHC), a brand new non-profit recently established in the now-restored Rock Hall Clam House. Having taken great interest in the success of both the Clam House and the very promising Heritage Center, I sensed that if I had the opportunity to purchase this boat, many dreams and more than one destiny might be fulfilled, a win-win for all.
Although, sadly unattended by her previous owner due to illness, I immediately recognized that Island Girl was destined to cruise the deep blue waters of the Caribbean. It was our great fortune to be able to adopt this beautiful lady from RHMRHC and make preparations to fulfill our shared destinies.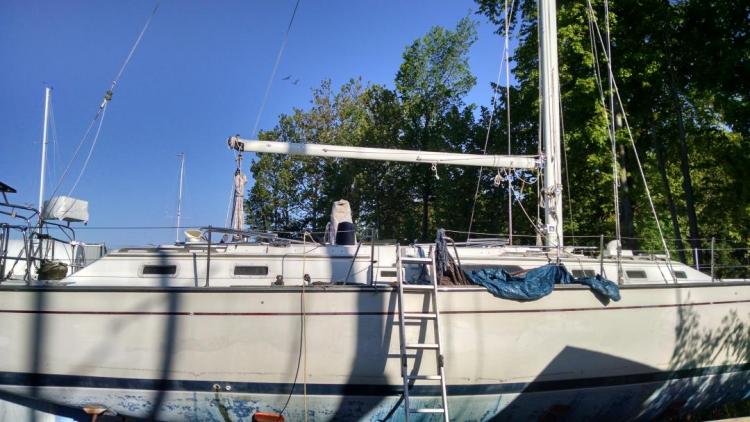 Island Girl is a well-built 43-foot Morgan center-cockpit cruiser. She had been on the hard at Gratitude Marina for several years with a number of issues that we needed to address. After many hours of interior and exterior restoration work, we were able to put her into the water by mid-summer of 2016. It helps to live a few blocks away from the boat yard! We immediately began refitting and equipping Island Girl for a southbound bluewater voyage to the Virgin Islands. To accomplish this, we would join the Salty Dawg Cruising Rally, scheduled to depart Hampton, VA, in the fall of 2017.
With a sturdy boat, a fearless crew, lots of brand new equipment, an abundance of second-hand equipment acquired from Rock Hall Marine Consignment Shop, also located in the Clam House, and a full slate of guests scheduled to join us in the Virgin Islands, we were ready to set sail… until, in September, back-to-back hurricanes, Irma and Maria, mercilessly left the islands in a state of total devastation. Island Girl's Caribbean destiny would have to wait.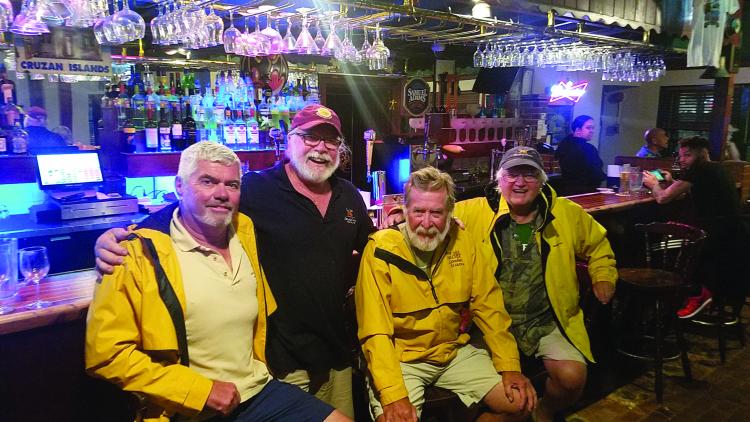 Meanwhile, Island Girl would come back to life, sailing hundreds of Chesapeake day and sunset cruises, spending the winter of 2016 in Philadelphia and the winter of 2017 cruising the ICW to North Carolina, and after we parted with Crab Royale, becoming our only charter boat. Fortunately, we were able to keep our "Salty Crew" intact, as well as our scheduled guests, for the fall 2018 Salty Dawg cruise to the Virgin Islands.
Although, often outsized, and in the company of some very impressive and expensive bluewater mono and multihull cruisers, Island Girl was never outclassed as the 70-plus Salty Dawg boats and crews converged in Hampton. In what would be noted by rally organizers as the second most challenging weather year in rally history, Island Girl successfully transited from Hampton to Beaufort, NC, via the ICW and departed Cape Lookout at midnight November 7 for a five-day, non-stop ocean passage to Bermuda. There, we would rest up, re-provision, fix things, and hope for a second weather window for the eight-day passage to St. Thomas.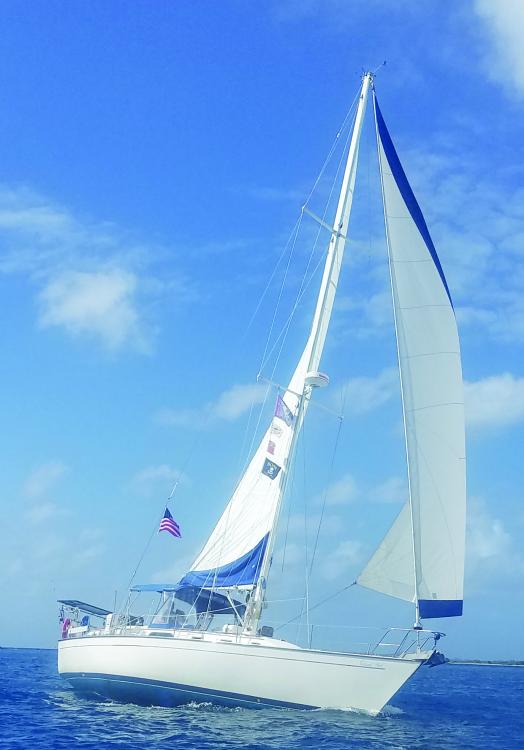 Upon reaching the Virgin Islands, the "Salty Crew" (Dave Fife, Jimmy Lynn, and Bob Schaefer) were treated to a complete US/BVI cruise before leaving me to myself to prepare for the Christmas Day arrival of my First and Only Mate, Suzanne. Together, Suzanne and I would share the cruising dream with our guests, working a week-on, week-off basis, visiting the islands and providing five-day sailing vacations.
All said, during the winter of 2018-2019, Island Girl covered over 4000 miles and visited many islands and destinations. This includes the passages to Bermuda, the U.S. Virgin Islands, and eight visits to the BVIs before heading home from St. Thomas on March 14.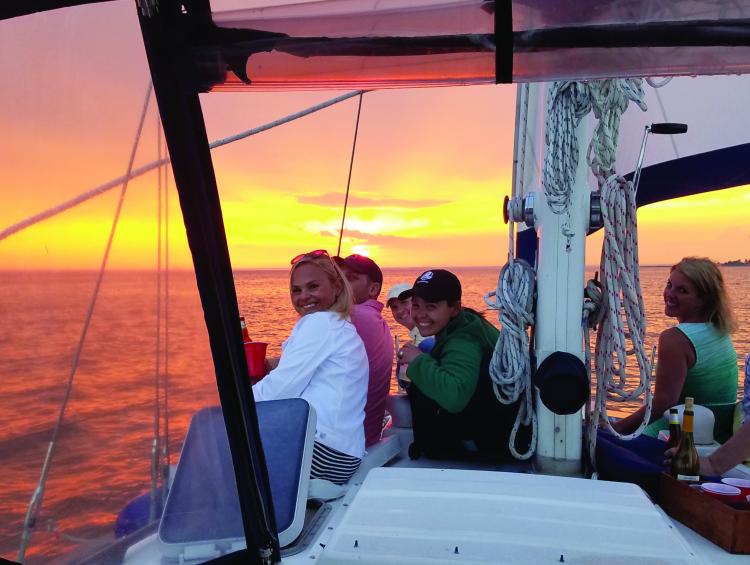 The cruise home would include a crew change in St. Thomas (Ed Cassaza) and many stops as we hopped our way home. Stops included Culebra, Spanish Virgin Islands; San Juan, Puerto Rico; South Caicos and Provodenciales in the Turks and Caicos; Mayaguana, Plana Cay, Long Island, Great Exuma, Big Farmer Cay, Shroud Cay, Nassau, and the Berries in the Bahamas; and a Gulf Stream crossing to Lake Worth Inlet, FL.
Working our way up the coast, we visited Stuart, Ft. Pierce, New Smyrna Beach, and St. Augustine, FL. Next, an offshore jump to Beaufort, SC, and then on to Morehead City, NC. Finally, Cousin Jimmy would arrive in New Bern, NC, to accompany me and Island Girl home to Rock Hall via the Dismal Swamp Canal, Portsmouth, VA, Tangier, and Solomons Island.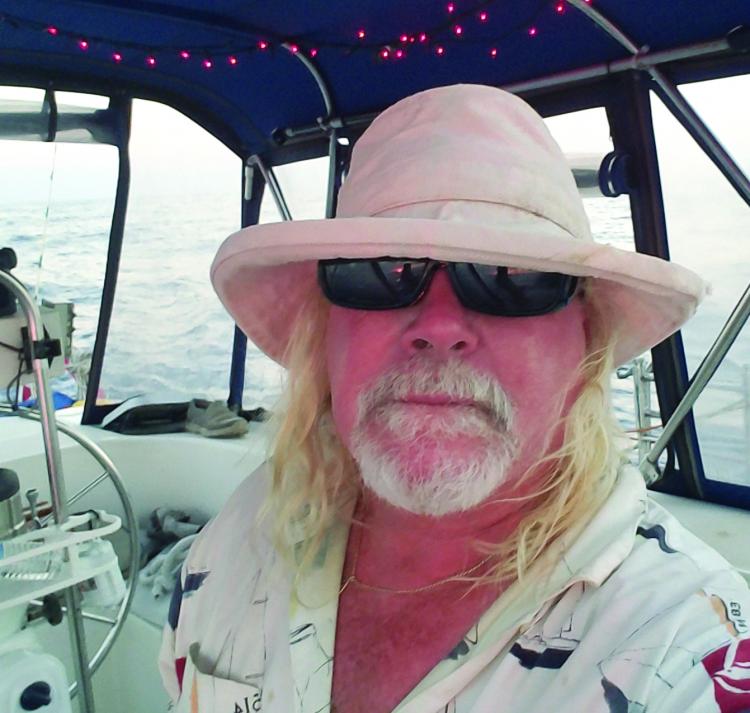 Now, we are back in our slip at Waterman's Crab House in Rock Hall ready to start our 21st sailing season. Island Girl is surely living up to her name! Needless to say, we have much to be thankful for as this wonderful chapter comes to a close and a new one begins. We are especially grateful to have discovered and acquired Island Girl from RHMRHC and her generous donor: a big win for ourselves, our guests, our fearless crews, and the beneficiaries of the important work now being done at the Rock Hall Marine Restoration and Heritage Center.
When traversing the many boat yards of the world, remember, one never knows what adventures might lie ahead for that "good old boat" just waiting for a new lease on life and a destiny to fulfill.
~By Capt. Mark Einstein
Looking to outfit a boat for your own bluewater dream? Check out M Yacht services, the longtime sponsor of this column.