Fun To Sail and Points Well: Alerion 28 Express
Chesapeake Bay marine surveyor Tarn Kelsey explains what he enjoys and has learned about used models of the Alerion 28 Express.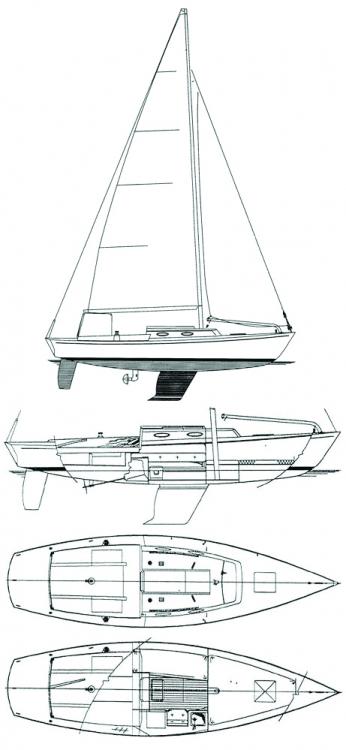 The surveyor's life is often perceived as one of constant joy rides on other people's boats. While it is true that many inspections do include an obligatory sea trial, the main focus of the sea trial is to test the engine and electronics and get a decent look at the sails and rigging. Depending on the boat, 60 minutes on the water is usually sufficient, brevity being the operative term. Normally I am grateful when the broker gently turns the conversation to returning to the dock, especially when it's 28 degrees with snow flurries. Nuances of the boat performance and sail trim are left for later.
The Alerion 28 Express is one of the exceptions to the brevity rule, and one of the few boats I don't mind spending another 20 to 30 minutes on the water pretending to be working. The boats are genuinely fun to sail, can make decent speed without trying too hard, and point well. The Alerion 28 is a unique blend of a larger boat feel blended with small boat excitement and responsiveness. The cockpit is relatively dry considering the low profile of the hull. The success of the A28 inspired several additions to the Alerion line including the Express 20, Express 30, Express 33, Express 38, and Express 41.
The Alerion 28 Express is a direct descendent of Nathanial Herreshoff's 1912 26-foot Alerion III and is a combination of the original Herreshoff lines blended with a modern underbody. The Alerion 28 Express was designed primarily as a daysailer/racer with an easy-to-handle sail plan and a cockpit designed for more than two and a half people. Interior amenities are very basic. Overnighting in my opinion would be akin to sleeping in the back of a van.
As of this writing the Alerion 28 Express is still in production, having over the years been built by four different manufacturers at different times. The Alerion 28 Express was introduced in 1989 with production starting in 1990; Holby Marine built the first seven hulls. In 1992 TPI (Tillotson Pearson of J-Boat fame) obtained the molds and built A28s until closing its doors in 2011.
US Watercraft took over production until 2018. Alerion Yachts was formed and continued production in 2018. As of the start of 2018, over 470 hulls of the A28 have been produced. The basic Carl Schumacher design hybrid has not been altered much, but there have been some significant changes in production techniques and materials.
In 1994 Garry Hoyt introduced the optional Hoyt jib boom for the headsail which significantly simplified sail handling. Also in 1994, an upgrade to a bulb keel was made, and infusion molding of the cored hulls and decks was introduced. The current 2019/2020 sales literature indicates foam core in both the hull and deck. Earlier decks hulls were balsa cored. I could not determine the exact year that the transition from end grain balsa to foam core occurred. During its stewardship US Water Craft introduced a re-designed interior and introduced a grid structure to optimize strength and dovetail better with an improved resin infusion building process.
The engine package has changed over the years; earlier boats were shaft driven with a two-cylinder Yanmar diesel. The engine and transmission were later changed to a Yanmar sail drive. Current models are delivered with a Volvo engine and sail drive. Current specs on new boats indicate stainless rod rigging; all the older boats in my records were 1X 19 stainless wire.
Due to its long production run, prices for a used Alerion 28 Express are all over the map. In December 2019 asking prices ranged from $22,500 to $115,000. Most asking prices seem to be between roughly $40,000 and $80,000.
After surveying many of these boats, I have some consistent observations/findings to share;
Older boats with a balsa core could have typical balsa-core problems such as moisture intrusion and degradation of the core.
Older boats were susceptible to wet plywood bulkheads where the chain plates were attached.
Access to engines with the sail drive package was tight. If I recall, a section of the cockpit was removable to provide access to some upper engine components and sail drive.
With virtually no bilge area the teak and holly laminate cabin soles would be exposed to moisture from underneath resulting in deterioration of the cabin sole and/or water stains.
Specifications:
LOA: 28'3"
LWL: 22'10"
Beam: 8'2"
Draft: 4'6 or 3'9"
Displacement: 5700 lb.
Designer: Carl Schumacher
Builders: Holby Marine, Tillotson Pearson, US Watercraft, Alerion Yachts
About the Author: Captain Tarn Kelsey is the owner and operator of Kelsey Marine Survey based out of Annapolis.