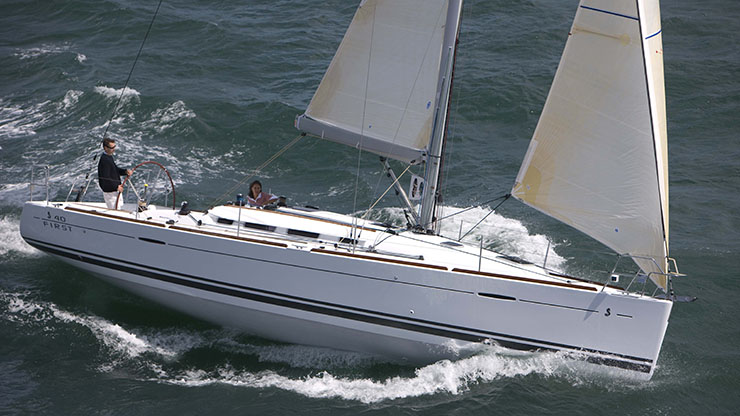 Beneteau's First 40.7 was introduced in 1999, after more than two years in planning and design by the Farr Yacht Design team in Annapolis. The 40.7 quickly gained respect on the race course and is still a hot selling new boat. Used models are beginning to make their way into the marketplace at reasonable prices.
The design is typical of performance-oriented, IMS-influenced designs of the late 1990s and features a relatively narrow entry forward to enhance upwind performance. The maximum beam is carried well aft with flat, straight runs for speed and power downwind. Length overall is 39' 3", waterline length is 34' 10" and beam is 12' 3". The standard version of the 40.7 draws 7' 9," although there is an optional reduced draft model that draws 6' 2". The designed displacement is a reasonable 15,211 pounds with ballast reported at 5,950 pounds, resulting in a ballast/displacement ratio of 39%, slightly below average for typical IMS boats of this size.
I say the 15,211 pound displacement is reasonable, because the weight is sufficient to allow for reasonably sound construction of a boat this size without the use of high tech materials that would skyrocket the price of the boat. The hull is constructed of a solid laminate of fiberglass and resin utilizing higher-cost vinylester resin only in the outer layer to reduce the potential for osmotic blistering.
For structural reinforcement Beneteau uses a molded, solid fiberglass grid/liner system which runs nearly bow to stern. This system also provides the foundation for the engine, fuel tanks, mast step, chain plates, bulkheads, and cabinetry. This is a proven and strong method of construction but, due to lack of access, can complicate repairs and modifications somewhere down the line. To reduce weight and cost, bulkheads and joiner work not intended as structural components are kept to absolute minimal dimensions. One crew member who recently completed the Newport – Bermuda race on a 40.7 told me that "non-structural bulkheads felt as if they were made of cardboard." It is too early to evaluate fairly how these light weight components will hold up down the road.
The deck and hull are fastened on an internal hull flange with screws and a polyurethane adhesive glue. These modern adhesives are incredibly strong, lessening the importance of a strong mechanical bond.
The deck arrangement of the 40.7 is not likely to completely satisfy either the racer or the cruiser, which probably means it is reasonable. Neither racer nor cruiser will find fault with the size of the nine-foot-long cockpit. However, a large 60-inch diameter wheel, a side-to-side traveler which cuts the cockpit in half, and seats that are shortened to make room for winch grinders, add up to a layout that seems to favor the racing sailor.
Beneteau does offer removable cockpit lockers to extend seating and storage, but I would think these are more trouble than they're worth.
There is a teak toe rail along the side decks that looks nice but requires additional maintenance and does not provide convenient locations for attaching blocks and outboard leads.
While the deck layout favors the racing sailor, the interior of the 40.7 seems to favor the cruiser or round-the-buoys racer. The layout is conventional with a v-berth forward followed by a starboard head and port hanging locker. In the main cabin there are mirror image settees with a drop-leaf centerline table followed by a small galley to port and a large navigation station to starboard. There are mirror image quarter berth cabins aft with double berths. Beneteau has thoughtfully split the berth cushions lengthwise so that each can be separated by a lee cloth for extended racing or cruising offshore.
The cruising sailor might find that this interior lacks adequate counter space for meal preparation, while offshore racers might discover that there is no suitable wet locker for storage of foul weather gear; sea berths are inadequate, and the head is too far forward for convenience and comfort at sea.
Although I have not had an opportunity to sail the 40.7, I have several friends and acquaintances, all good sailors, who have. Each has been very impressed with its speed, sailing characteristics and ease of handling.
By today's standard, the 40.7's sail area/displacement ratio of 23.2 and displacement/length ratio of 161 are not considered extreme for the racer/cruiser. They are indicative of a boat that will perform well in light air but will require an experienced crew to keep her on her feet and sailing well in heavy air. Typical of boats with wide transoms and flat hull sections, she is likely to have increased weather helm as she heels and will pound uncomfortably in big, short seas, but these are some of the tradeoffs for speed. There are no hull distortions to lead to bad behavior.
Standard auxiliary power is a 30-hp Volvo diesel engine with Saildrive and two-blade folding propeller which will power the 40.7 comfortably at five to seven knots depending on conditions. Saildrives require slightly more maintenance than do standard inboard engines, but they create less drag than the prop, strut, and shaft of a conventional installation. When properly installed and maintained, they are long lasting and dependable.
Although marketed as a racer-cruiser, there is no doubt this boat will appeal more to serious racing sailors who occasionally cruise than it will to cruisers who occasionally race. Her success on the race course and moderate price have kept the 40.7 in high demand. I was able to find several used models offered for sale but unfortunately, three of the five boats I found were in Europe.