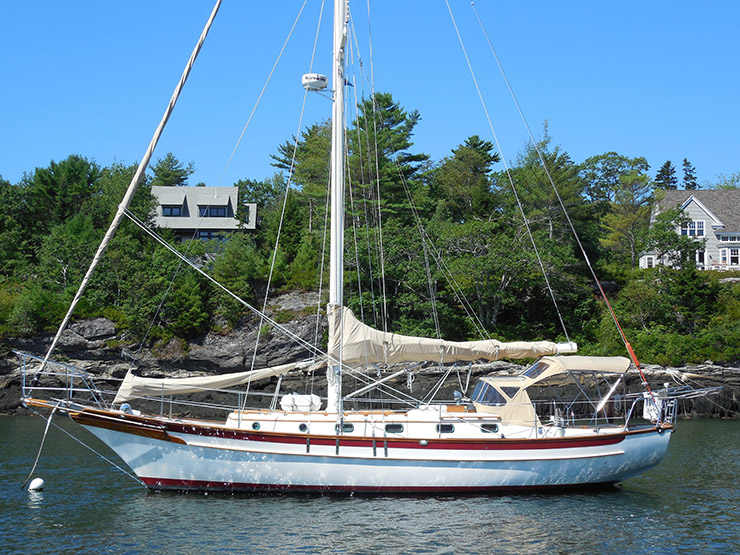 From its humble beginning in a corner of the British Leland assembly plant in San Jose, Costa Rica, Cabo Rico Boats have earned the respect of cruising sailors around the world. Introduced nearly 25 years ago, the Cabo Rico 38 remains in production and is one of the company's most enduring models. This boat succeeds because she never pretends to be anything but what she is--a serious cruising boat for serious cruisers.
Although there is no common consensus on what defines a serious cruising boat. And, if you compared the designs of Steve Dashew and W.I.B. Crealock, both noted cruising boat designers, you would find boats that are radically different in appearance, yet similar in a number of areas important to all cruisers. Among common features, they have ample capacity for fuel and fresh water, a strong rig and manageable sail plans, predictable sailing characteristics, good sea berths, sound construction methods, and, accommodations and features that consider the safety of the crew and guests above all else. By these standards, the Crealock-designed Cabo Rico 38 qualifies as a serious cruising boat. Cabo Rico offers both pilothouse and trunk cabin models, but because of limited editorial space and (pilothouse models), I'll confine my comments to the trunk cabin model.
The overall length of the Cabo Rico 38 is actually 41-feet due to a three-foot bowsprit. Waterline length is 29' 3"; beam is 11' 6"; draft is listed by the manufacturer at an even five feet; and displacement is 21,500 pounds.
The Cabo Rico 38 hull is constructed of fiberglass laminates. Although some balsa core is used in the hull sides above the static waterline, the core is intended for thermal and sound insulation rather than for strength. Since the mid-1990s, boats have been built with vinylester resin used for the first four layers of fiberglass to prevent osmotic blistering. It is not uncommon for older boats that used a polyester resin to have some osmotic blistering if remedial repairs or preventive measures have not been taken.
Decks and cabin structures are built with half-inch balsa wood core between fiberglass laminates, although core materials are eliminated in the area of through-bolted hardware. Some early model Cabo Rico 38s were built with teak deck overlays. If not properly and frequently maintained, these boats can have significant underlying problems that are, at best, expensive to repair. Therefore, a closer look at these models may be in order. If in doubt, it may be worth the cost of a small destructive examination, from below, to get a better idea of the condition of teak-overlaid decks.
Cabo Rico uses solid fiberglass for structural reinforcement below the waterline so that engine beds, floors and stringers are not dependent on materials that can deteriorate over time without being detected. Bulkheads are attached with fiberglass and epoxy resin on each side. Secondary bonding failures on these boats are nearly non-existent.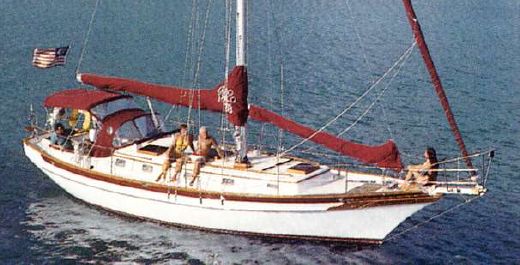 The decks are well laid out for cruising with two 1 1/2"-diameter scuppers along each side deck and two two-inch diameter scuppers in the cockpit for good drainage. There is a sturdy stainless steel double rail bow pulpit and two anchor rollers. For security, there are double lifelines supported by closely spaced stainless steel stanchions and a raised bulwark with a teak caprail all around. There are plenty of deck hatches, opening ports and dorades for good ventilation of cabin spaces. The cockpit is not large--a feature often considered a plus on cruising boats--but offers comfortable seating for four.
If there is a complaint, it may be that there is too much exterior woodwork. The abundance of teak trim makes for a classic, handsome appearance but it also adds to cost, or at least to the time spent, maintaining the exterior.
Cabo Rico has offered several variations of a standard interior arrangement plan featuring a forward stateroom with a large double berth followed by head and shower, a main saloon with either opposing settees or a combination dinette/settee, and aft galley and navigation station. In the mid-1990s, the engine was moved from beneath the companionway steps to beneath the galley counter, opening up space for the aft quarter berth cabin and head found on more recent models. Because Cabo Rico offers original owners ultimate control of the interior arrangement, there are few 38 interiors that are exactly alike.
Auxiliary power may be provided by Perkins, Westerbeke or Yanmar diesel engines, all of which, if in good running order, will provide sufficient power. Somewhat unique to boats in this size range, engines are mounted level with a horizontal propeller shaft. While this method of installation is the most efficient, it also moves the heavy machinery lower in the hull where it helps lower the center of gravity.
With a full keel and its associated high wetted surface area, the Cabo Rico 38 has a whopping displacement/length ratio of 375, a sail area/displacement ratio of 15.2, and rigging shroud chain plates at the deck edge. So if you're looking for a boat that accelerates quickly out of tacks and sails efficiently at better than 45 degrees to the wind, this one's not for you.
On the other hand, cruising sailors may only tack once or twice a day. They also tend to avoid beating to weather and are seldom willing to sacrifice the storage benefits of volume for the performance benefits of light displacement. In general, the Cabo Rico 38 is slightly less responsive and weatherly than lighter cruising designs such as the Pacific Seacraft 37 but considerably better than heavier Colin Archer-types such as the Ingrid 38.
As of this writing, in early September 2003, hull number 190 of the Cabo Rico 38 was under construction. This isn't a lot but it's sufficient to ensure a pretty good supply of used models. Additionally, a production run of more than 20 years ensures a wide price range that will make this boat affordable to a wide variety of sailors. I found 13 boats offered for sale ranging from $80,000 to $240,000 and records of 16 boats sold over the last 18 months ranging form $65,000 for a 1981 model to $235,000 for a 1998 model. When all the pros and cons are considered, this is still a tough boat to beat if you're looking for a serious cruising boat in this size range.