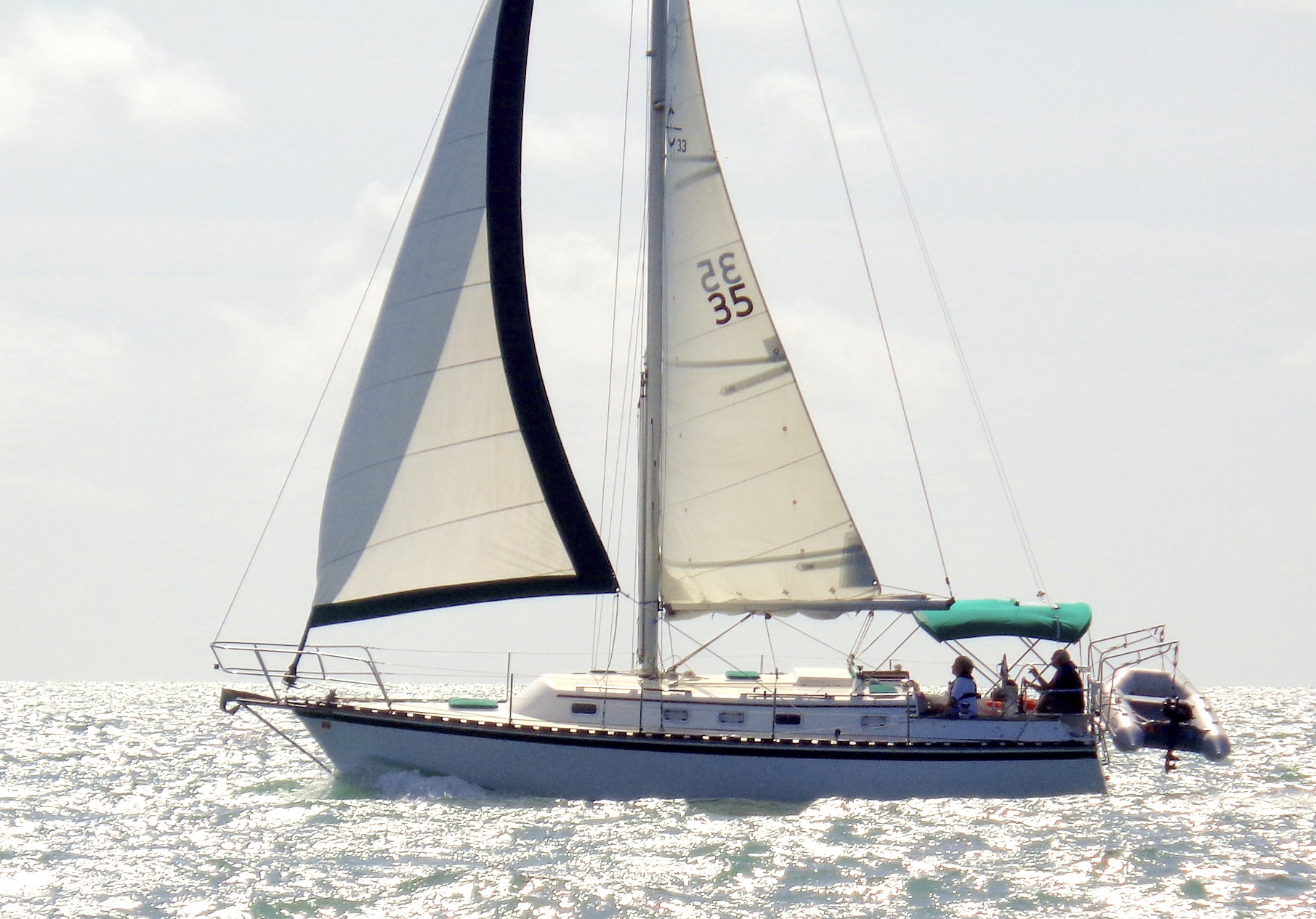 Designed by Caliber's co-founder, Michael McCreary, the Caliber 33 was introduced in 1985 following on the heels of the company's first model, the Caliber 28. The design appears to be aimed squarely at the performance conscious cruiser. The appearance is rather angular with a nearly flat sheer and straight stem, which is neither classic or Euro-modern. I personally like the efficient, business-like look, and the greater slope of the transom of the Caliber 35 model is even better balanced and more handsome than the 33 to my eye.
The Caliber 33 and 35 models are not actually 33' or 35' in length, but I suppose model names are not very important anyway. The hull length of the 33 is 32' 6" , and even with a bowsprit and pulpit her overall length is just shy of 35' . Other principal dimensions are specified as: waterline length, 29' 6" , beam 11' 4" , Draft 4 6" and displacement 11,400-lbs.
When the Caliber 35 model was introduced, hull length increased to 34' due to added slope of the transom and integral boarding step. With bowsprit, her overall length was 36' 6". The specified waterline length increased by 4" due to 700-lbs of added ballast. According to the manufacturer's specifications, draft remained at 4' 6" . Without a redesign of the keel, it's impossible to increase ballast, lengthen the waterline and maintain the same draft, so, if an inch or two of draft is important, I would recommend taking some accurate measurements. Early manufacturer's literature also indicates a shoal draft version was offered drawing just 4' .
The method of construction of the Caliber 33/35 is just about as good as can be found on a moderately priced, production fiberglass boat. The hull is constructed of solid fiberglass and resin laminate. There are substantial and closely spaced floors throughout the bilge, and unlike many boats in this size and price range, Caliber does not use pre-fabricated fiberglass liners blindly secured in place with adhesive bonding materials. Instead, Caliber secures each bulkhead and joiner component with two to four layers of hand-laid fiberglass cloth and resin.
Decks are constructed with plywood rather than balsa wood. The core and the deck-to-hull joint is sealed with a polyurethane adhesive and then bolted through an aluminum toe rail every 6" with 1/4" stainless steel carriage bolts. The bolts are fit into square holes in the toe rail so that tightening the nuts will not cause the bolts to turn and break the caulking seal. This creates a strong, solid structure, and creaks and groans common to lesser boats when they are stressed are practically nonexistent with the Caliber. Some of the early Caliber 33 models did have some problems with bowsprits that failed under heavy load, but this was later corrected with a beefed-up structure.
Auxiliary power is provided by a Yanmar, model 3GM, marine diesel engine that provides plenty of punch even for 13,000-lbs displacement. Access for maintenance is reasonable through the port side seat locker and beneath the companionway steps. The original 33 and early 35 models had a 26-gallon fuel capacity while the 35LRC boasts an enormous 120-gallon fuel capacity. They aren't kidding about this long-range cruiser stuff.
The sail area to displacement ratio of the Caliber 33/35 averages a conservative 16 with an average displacement length ratio of a less conservative 210. The two should balance out nicely for acceptable cruising boat performance. My sea time on these boats is limited to several sea trials. However, owners I have spoken with are nearly unanimous in their praise of the boat's sailing characteristics. The ballast to displacement ratio is a very hefty 47%. This likely suggests a little more stability than may be the case. I do not have access to the stability numbers on this boat but, considering her shallow draft and the weight of plywood cored decks, the high percentage of ballast is likely in order.
The Caliber 33 and 35 are both excellent choices for bay and coastal cruising and, with proper experience and crew, they are capable of offshore passages. If you think of this as a 35-footer, accommodations are a little tight, but think of her as a 33-footer and accommodations are plentiful. The bottom line is these are well-built boats that offer excellent value and have maintained their resale value well over the years.
Reviewed in the April 2000 issue of SpinSheet by Jack Hornor