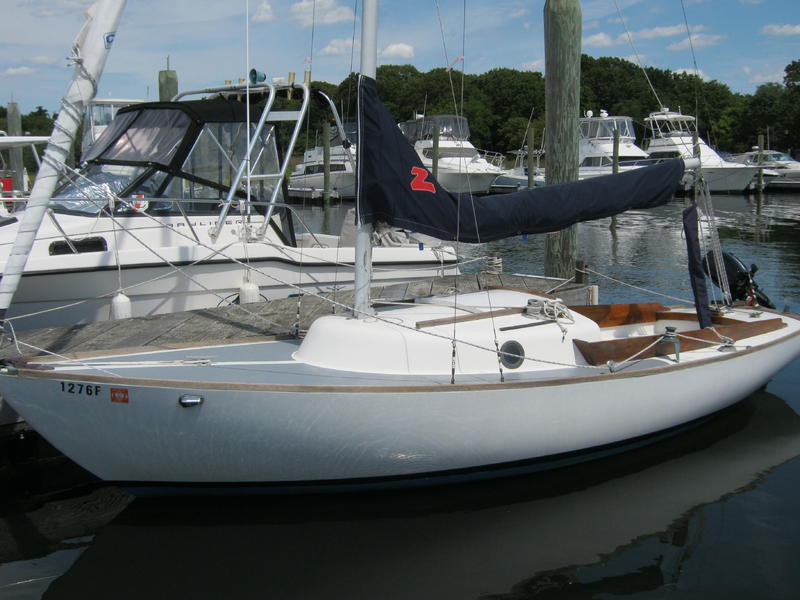 Over the years the question I've been asked most often as a result of these reviews is what's the best boat for a beginning sailor or someone interested in buying his first boat. I have often avoided the question by responding that there are far too many variables to select one, two or even three best boats. Recently I've been thinking about this, and I'm putting together my suggestion list of the ten best starter boats. I won't give away any final selections, but I can tell you this month's review is on my short list.
Cape Dory Yachts introduced the Typhoon in 1967 based on a 1960 design by the late Carl Alberg. It became the cornerstone of the company's line of conservative, sensible cruising sailboats: (many also designed by Alberg), and remained in production until 1985. More than 2,200 boats were built. The Typhoon is a full keel design with a yacht rather than dinghy like profile and seems larger than she actually is; although, dimensions are a mere 18' 6" LOA, 13' 11" LWL, 6' 3" beam and 2' 7" draft. Displacement is a healthy 1,800 to 2,000 lbs, depending on the model.
All Typhoons are solidly constructed of fiberglass cloth and polyester resin. There is a balsa wood core used in some of the deck areas and cabin top to stiffen the laminate without adding weight. There is a teak toe rail at the deck edge, fastened with stainless steel sheet metal screws, and teak combing around the cockpit. The use of teak is just enough to set off the sheer and result in a conservative, yachty appearance.
Construction is straightforward, and there is little to go wrong with Typhoons as they age that normal maintenance and upkeep won't handle. Decks should be thoroughly checked around fittings and attachments to be certain water has not penetrated and damaged the core. The cabin top area around the mast step should be checked to see if there is any hollow or deformation. I have seen a number of Typhoons with moderate to severe problems in both these areas. Both problems are repairable, although the repairs can be quite expensive. If you fancy yourself a handyman or woman, there are a number of books available to help you get started on such projects.
Less serious annoyances with older boats include broken teak toe rails and cockpit combing, leaks at deck to hull joints, deteriorated finishes and osmotic blistering below the waterline.
The Typhoon was built as either a daysailer or weekender with slightly different deck and rig configurations. The significant visual differences are an extended cabin, the addition of a small round porthole in the cabin side, and fractional rather than masthead rig on the weekender model.
The daysailer has a large cockpit with a small enclosure beneath the foredeck for storage. The weekender features port and starboard quarter berths, a small v-berth, and space for a port-a-potty. As you might imagine, accommodations on the weekender are, to be kind, cramped and impractical, even though there were significantly more weekender models built than daysailers.
Auxiliary power can be provided by an outboard engine installed on a transom-mounted bracket. A modern 4 hp outboard engine will provide sufficient power. The drawback to transom-mounted outboard engines becomes apparent when the seas are choppy, and pitching has a tendency to raise the motor out of the water making it difficult to maintain a steady headway. When these conditions prevail, it is more comfortable and easier to maintain control under sail. It is not unusual for experienced Typhoon owners to dispense with auxiliary power altogether, although this may not be the best idea for a beginning sailor.
The working sail area of the Typhoon is about 160 sq. ft. on both models with the masthead-rigged daysailer having a slightly smaller mainsail and slightly larger jib than the fractionally rigged weekender. The sailing performance of the Typhoon is well mannered. The ideal conditions are relatively calm seas and true wind speeds from five to 12 knots. She'll do a little better than five knots under ideal conditions, since the waterline lengthens as the boat heels.
The Typhoon's beam is narrow, freeboard low, and it is not difficult to put the lee rail down when beating to weather in a stiff breeze. This is not only inefficient but can be quite disconcerting to beginning sailors, so reefing is advised for performance as well as comfort. Early versions of the Typhoon had a roller-reefing boom, which was replaced on later models with slab reefing. The conversion can cost several hundred dollars for hardware and sail modifications, but is well worth the expense.
With more than 2200 boats built in 16 years, finding a used Typhoon for sale is seldom difficult. A few are available with trailers but most are not. If a trailer is included, it should be inspected closely to ensure it is suitable for road use.
The Typhoon offers many features ideally suited to the beginning or novice sailor from the security of its deep comfortable cockpit to its forgiving nature. Prices are moderate and values are stable, so when you're hooked and want to trade up in a few years, you're not saddled with a boat that's worth a lot less than what you paid for it. Unlike many daysailers, the Typhoons are generally kept in the water year round or at least for the sailing season. This has the disadvantage of additional cost for dockage, hauling, storage, and annual bottom painting. On the plus side, if you are considering purchase of a cruising boat, the costs are minimal with an 18' boat and will give you a realistic feel for the true cost of boat ownership as well as your capabilities for maintaining a vessel yourself. All in all the Typhoon can be a great starter boat, but there are more than a few who have found the Typhoon all the boat they need.
Reviewed in the February 2000 issue of SpinSheet by Jack Hornor