Several weeks ago, I read an editorial extolling the virtues of owning an ugly, decrepit old boat. As ridiculous as this sounds, the author, who was entirely serious, clearly has no pride of ownership and fails to understand one of the fundamental joys of boat ownership. The Cornish Crabber 24 is a handsome little yacht, which will get attention wherever she sails, and its fair to assume that owners and admirers of this classic take considerable pride in their boats.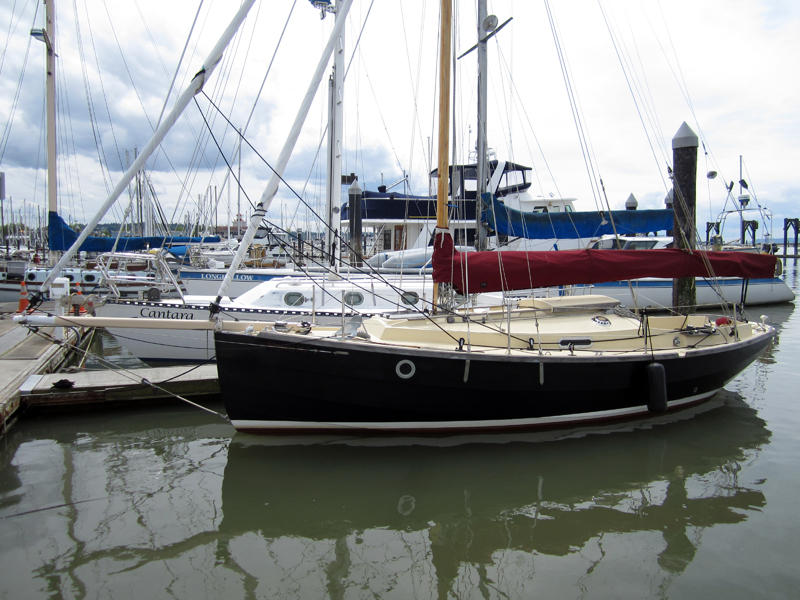 The original Cornish Crabber 24 was designed in 1974 by Cornwall yacht designer Roger Dongray for plywood construction. In 1993, Dongray updated the design for fiberglass construction by Cornish Crabbers Ltd., also of Cornwall, England. The new design, sometimes referred to as the Cornish Crabber 24—Category B, added very slightly to the original design's length and beam. The centerboard was eliminated in favor of a traditional long keel with cutaway forefoot; displacement increased nearly 2500 pounds; and the draft increased by six inches. Another slight modification in 2001 added six inches to the height of the cabin in order to increase headroom to more than six feet.
The present Crabber 24 is constructed of fiberglass composite materials and utilizes balsa and plywood core in the deck and cabin structure. The deck and hull are joined in a shoebox fashion with a substantial teak rub rail protecting the hull/deck joint. Strength is provided by fiberglass liners and plywood bulkheads attached with fiberglass cloth and polyester resin. In all honesty, I have not seen enough of these models to offer much comment on the quality of construction although, at more than 7000 pounds for a boat that is only slightly more than 24 feet long, no one is skimping on materials. On a cautionary note, a recent inspection of a 2000 model found some significant delamination of the side decks and a few minor failures of the fiberglass attachment of joiner work. I suspect these were isolated incidents related to quality control.
Although the on-deck length of the Crabber 24 is only 24 feet six inches, her overall of "spared" length with bow sprit is 30 feet six inches. In order to ease docking and reduce the size of slip needed, the bow sprit is retractable when not in use. Side decks are wide, and footing is secured by a shallow bulwark. Although there is no bow pulpit, side decks are additionally secured by life lines and stanchions.
The cockpit is deep and offers a secure feeling; although, the depth which allows for this secure feeling results in the cockpit sole being only about two inches above the static waterline. With four adults aboard and slight chop, the cockpit sole is constantly awash in sea water coming up through the scuppers. The builder's remedy is to provide a wood cockpit grate with marginal effectiveness. I would be happy to sacrifice a few inches of cockpit depth to keep my feet dry. The tiller, which fits to the rudder post aft of the cockpit is a bit high for comfort but has the advantage of being able to be raised clear of the cockpit, when not in use.
The interior of the Crabber 24 offers berths for up to five adults, but for the life of me, I can't imagine why anyone would take advantage of this feature. This would be a comfortable weekend cruiser for two adults and a child.
As you descend the companionway steps, there is an enclosed head to port and quarter berth to starboard. Further forward the galley stove is to port with the sink and to starboard, a washboard that doubles as a navigation table. A small, marginally insulated icebox is outboard of the galley sink. Forward of the galley are port and starboard settees with a centerline table that attaches to the mast compression post support. By lowering the table and moving the seatback cushions to the table top, this is converted to a comfortable double berth. The forepeak offers added storage and can be converted to a second double berth by adding frames and cushions above the dinette berth. This is an arrangement for which I can see no practical purpose.
Over the years, auxiliary power has been provided by several Yanmar diesel models from 10 to 18 horsepower. The front of the engine is accessed by removing the companionway steps, and a hatch in the cockpit sole provides access to the shaft coupling and packing gland.
Although I have drawn the Crabber 24 with what I believe to be the more attractive gaff rig, she is also available as a Bermuda cutter. The jackyard topsail adds about 10 square feet of sail area to the gaffer; although sailing characteristics are similar on both models. The Bermuda rig is slightly more weatherly, and the gaffer is marginally faster off the wind. Sail handling, particularly when the topsail is raised, is more complicated on the gaffer; although optional roller-furling foresails will ease sail-handling chores with either mode.
Even though I was only able to find one boat currently offered for sale in the U.S.—a 1998 model offered for $50,000, there have been several recent sales reported including a 2000 model at $39,000 and a 1999 model at $43,000. The Cornish Crabber 24 has been sold for a number of years by Annapolis-based Britannia Boats Ltd.; although she is not as popular in this country as in Europe, and used boat prices here are typically considerably less.
When they are available, these are very good values, and after all—life is too short to sail ugly boats.
Specifications:
LOA 30' 6" w/bow sprit
LOD 24' 6"
LWL 20' 9"
Beam 8' 6"
Displacement 7,150 lbs
Draft 3' 6"
Reviewed in the June 2008 issue of SpinSheet by Jack Hornor