Canadian Sailcraft (CS Yachts) of Ontario, Canada was a respected builder of quality sailboats for more than 25 years. Although the company went out of business in the early 1990s, the CS 36, produced from 1978 through 1987, remains popular with sailing enthusiasts both north and south of the border.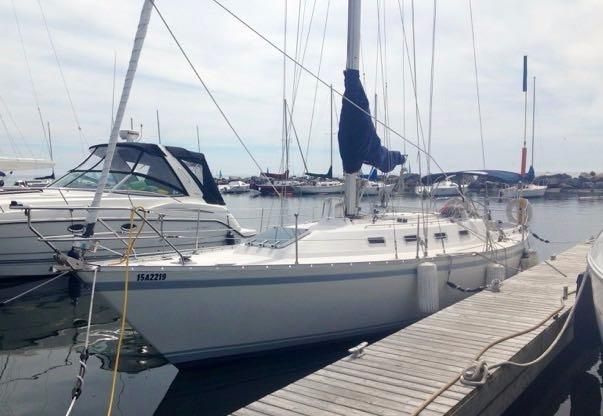 This model was designed by Raymond Wall and is sometimes referred to as the CS 36 Classic or Traditional in order to differentiate it from the later CS 36 Merlin model. About 300 of the original CS 36s were built.
I generally don't comment on the aesthetics of designs but the CS 36 is one of the best looking designs of the era and I think it's worthy of some comment on why. Aesthetically, the most important line of any design is the sheer line, and it would be hard to improve on the sheer Wall has drawn. If it were more curved, it would look exaggerated; less curved, and it would appear hogged or raised in the middle, as the boat normally heels under sail. The overhangs at the bow and stern are well balanced and the diagonal lines all complement one another. The cabin house and cockpit combings are styled so that they blend into the deck as if they were planned, not plopped down as an afterthought. The freeboard is necessarily high in order to provide ample headroom, but Wall has drawn an accent stripe below the sheer at just the right width and location to disguise the elevated freeboard without it becoming too prominent a feature. I'm not particularly fond of CS's practice of finishing the transom to match the feature stripe color, but this is a minor point and easily remedied.
The principal dimensions of the CS 36 are LOA 36' 6", LWL 29' 3", beam 11' 6" and the designed displacement is 15,500 pounds. Two keel configurations were offered, one with a draft of 6' 3" or a shoal draft of 4' 11".
Canadian boatbuilders were among the first to utilize balsa-cored hull construction, but CS Yachts was a hold out and did not core its hulls until later models. The CS 36 hull is a solid fiberglass lay-up, although the decks, cockpit, and cabin are balsa-cored for light weight and stiffness. There is always the potential for deck deterioration, particularly around fittings and chain plate penetrations, and these areas should be checked carefully. However, the quality of construction, attention to detail, and joiner work of the CS 36 are quite good and well above the average of production sailboat builders.
That said, there are several areas likely to need attention if not already attended to by a prior owner. Factory installed gate valves on through hull fittings below the waterline will have to be replaced with marine-quality, ¼ turn seacocks or ball valves. AC electrical systems which use solid copper wire not suited for marine use were not adequately circuit protected and are not properly grounded to the boat's DC negative and must be updated for current safety standards. And the LPG (propane) systems will need pressure valves, overfill protection valves, and properly sealed storage lockers to meet current standards.
The CS 36 foredeck features a large anchor locker and stainless steel stemhead fitting with two rollers for anchor storage. The side decks are wide and the cabin top design is clean with a minimal number of fittings on which to stub you toes. In the fashion of IOR boats of the day, the beam is a little pinched at the stern resulting in a small, T-shaped cockpit. There is a high bridgedeck to prevent water accumulated in the cockpit from getting below. Halyards are typically led aft with winches on the cabin top at the companionway so they can be handled from the cockpit. The standard Lewmar 43 primary winches mounted on the cockpit combing are marginal for use with larger genoas typically found on these boats.
Below deck the arrangement is ordinary but includes some rather nice, well-thought-out features. The V-berth master cabin is forward followed by a starboard head and shower and large hanging locker to port. The main saloon includes port and starboard settees with centerline drop-leaf table. The galley is to port aft, and there are a good-sized navigation table and quarter berth to starboard. Nice features include a wet locker adjacent to the companionway, sufficient storage, top quality cabinet and joiner work, and a 70-gallon supply of potable water so that you won't run out of fresh water on your second day away from the dock.
Most CS 36s are powered by fresh water-cooled Westerbeke 30 diesels, although I have seen several with 28 Hp Volvo engines installed as original equipment. Both provide just enough power for this 15,500 pound boat but don't leave much for reserve. Engines are mounted beneath the cockpit, fitted with V-drives, and access for service and maintenance is quite difficult – the price paid for added living space in the cabin.
Although the CS 36 has some IOR influenced design features, they are not extreme, and by all reports, she has an easily driven hull that balances well when not overpowered and has no nasty performance characteristics. By modern comparisons, the CS 36's displacement length ratio of 276 would be considered heavy but this was moderate for cruiser/racers of the late 1970s. Although some printed specifications list the sail area displacement ratio (SA/D) as 21.15, this is either an error or was calculated using the sail area of a genoa sail rather than 100% of the fore triangle as is typical. The actual sail area displacement ratio is in the range of 16.5 to 17.1, depending on the year boat and which mast was used, and is a much more normal number.
There are usually more CS 36s offered for sale in Canada and on the Great Lakes than on the Chesapeake, but from time to time we do see models offered in this area. Prices typically range between $45,000 and $65,000. There are less expensive 20 to 25-year-old 36-foot boats offered, but few in this size and price range offer better value, and with comparable new boats costing well over a quarter of a million dollars, older CS 36s are real bargains.