Those of you who have followed these reviews over the years have undoubtedly recognized the fact I am somewhat partial to boats of conservative proportions and design. The Ericson 38 is, by current fashion, a conservative design, so it shouldn't come as a surprise to anyone that I am fond of this model. I'm not alone in this assessment because, as a testament to its popularity, the Ericson 38 remains in production 20 years after its introduction.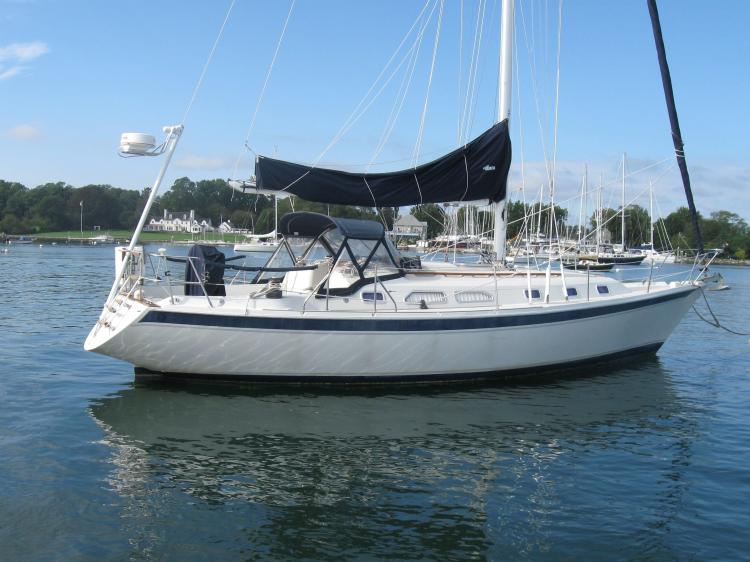 Introduced in 1980, the Ericson 38 was designed by the incomparable Bruce King whose talent for drawing beautiful boats of near perfect proportions ranks him with the likes of Herreshoff, Stevens, Rhodes, and Tripp. The length overall is 37' 8" , beam is 12', and displacement is 15,500 pounds.
Originally the Ericson 38 was built with a low aspect 4'11" fin keel as standard equipment. A highly tapered "competition" fin was offered as an option that drew 6' 6" . This was somewhat unusual in that shoal rather than deep draft was the standard equipment.
When Ericson became part of Pacific Seacraft in 1990, several design modifications took place, and the original low aspect fin keel was replaced with the option of a wing or bulb keel configuration both drawing 5'3" . Ericson 38s that have been measured under the IMS rule show a stability index of a 5' 3" draft model nearly nine degrees greater than for the 4' 11" draft model. This suggests newer models should be noticeably stiffer than the older shoal draft versions and perhaps a better choice if your plans call for some extended offshore sailing. I would opt for the bulb over the wing keel simply because it would be easier to recover from the inevitable grounding in the Chesapeake Bay mud.
For the most part, the hull of the Ericson 38 is constructed of a solid composite of fiberglass and resin, although some core material is used in some flat sections above the waterline to add stiffness without excessive weight. The Ericson 38 utilizes an elaborate system of high strength fiberglass fabric and high-density foam to form a structural grid of transverse floors and longitudinal stringers. The grid is bonded to the hull throughout the bilge. Components such as keel, engine beds, mast step, structural bulkheads, and rigging loads are all connected to the grid, resulting in a very rigid and strong structure.
The deck structure is a molded fiberglass composite with core throughout. There is a molded fiberglass toe rail eliminating the high maintenance and often leaky teak toe rail found on many cruising boats of this size and quality. The hull and deck are mechanically fastened as well as bonded with fiberglass cloth and resin effectively forming a monocoque structure.
Older model Ericson 38s, usually before 1990, are likely to suffer from some degree of osmotic blistering of the bottoms unless remedial repairs have already been made. Other common flaws on 10+ year old models include leaky ports, deck fittings, and chain plates. Cheap foam engine room insulation will likely have disintegrated, and plastic through hull fittings should be carefully inspected for cracks at the flanges of the fittings.
The decks are well laid out and feature substantial deck hardware that is well secured with backing plates. There is an anchor locker forward, and rigging shrouds are well inboard for easy passage fore and aft. There is a T-shaped cockpit with 36" destroyer wheel, and, while the cockpit area is suitably sized, the foot well is a bit cramped in order to provide space for the quarter berth cabin below.
There were several modifications of the accommodation plan of the Ericson 38 over the years, although all featured a V-berth cabin forward and a main saloon with a U-shaped dinette to port, and a settee to starboard. Early model boats featured the head forward of the main saloon along the port side which was later moved aft of the saloon along the starboard side. The starboard aft galley was reconfigured and relocated to the port side on later models, and the large port side quarterberth of early models was eventually reconfigured and made even larger for a legitimate enclosed quarterberth cabin. No matter which layout, all are comfortable for long term cruising and offer a break from the typical yacht design 101 arrangement found on many designs of this era and provide plenty of secure storage space.
From its introduction until the time that Pacific Seacraft took over construction, the standard engine for the Ericson was the 4 cylinder, 32 hp, fresh water cooled, Universal M-40 diesel. I have seen at least one of these early models with the larger 44 hp, M-50 Universal diesel installed, and I would expect this was an optional installation. When Pacific Seacraft took over, their first models were equipped with the 43 Hp Volvo engines which were later replaced with the 38 Yanmar engine. All these options provide plenty of horsepower for the 38's 15,500-lbs. displacement and should provide years of service if properly maintained.
The Ericson 38 is clearly a cruising boat, but her performance is certainly very respectable. With a sail area-displacement ratio of slightly over 18 and a displacement-length ratio of about 240, she has enough power for decent performance in light air yet is not so overpowered as to be impossible or dangerous to sail with a short handed crew. However, headsails are large, and a good furling system and large self-tailing winches are a must for ease of handling. The narrow shroud base allows for eight degree sheeting angles, and, with proper sails and trim, she should be able to sail to within 38 to 40 degrees of the apparent wind without difficulty.