Hanse 415: Overall Fit and Finish Above Average
As once mentioned in a previous sailboat review, the marine survey business at times can acquire occasional random cycles, such as closely spaced survey assignments of the same type and brand of boat. In late 2017 into 2018 I recall inspecting, almost consecutively, at least three late-model Hanse sailboats between 38 and 45 feet. Once a rarity on the brokerage circuit, at the time it seemed odd to have several closely spaced interactions with Hanse. Hanse appears to have finally firmly established itself in the North American market.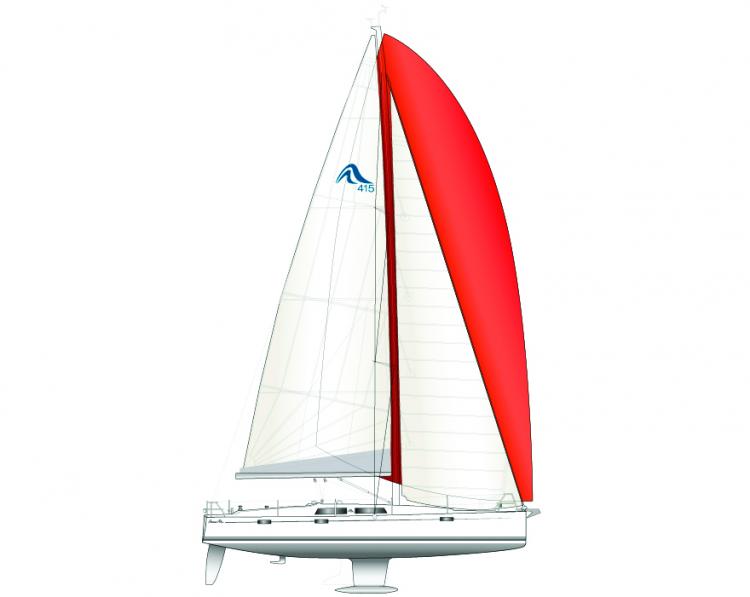 For those not familiar with the Hanse name, it is a German based yacht builder with facilities in Germany, Poland, and France. Hanse was officially formed in 1990 with the first sailboat introduced in 1993. As the company gained popularity in Europe and the Mediterranean it was almost inevitable that it "cross the pond" to have a stab at the North American market.
The 415 was introduced in 2011 and produced until the introduction of the 418 in 2017. As with previous models, the 415 was designed by the notable European design firm of Jude/Vrolijk and Co. The overall fit and finish and overall build quality appears above average. I do not recall recording any significant production or structural anomalies due to workmanship. I hope to be able to update this and follow the fleet as it ages.
The exterior lines of the 415 follow the now familiar European trend toward sharp lines, plumb bow, beamier aft section, and higher freeboard. The beamier aft section and higher freeboard improved the options for the interior design. Additional benefits included a wider, roomier cockpit, allowing the use of twin helm stations with unobstructed walk-through access to the retractable swim platform. The cockpit layout combined with the self-tacking jib makes single/short-handed sailing even more manageable. During sea trials sail handling was almost intuitive even with inexperienced people aboard who were wholly unfamiliar with the boat.
The additional freeboard and shallow bilges combine to give a roomy interior for the saloon and stateroom areas. Several interior options were available including two or three state rooms and one or two heads. All the interiors I have encountered were a wood-grain light-colored finish. The galley equipment includes DC refrigeration (one or two units) and a three-burner LPG stove (more on European LPG systems later).
The 415 is powered by a Volvo D2 38-hp engine connected to a Volvo sail drive; a 55-hp engine option was also available. Access to the engine is considered above average. Other options included a choice of bow and stern thrusters and a larger 106-percent head sail.
In March 2020 there were only three 415s available on the East Coast/Texas. Asking prices ranged from $189,500 to $239,000.
After surveying several Hanses over the years, I have some consistent observations/findings to share:
Engine: I ran into two Hanses that required the replacement of the Volvo ECM (Electronic Control Module), admittedly not Hanse problem per se. Not a difficult task and at the time still under warranty; the result is a reset of the engine hours making true engine hours difficult to ascertain and reliant on maintenance logs, receipts, and invoices.
Several of the Hanse yachts that I have inspected have shore power systems specifically designed for use with European 240-volt power grids. This leads to some inventive (translation: unsafe) adaptations to operate on domestic 120-volt systems. If not already properly modified, expect some upgrading of the shore power system to safely utilize domestic shore power systems.
Below water line thru-hulls: Hanse has a unique practice of installing bronze quarter-turn valves onto synthetic thru-hull fittings which I find unsettling. All synthetic below-waterline thru-hull installations that I have seen use a valve with a molded flange flush to the interior of the hull. In the Hanse installation, a moderate sideways force such as stepping on the bronze valve could potentially strip the pipe treads on the plastic or break the plastic fitting altogether. ABYC guidelines do not recommend this style of installation in bronze or synthetic.
Rudder post: Hanse uses aluminum for their rudder posts which can corrode and pit. The rudders should be "dropped" with the rudder posts inspected for corrosion and pitting every couple of years. To be fair, this should be routine practice on any rudder post.
LPG/Propane: Along with electrical system differences, the European approach to LPG (propane) systems is significantly different than the domestic US/ABYC approach. LPG systems that are unchanged from the original factory European configuration will require some upgrading.
Specifications
L.O.A.: 40'8"
BEAM: 13'8"
DRAFT: 5'8" or 6'11"
DISPLACEMENT: 20,063 lbs.
Designer: Judel/Vrolijk and Co. (Interior Design-Walter Vision/Hanse)
Builder: Hanse
~By Capt. Tarn Kelsey of Kelsey Marine Survey