The Hunter 45 DS Has Aged Remarkably Well
Yep, another used sailboat review of a 40-something Deck Saloon, this time a domestically built boat from Hunter. Earlier in the month I had the opportunity to survey a 2008 Hunter 45 Deck Saloon (DS). At the end of the day after reviewing the results with the potential buyer, I realized that the deficiency list was small, and the boat had aged remarkably well.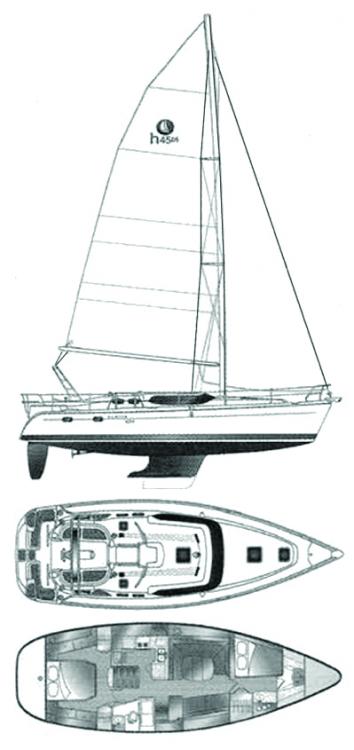 An abbreviated Hunter history: Hunter Boat Company was formed by the father and son team of Henry, John, and Warren Luhrs. You may recognize the Luhrs name as they were already a prolific builder of powerboats based out of New Jersey. Hunter Boat Company was formed in Florida in 1969 with the first Hunter sailboat being produced in 1973. With the volume boat building experience gained at Luhrs, Hunter was able to quickly deliver a respectable number of boats and gained traction in the domestic boat building scene.
Hunter R&D has been described by some as relentless, resulting in constant innovation in both construction methods, equipment use, and diversity in interior and deck layouts. An inventory of the number of different models offered by Hunter over the years is mind boggling; I didn't even bother to count. Build quality from boat to boat and model to model has been known to vary. It is sometimes plainly obvious when "peeking under the covers" that the boats were mass produced. The financial crisis of 2007-2008 proved to be too much for Hunter and resulted in the company filing for bankruptcy in 2012.
Production of the 45 DS started in 2006 and appears to have remained in production up to the point of bankruptcy in 2012. As with most of the Hunters of this vintage hull, construction is end-grain balsa core from the deck/shear to the water line with solid fiberglass below the water line, reportedly with Kevlar reinforcement in the bow area. The deck is also of end-grain balsa construction similar to many other domestic and foreign domestic boat builders. The boat is powered by an ever-reliable turbocharged Yanmar diesel; many are equipped with Fischer-Panda generators located under the navigation seat (by the way—not my favorite location both for noise and safety reasons).
The 45 DS is designed with dual helms using the Lewmar "torque tube" steering system in lieu of a cable system. I do not use the words "bullet proof" often, but this system qualifies. This powerful system is easily maintained and requires almost no adjustment. The rig is a "B&R" (Bergstrom and Ridder) style mast/boom with a factory supplied vertically battened in-mast roller furler mainsail and a smaller roller furler genoa. The interior layout and ambience is well thought-out and functional; accommodations are admittedly designed more for relaxing and entertaining at anchor than true passagemaking. I have heard some complaints concerning the lack of storage space. Mechanical, electrical, and plumbing systems are consistently well executed. The stock battery inventory is impressive. Most boats in the Chesapeake region will be equipped with air conditioning.
As of June 2020 there were five available on the East Coast. Asking prices ranged from $179,000 to $225,000.
After surveying several of these boats, I have some consistent observations/findings to share:
Hunter uses plywood for the thru-hull backing plates, the plywood will over time begin to delaminate and require replacement.
Strainers for air conditioning, engine, and generator are plastic affairs that have never instilled me with much confidence, as these strainers offer almost no resistance to freezing, and the acrylic bowls are prone to crazing.
Moisture intrusion into the balsa-cored hulls can be problematic. Moisture works in between the inner and outer layers of fiberglass and can deteriorate the internal balsa core material; this condition is almost invisible and is not detected without percussion sounding and the use of a moisture meter. This is not a problem unique to Hunter and applies to any balsa-cored hull and deck.
I usually detect moisture in the cockpit floor around the emergency tiller access port
I have seen leaking at the hull-to deck joint specifically at the transom due to lack of sufficient sealant from the factory.
Yanmar hour meters of this generation of engine always fail, unless other documentation is available, so engine hours are frequently unknown.
Rudders: it is not uncommon to see compromised rudder structure when tapping/percussion sounding.
Specifications
LOA: 44.8'
Beam: 14.5'
Draft: 6.5' ot 5' (standard
draft vs. shoal draft)
Displacement: 22,937 lbs.
Designer: Glenn Henderson
Builder: Hunter
About the Author: Capt. Tarn Kelsey owns and operates Kelsey Marine Survey in Annapolis.