Hylas 46, a Favorite To Survey and Perhaps To Own
Every so often when inspecting a used boat, I occasionally evaluate my current victim as to how it might possibly fit my needs and wants, past or present. While on a Hylas 46 recently, I was once again reminded of my affection for the center-cockpit 40- to 45-foot cutter rig. As subset to that, I consider the Hylas 46 one of my favorites to survey, and if the opportunity arose, the 46 would be a top contender in the favorite-to-own category.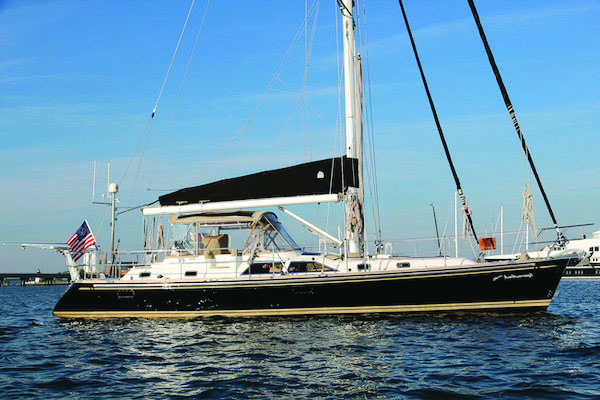 Hylas, an abbreviated history
Queen Long boat yard, the builder of Hylas Yachts, was founded in Taiwan in 1978 by Joseph Huang. The unofficial origin of Hylas Yachts appears to have started in the early 1980s as a result of Queen Long's working relationship with Bill Stevens in producing the popular charter boat, the Stevens 47. The popularity of the 47 prompted Huang to eventually create the Hylas brand that was officially introduced in 1984 with 42-and 44-foot designs from German Frers. From 1984 to the present Hylas has launched sailing models from 42 to 70 feet, using several different designers including Sparkman and Stephens, Bill Dixon, and Frers.
Note: A quick Google search identifies Hylas in Greek mythology as "a mythical youth who served as Heracles' companion and servant who was abducted by water nymphs."
Hylas 46
The 46 is the smallest of the Hylas line that is still in production, officially introduced in its current form in 1995. It is now referred to as the 46 "Classic" on the Hylas website which makes me wonder how much longer it will be offered. Although Hylas is considered a semi-custom builder, the space constraints of the 46 do not allow for a lot of interior design options.
The basic layout remains unchanged since 1995, which is a testament to its continued popularity and utility. There have been some interior tweaks, such as a redesign of the navigation station which resulted in a slightly larger port side settee. This redesign eliminates a quirk with the earlier nav station design which had an exposed electrical panel at ankle level under the navigator's seat, making it easy to accidentally turn off or damage the engine and refrigeration breakers.
I have seen different interior trim and flooring options such as cherry vs. teak and bamboo flooring vs. the standard teak and holly. A unique saloon table feature is the adjustable "floating" center stool that is installed on stainless tracks imbedded in the cabin sole. The system is a little cumbersome, and the tracks accumulate dirt and are hard to clean. Interior head room is generous. I am no giant, but at five feet 11 inches, I can walk through the entire boat and not worry about smashing my forehead. A design feature that I have learned to appreciate is the ability to gain access to the aft cabin via the galley or the aft head.
Hull construction is of solid fiberglass with longitudinal stringers; the deck and cabin top are cored. The overall build quality is good with a very luxurious interior feel regardless of trim choice. One of the unique features of the "classic" Hylas designs is the large sugar-scoop transom with what we often refer to as "The garage." The transom steps fold up revealing a large space to supplement the already ample aft deck locker storage. Easy access to the "garage" can be hampered if a tender is suspended from transom davits. The larger-than-average aft deck and wide side decks allow quick and easy access to the entire length of the boat. A nice touch that I have seen on several boats is a rigid stainless steel pipe "life line"/rail that wraps around the aft end of the boat.
All of the Hylas Yachts that I have inspected have been powered with Yanmar engines. The engine and generator are located under the galley counter and cockpit. Space in the engine compartment is limited, but access to most components is still reasonable.
Standard equipment appears to include a basic suite of electronics, windlass, refrigeration, air conditioning systems (two), and a cockpit enclosure. Commonly found options include a bow thruster and electric winches. I have seen both in-mast furling systems and in-boom sail handling systems installed. Sail handling can be done completely from the cockpit. I can honestly say that this time of year (November to April) a fully enclosed cockpit with the heat blasting always seems to keep people in a better mood while on test sails.
Considerations and observations
The fuel tanks are made of stainless steel, foamed in place with virtually no access save for the inspection/clean out ports. Although not a common problem (yet), tank replacement is not easy as the saloon cabin sole will require skilled wood surgery to gain access to the tanks.
These boats usually survey well with consistently good build quality and workmanship. On the brokerage market, Hylas Yachts have proven to hold their value and seem to sell quickly if properly priced.
Availability
As of November 1, there were three available in the U.S. between $375,500 and $425,000.
Specifications:
L.O.A.: 46'3
Beam: 13'9"
Draft: 6'0 (Shoal Draft Available)
Displacement: 27,777 Lbs.
Designer: Frers
Builder: Queen Long
About the Author: Tarn Kelsey owns and operates Kelsey Marine Survey in Annapolis.