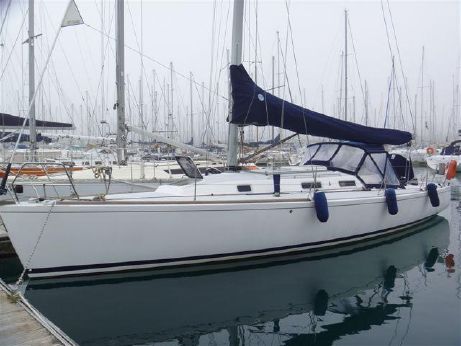 Beginning with the Cal 40 back in the 1960s, it seems every decade has produced at least one racer/cruiser, in the 40-foot size range, destined for the Sailboat Hall of Fame. The J/120 is my future Hall of Fame pick of the decade of the 1990s.
I have long been a fan of the common sense proportions, simplicity of design, and solid construction evident in all J/Boats, and the J/120 certainly is no disappointment. Introduced with the 1995 model year, the J/120 was designed by the J/Boat team led by Rodney Johnstone. The overall length is 40 feet, or just a hair over 12 meters, which accounts for the model name. More than 200 boats were built over a 10-year production run.
Although nearly all J/120s in the United States were built by Tillotson-Pearson, other manufacturers were licensed to build the J/120 overseas.
To my eye, this is a very handsome boat from all angles. The subtle spring in the sheer is enough to prevent the boat from appearing "hogged" when heeled. The bow and stern are very nicely balanced, and the transom width is kept to a reasonable percentage of the overall beam to avoid an "elephant butt" appearance prevalent on many modern boats.
The J/120 is built using the patented Seemann Composite Resin Infusion Molding Process (SCRIMP), and if you haven't heard the term before this is not likely to be the last time you hear it. In this process, the entire lay-up of glass fiber and core materials is placed in a dry mold. Then, a high vacuum eliminates air voids, and resin is drawn into and through the laminates until the ideal saturation is reached. The resin-to-glass ratio can be precisely controlled, and the result is a significantly stronger and lighter composite that the hand-laid open-molded method of construction. The J/120 is nearly 5000 pounds lighter than the previous J/40.
There was a serious problem with failures at rudder bearings on some J/120s that could flood and sink boats, but the problem was corrected, a recall issued, and I suspect, most if not all potential problem boats have since been retrofit.
The cockpit and deck arrangement of the J/120 is well thought out with both the racer and short-handed cruiser in mind. There is a small swim step with boarding ladder molded into the transom and not one, but two very handy lazarette lockers forward of the transom. The cockpit is T-shaped with a 46-inch diameter wheel allowing the helmsman to sit to either side and still easily reach the wheel. The double-ended mainsheet and traveler are immediately forward of the steering pedestal allowing the helmsman to trim the mainsail from either side. All sail controls are led to the cockpit and arranged so that, even though this is clearly a performance-oriented 40-footer, she is still quite easily managed by a crew of two. Side decks are wide, and there is a small but sufficient foredeck anchor locker. My only fault is that the one-inch-high toe rail is totally inadequate on a boat of this size and intended use.
If you're looking for tufted seat cushions and sculpted furniture you won't find it on the J/120. Done in the Herreshoff style of mostly white trimmed with varnished teak and mahogany, this is a very handsome classic looking interior. The arrangement is simple and some may think boring, but it is arguably the most practical and versatile. The V-berth cabin forward is followed by a head and shower to starboard and hanging locker to port. The main saloon features mirror image settees with optional fold-up pilot berths. There is a centerline drop-leaf table. The galley is aft to port and convenient to the companionway, with the navigation station opposite. The starboard quarter berth cabin is a bit small for two adults, but the port aft storage locker is huge. Again I have only one complaint; although there are several opening deck hatches and ports, there are no dorades or ventilators.
Standard auxiliary power was a 38-horsepower Yanmar marine diesel engine with a Westerbeke engine option. Boats built in Europe were typically powered by Volvo diesels. All are sufficient to make an honest seven plus knots cruising speed under power, and all are easily accessed for service and maintenance.
The J/120 was offered with two different rigs (aluminum and carbon fiber) as well as deep draft and shoal draft keels, so the performance varies slightly between models. That said, the only question may be: do you want to go fast or faster.
Although boats with carbon fiber rigs typically sell for $8000 to $10,000 more than those with aluminum rigs, there are good reasons why cruising sailors may want to spend the extra money. Assuming a typical location for vertical center of gravity, the 120-pound weight savings of the carbon fiber rig is somewhat equivalent to adding a couple of 200-pounders on the rail. This can be a real advantage when sailing short-handed.
Fully crewed and with the right weather conditions, the J/120 can easily reach speeds in the mid-teens. For a cruising couple, she sails quite nicely with the mainsail alone, is easily controlled close-reaching in a strong breeze, and can make 10 knots with a mainsail and small jib.
Once Cruising World magazine's Boat of the Year as well as Best Value in a large cruising boat, the J/120 still offers good value. Yachtworld.com currently lists 14 boats for sale, with seven located in the U.S. ranging in price from $195,000 to $239,000, while recent sales have averaged $195,000. This is a boat that sacrifices very little speed when compared to stripped-out racing machines, yet offers accommodations suitable for cruising comfort—the quintessential racer/cruiser.
Reviewed in the April 2008 issue of SpinSheet by Jack Hornor