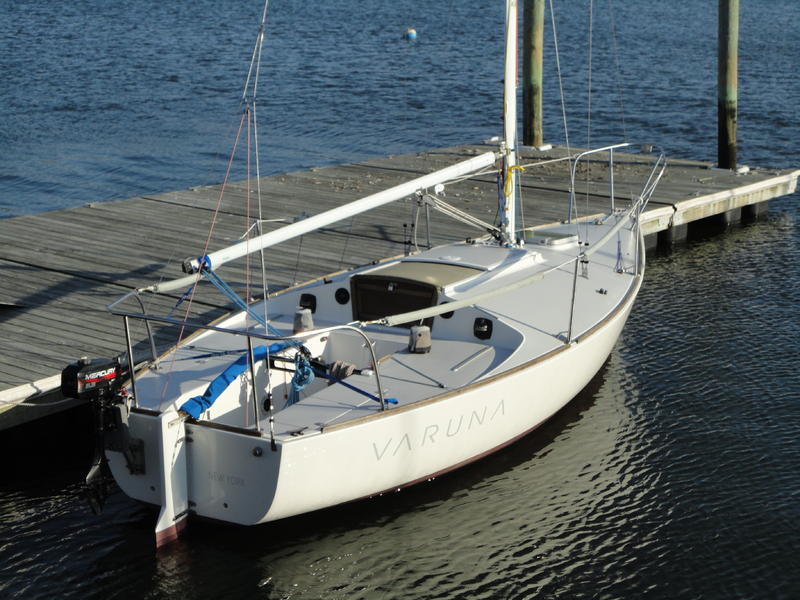 It was a cool, crisp May day, the wind was out of the southwest at 12 to 14, the water was nearly flat calm, and there was hardly a cloud in the sky. Even though my first sail on a J/24 was nearly 20 years ago, I still remember the afternoon sail on Sodus Bay in upstate New York as if it were yesterday. Maybe it is because age makes it easier to remember things that happened years ago than things that happened yesterday. But I prefer to think that, like an athlete who can recall every detail of a great game years later, my memory is still vivid because the experience was so exciting. I had grown up a dinghy sailor and although in my mid-twenties I began sailing keel boats, I was generally unimpressed with them as they lacked the feel of a dinghy. The J/24 had a completely different feel. It felt like sailing a dinghy-every bit as much fun and more comfortable to boot.
The prototype of the J/24, a home-built project of amateur designer and avid racer Rod Johnstone, was launched in 1976 and was an instant success on the race course. Following up on this success, Rod teamed with his brother Bob to form J-Boats, and contracted with TPI to build the J/24. As the saying goes, the rest is history. Although J-Boats has licensed several builders over the years, all are tightly controlled by J-Boats and class association rules. In all, over 5200 boat have been built and, according to Class President Steve Podlich, 25 to 50 new J/24s are built each year world wide.
The hulls and decks are built using fiberglass cloth and resin with balsa wood core throughout. The shapes of the hull and deck are uncomplicated, and problems are rare with these composite laminates. When laminate problems are noted, they generally result from one of two things. The most common is moisture in the core material that results from improperly installed fittings. The second most common problem I've found results from the fact that most J/24s are stored on trailers, and many are transported over relatively long distances. Improperly adjusted trailer supports can result in repeated point source loading which, after the bumps and grinds of a long road trip, can cause delamination of the composite in the area of the supports and beyond. Decks are secured to the hull on an inward hull flange with stainless steel nuts, bolts and washers. The deck to hull joint of boats built in the first two years were sealed with silicone sealant and were subject to persistent leaks. Since then, joints have been sealed with 3-M's 5200 sealant and are much less likely to leak. Another annoyance with boats built prior to 1980 is the extremely light fiberglass construction of the forward and companionway hatches. Most of them broke easily under normal usage. Since 1980, the companionway hatch has been reinforced, and the forward hatch is made of lexan.
Because most J/24s are, or have been, raced extensively, there are a number of potential problems to keep an eye out for when looking at these boats. They include loosened keel attachments, delaminations and deterioration of the main bulkhead aft of the mast, secondary bonding failures where this bulkhead is tabbed to the hull, elongation of the holes at the attachment of the chain plates to the main bulkhead, cracked welds on rudder attachments and cracks in the mast at the cut out for the halyard sheaves. Despite this list of potential problems, I would point out that few boats are put to a greater test than the rigors several seasons of competitive racing can put on a J/24, and few, if any, boats in this size and price range have stood up as well to the test.
All J/24s are powered by outboard motors, and class rules require at least a 3.5 hp motor. This is adequate power for daysailing and getting to and from the start line and about the most weight you would want to routinely hoist on and off the transom-mounted motor bracket.
Under sail, the J/24 is reasonably fast, highly responsive, and very maneuverable, leading to my earlier conclusion that she sails and responds more like a dinghy than a keel boat. Like a dinghy she is very sensitive to weight as well as sheet and shroud tension. Because she is quick and maneuverable she is quite easy to sail but these same characteristics make her a challenging boat to sail well. Sailing a J/24 to win is very much a team effort that usually takes several seasons of practice and experience with the same crew. For a leisurely short-handed afternoon sail, the J/24 balances and sails nicely, even to weather, under mainsail alone. Unfortunately, the J/24 tends to be dinghy-like in one other aspect-stability. The ballast to displacement ratio of the J/24 is only 31%. The keel is a relatively high aspect tapered foil which places most of the weight toward the top of the keel and results in a rather high center of gravity. The result is a limit of positive stability calculated under the IMS rule to be only slightly over 90 degrees. This is one of the worst of any vessel to be measured under the rule. Several J/24s have been known to capsize when a mistake is made or when caught in extreme conditions and, unlike dinghies, there is no positive flotation, so capsized boats can sink. It is essential that cockpit lockers be kept secured while sailing to help prevent swamping in the event of a knock down.
The principal attraction of the J/24 is as a racer. Although some do participate under PHRF or club rules, most are raced one design. There are J/24 fleets around the world, and the 80-boat Annapolis fleet is the largest in the world. The J/24 attracts some of the best sailors in the country and offers spirited competition and an opportunity to sail with and learn from the best. Above all, sailing the J/24 is a memorable experience.
Reviewed in the March 1998 issue of SpinSheet by Jack Hornor