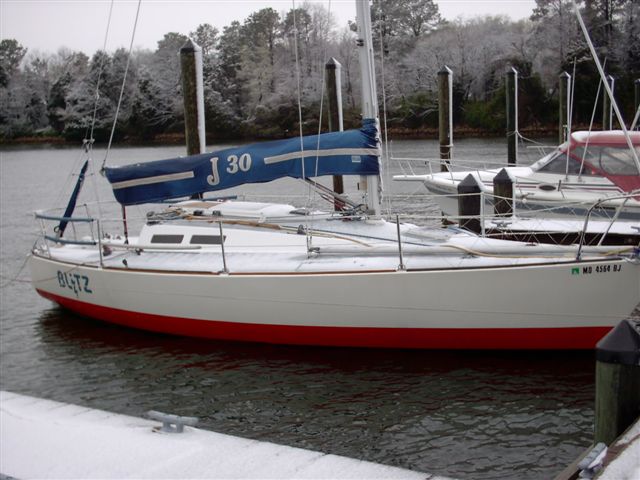 In the late seventies opportunity knocked at boat builders' doors. It was calling for an offshore one-design boat that would offer high performance at an affordable price. Most major manufacturers of the day heeded the call. C & C Yachts introduced the Mega 30. Tartan Marine offered the Tartan Ten. Pearson Yachts produced the Pearson Flyer, and out west Pacific Boats answered with the Olson 30. They all gave the door a tug but, it was the new kid on the block, J-Boat, riding high on its tremendously successful J/24, that opened the door to this market with the introduction of the J/30. Over the next ten years Tillotson-Pearson, the J/30 builder, turned out more than 575 boats.
Now, more than 17 years after the first J/30 was launched and seven years after the last new boat was built, the J/30 remains a popular one-design offshore boat. For many owners, their J/30 also doubles as a family cruiser and day sailer.
According to the National Class President and Chesapeake Bay Fleet Captain, Bob Rutsch, the National J/30 Association has approximately 250 members, and the Chesapeake Bay Fleet, with 42 boats, is the largest of 11 US fleets.
The entire hull and deck of the J/30 are constructed using a balsa wood core. Boats were built in two halves and glassed together on the centerline allowing for an inward flange at the shear as a landing for the deck to sit on and be bolted through. This is a strong, simple construction method and, despite the J/30's light displacement, few boats show any serious signs of weakening as they age. There are a few common problem spots to look for if you own or are considering the purchase of a J/30. Carefully inspect for signs of cracking around engine mounts caused by engine vibration. Also look for cracking of the floors around the mast step which may be caused by age and excessive tightening of the rigging; failed rudder gudgeons and pintles; failed mainsheet travelers; mast failure; or weakening at the attachment of the lower shrouds.
Non-skid deck surfaces are often as smooth as glass after a few years of heavy use and need to be refinished in order to maintain secure footing.
Although the J/30 has a substantial beam of 11' 2", she is initially quite tender under sail. Contributing to this lack of initial stability are design considerations such as: narrow beam waterline, a ballast displacement ratio of .30, and relatively shallow draft of 5'5". As is the case with nearly all dinghy-styled, low wetted surface boats, the J/30 performs best when sailed nearly flat. Something less than 15 degrees angle of heel is optimum. Sailing the J/30 flat in winds above 15 knots is difficult without considerable (800-1,000 lbs) crew weight on the weather rail. When conditions and crew are right, the J/30 sails well to weather and off the wind she flies in moderate to heavy winds. Her sailing weakness is light air, particularly when seas are choppy.
In theory, one-design boats should each be exactly alike. Practically though, even with strictly controlled one-design class rules, it's nearly impossible to mass produce 30' boats so that each is exactly alike in every respect. The J/30 is no exception, and there are slight variations in weight and appendages from one boat to another. Many competitive owners have spent considerable time and money to "blueprint" their boats exactly to the designed specifications with hopes of gaining a little extra edge on the race course. I believe that any edge gained is more psychological than factual. The J/30 Nationals have been won, more than once, by boats with no hull prep more sophisticated than smoothly faired bottoms and appendages. Boats that float nearly perfectly on their class-required draft stripes do show a bit of a competitive edge over those that may weigh a little heavy.
The J/30's strengths are: good sailing performance in moderate to heavy winds; strength of construction; good accommodations (particularly post 1984 models with larger galleys); a strong one-design fleet; and reasonable cost. Negatives include: the aforementioned initial tenderness, annoying engine noise and vibration under power, and a cockpit that is not particularly suited to cruising comfort. Her strengths continue to outweigh her weaknesses, and for an active sailor or sailing family with Mumm 36 spirit and something less than a Mumm 36 bank account, the J/30 is a tough boat to beat.
Reviewed in the April 1996 issue of SpinSheet by Jack Hornor