Jeanneau 42 DS, a Good Option to Traditional Center or Aft Cockpit Designs
Eons ago I began the herculean task of shopping for a boat capable of family cruising (two adults, four kids, and a big dog). After being on thousands of boats, the sweet spot for me was the 40- to 50-foot center cockpits. At the time, this left a lot of options from at least half a dozen builders, some good, some not so good. If I were to duplicate the search today, I would also include the Deck Saloon designs as a good option to the traditional center or aft cockpit designs. I attribute this enlightenment to my first inspection of a Jeanneau DS 43. This is not a conversation about the DS 43, but its popular cousin, the Jeanneau DS 42.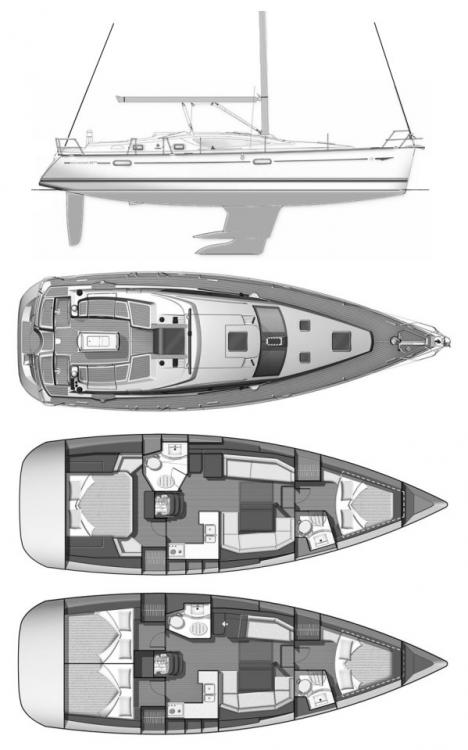 For those not familiar with the Jeanneau name, it is one of if not the most prolific European boat builders enjoying a sizable share in the recreational boating market all over the globe. The Jeanneau Ship Yard was started in 1957 by Henri Jeanneau and built its first fiberglass sailboat boat in 1964. In 1970 Jeanneau introduced two models that essentially marked the start of Jeanneau as a volume production boat company.
In 1995 Jeanneau joined Groupe Beneteau and followed quickly with the opening of Jeanneau North America in 1996. The Jeanneau shipyard in France is reportedly the largest recreational production boat facility in the world. Contrary to some misconceptions, both Beneteau and Jeanneau still maintain independent management, design, and construction teams. (Note: This is a very brief history of Jeanneau; the scope of the projects that the company has been involved with is, in my opinion, fascinating and worth further study.)
The DS 42 replaced the durable DS 43, which was produced between 1999 (1996 according to one source) and 2006. The Jeanneau 42 DS originated with the 54 DS that was introduced in 2004. The popularity of the DS 54 prompted design tweaks (not tweets) that scaled down the design to the DS 49 and DS 42 models. The DS 42 was reportedly introduced in 2007, but there appear to be some 2006 boats in circulation.
The 42 DS is powered with a four-cylinder Yanmar engine and can be found with a wide range of optional auxiliary equipment including generators, climate control systems, electric winches, electronics, davits, solar panels, wind generators, and canvas. All the versions I have seen have been equipped with in-mast roller furling systems. The hull is solid fiberglass with no core in the topsides or bottom laminates.
In January 2020 there were only three available on the East Coast. Asking prices ranged from $159,000 to $265,000. After surveying many of these boats, I have some consistent observations/findings to share:
I still see the use of steel keel bolts, nuts, and backing plates. Care must be taken to keep the bilges dry; constant refreshing coats of primers and rust inhibiters is highly recommended. I have seen keel bolts and backing plates with advanced degradation requiring significant repair.
Most boats sold in North America are factory wired for use with North American electrical power grids. Once in a while, a European version will surface that has been converted for use in North America. Some of these conversions can be downright scary if not done properly.
Buyer beware: These boats are popular in the charter trade, so be alert for the "rode hard and put away wet" version.
When inspecting the hull and deck, fiberglass anomalies are rare; quality control appears to be consistent. The largest variable seems to be the amount of gelcoat crazing in the deck and cabin top. I have seen separation between the hull grid system and interior hull skin, mainly due to hard groundings.
The thru-hulls and ball valves seem to oxidize faster than domestic alloys; replacement of some valves and thru hull fittings is not uncommon (this is not confined to Jeanneau by the way).
About the Author: Captain Tarn Kelsey is the owner and operator of Kelsey Marine Survey based out of Annapolis: kelseymarinesurvey.com.