In his book The World's Best Sailboats, author Ferenc Maté featured no fewer than three Morris Yachts, all of them designed by Chuck Paine. This is more than any other builder-designer combination and had it not been for the fact that the book was published in 1986 and the Morris 32 was not introduced until 1988, that number could well have been four.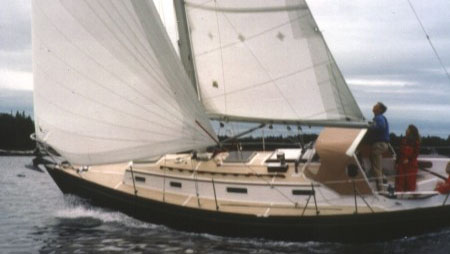 It's fair to say that most would consider the Morris 32 to be a conservative design, but that doesn't necessarily mean old fashioned. The pronounced sheer, box-like cabin trunk, spoon-shaped bow and moderate overhangs that are vintage Chuck Paine are readily apparent, but unlike several of his previous designs for Morris Yachts, Paine drew the Morris 32 with a fin keel and skeg-hung rudder rather than the more traditional full keel. This results in reduced wetted surface and improved light air performance. The hull sections (slices like a loaf of bread) are round rather than wine glass-shaped near amidships with a moderately wide waterline beam for good form stability and v-shaped forward to reduce pounding in choppy seas. The diagonals, which are the designer's lines that most closely represent a boat's inclined waterlines, are exceptionally well balanced ensuring that the 32 will sail well.
Looking at a Morris 32 from afar, she might be mistaken for a wooden boat but her construction is of fiberglass composites with just enough exterior woodwork and bronze ports to enhance her crisp, classic appearance. Structural support is provided by full and partial plywood bulkheads, longitudinal stringers, cabinet and joiner work all tabbed to the fiberglass hull with fiberglass and resin. The method of construction is not high-tech but is tested and proven by years of experience, utilizes the highest quality materials and is clearly accomplished by craftsmen who take exceptional pride in their work.
One thing you can be sure of is that when you go below on any Morris Yacht, you are not going to find any fuzzy fabrics lining the hull sides, mirrored bulkheads, or pink and gray sculpted carpeting on the cabin sole. You're also not going to feel as if a tropical rainforest had to be destroyed in order to supply the wood for the cabinets and joiner work. The interior of the Morris 32 is well balanced with bright colors and beautifully finished wood trim. The layout offers nothing new or novel, but to call it traditional undermines its practicality for a couple or small family.
There is a V-berth cabin forward followed by a head that extends the entire width of the boat with a hanging locker to port and washbasin to starboard. The main saloon is amidships with port and starboard settees and a dining table that folds up against the forward bulkhead completely out of the way when not in use. There is a large U-shaped galley aft to port with more counter space than is usual for boats this size and a navigation table to starboard that shares its seat with the port quarter berth. Unlike many modern boats that offer two double cabins and not a single decent sea berth, the Morris 32 offers three good sea berths, and it would be hard to improve upon this interior.
Above deck the cockpit is large enough to accommodate four adults comfortably; although, in order to make room for optional wheel steering, the cockpit seats are cut away aft and are not long enough to stretch out on for an afternoon snooze or sleeping under the stars. Side decks are wide enough for easy passage forward, and rigging shrouds are well inboard to allow sheeting of the genoa inboard of the lifelines. The foredeck is unobstructed, and there is a convenient roller at the bow for handling and storage of ground tackle.
Auxiliary power is provided by an 18 hp Volvo diesel engine that, by my general rule of thumb of two horsepower per thousand pounds of displacement, is a bit undersized for areas of strong winds and foul currents. The engine is fitted below the cockpit deck, and access for service and maintenance is, shall we say, acceptable. I do prefer the Pacific Seacraft approach of fitting secure but removable hatch lids in the cockpit for better access to engines located below, but this is probably nitpicking.
I have had only one occasion to sail a Morris 32 and that was for a brief period, under ideal conditions and confined to Baltimore Harbor. However, everything about the design and construction of this boat suggests that she should be an excellent sailer with good windward ability and reasonable speed. Consider for example, design of the rudder and skeg. Cruising sailors generally agree that a skeg forward of the rudder aids with directional stability and offers a bit of added protection against damage from grounding. However, adding a skeg generally results in an unbalanced rudder which can cause excessive helm pressure, particularly on tiller steered boats. Paine has thoughtfully angled the rudderpost slightly and balanced the rudder by adding blade area forward of the rudderpost. This is the kind of attention to detail that results in excellent sailing boats.
Morris Yachts is one of the few remaining boatbuilders committed to building very high quality yachts under 40' in length.
The fact is that there are plenty of brand new 32-foot cruising boats you can buy for less than half of what you will have to cough up for a 10 to 12-year-old Morris 32. On the other hand, how many mass-produced Thomas Kincaid paintings can you buy for the cost of a single work of art by Andrew Wyeth?
Reviewed in the March 2002 issue of SpinSheet by Jack Hornor