Morris 46 Ocean
Short story but relevant: Early in my surveying career I was given an assignment to survey a 40-something performance cruising sailboat. FYI, I rarely remember the details of sea trials for very long unless something catches fire, hemorrhages some type of fluid, or dramatically and suddenly stops working. By the end of that particular sea trial the combination of a very capable and knowledgeable owner, near perfect sailing conditions, and a remarkable boat all conspired to burn that hour-long sea trial deep into my memory (this was at least 15 years ago). My takeaway at the time was, "there is something unique about a Chuck Paine boat."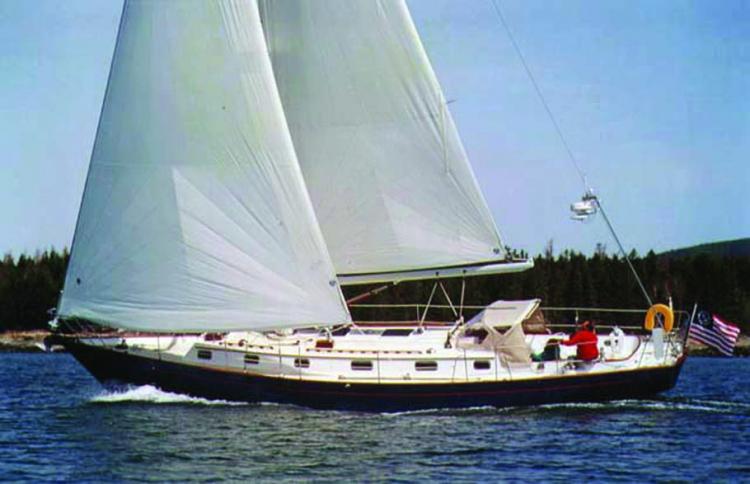 Since then I have been on numerous boats of his design and without trying to sound too melodramatic, I admit to occasionally still getting the warm fuzzies when aboard a Morris/Chuck Paine design, whether it's a 28-foot Linda or 47-foot Custom racer/cruiser.
Morris, an abbreviated history:
Morris Yachts was established in Maine by Tom Morris in 1972 with Chuck Paine's collaborations starting in1974. Tom's son Cuyler joined the company in 1995 eventually becoming president. Over time the company slowly and methodically expanded to include a total of three locations in Trenton, Northeast Harbor, and Bass Harbor, ME. Over the years Morris introduced a variety of iconic models including, but certainly not limited to, the Linda 28, the Justine 36, the Ocean Series performance cruisers, and the stunning M-Series.
Needless to say, the 2007 recession was not kind to the custom boat-building market, and as a direct result, Chuck Paine's design company officially closed in 2008. Morris Yachts stubbornly survived eventually being acquired by Hinckley in 2017. These days Morris gets a lot of attention with its stunning line of Sparkman & Stephens designed luxurious Day Sailers.
Morris 46 Ocean:
The Morris Ocean 46 was introduced in 1996 and eventually redesigned as the Ocean 48. It is reported that over 200 of the Morris Ocean Series yachts have been built. The hulls are built of solid fiberglass with Vinylester resins and reinforced by numerous transverse stringers and longitudinals. The construction is rugged with a moderate displacement and performance underbody. The weight is noticeably and intentionally designed out of the ends, with machinery and tankage located low and as near to the center as possible.
I have seen both canvas dodgers and hard dodgers on the 46s. Hard dodgers can be difficult to fully incorporate into a vessel's lines; the Morris dodger design is both visually appealing and functional, with ample overhang to keep your backside dry while still keeping visibility from the helm intact. I did however repeatedly nail my head on one several times one day before eventually making my exits less painful. On a recent sea trial, I witnessed the 46 easily backing down a long fairway with no bow thruster, which is not easily accomplished with many skeg hung rudder designs.
I recently inspected one of the earlier models (1997), which had been partially refit prior to a circumnavigation. Despite being 23 years old and just completing two years of demanding and constant use, there was no evidence of hull flexing or moisture damage in the vessel interior. Morris is known for quality construction and readily admits to embracing new materials and construction techniques as they become available. The most outward sign of the craftsmanship in the Morris construction is the exceptional quality of the interior and exterior woodwork.
Considerations and observations:
One of the fuel tanks is located mid-ship under the saloon floor making visual access to portions of the keel sump and keel bolts virtually impossible. Most of the flooring is removable, making tank replacement at least possible.
The rigs of many performance cruisers of the day were secured with stainless rod standing rigging. I have seen both rod and wire on the 46s. Most of the boats I have researched were equipped with aluminum masts; a carbon rig was available as an option. One of the early 46s currently on the market is equipped with a carbon mast.
Although considered a custom yacht, all the interior layouts I have seen are basically the same: V-Berth, port side quarter berth, port side galley, starboard navigation station, and mid-ship saloon with the settee to port; no three cabin or owner's version option. There are distinct variances between vessels in wood trim species, table designs, bookcases, cabinets, and navigation station designs.
Availability:
As of October 1, there were two available in the U.S. between $275,500 and $225,000. Up-to-date Soldboat data was limited, but my guess is that most future sales would likely be below the $250,000.00 mark.
Specifications:
L.O.A.: 45'11"
BEAM: 13'
DRAFT: 5'6"
DISPLACEMENT: 24,000 lbs.
Designer: Chuck Paine
Builder: Morris Yachts
About the Author: Tarn Kelsey owns and operates Kelsey Marine Survey in Annapolis.