Nautical 35 Boat Review
I must admit that, although my personal preferences don't lean towards this type vessel, after two months of rain and springtime temperatures that felt more like the Pacific Northwest than the Chesapeake, the inside steering and cozy interior of the Nauticat 35 was starting to look pretty good.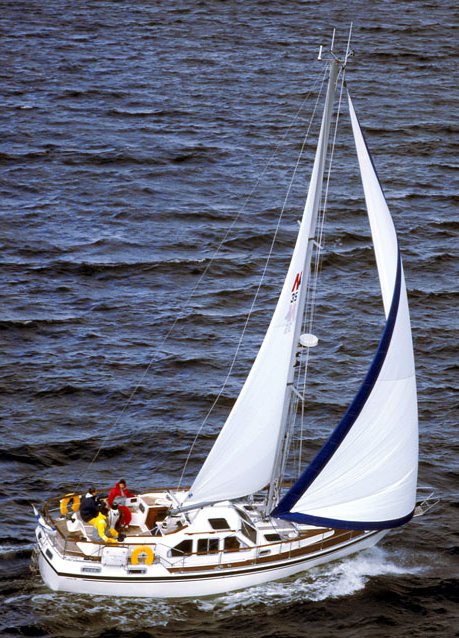 Ask any sailor what the difference between a motorsailer and a pilothouse sailboat is, and you're liable to get as many different opinions as the number of people you ask. The fact is, there is no precise definition. Traditionally, motorsailers have a side entrance into the pilothouse and are designed with consideration given more to performance under power than under sail. While pilothouse sailboats also feature a raised pilothouse with an inside steering station; the entrance is aft and greater design emphasis is placed on sailing performance than power. Builders of motorsailers often use designators such as 50/50 or 60/40 to further define their intended power/sail usage. Some would argue that a motorsailer is neither fish nor fowl and not well suited for either purpose. Although the Nauticat 35 has a resemblance to the company's more traditional motorsailers, Siltala Yachts, Nauticat's builder, considers the Nauticat 35 a "Pilothouse Sailing Yacht" and I would agree. The underwater configuration and sail plan of this design clearly indicate that she is intended to perform under sail.
The overall length of the Nauticat 35 is 34' 11" (without the bowsprit); beam is 11' 4"; displacement is 16,500-pounds; and designed draft is either 5' 6" or 4' 8", depending on keel configuration. Design credit is sometimes attributed to Sparkman and Stephens, although this is actually an in-house design, scaled down from the Sparkman and Stevens-designed Nauticat 43.
Construction of the Nauticat is yet another example of the excellent quality and craftsmanship that seem to prevail among Finnish boatbuilders. Hulls are solid fiberglass, while decks and superstructure are cored fiberglass composites. Even with large windows, numerous opening deck hatches and ports, leaks are rare and overall construction is very solid. Interior joiner work is excellent and access for service and maintenance is better than most production boats.
The deck plan is actually quite good, considering the dominance of a large pilothouse. There is a small pulpit forward with rollers for anchor storage as well as a foredeck anchor locker. The forward cabin trunk is low enough to provide nearly a flush deck working space and the mast is stepped forward of the pilothouse for safer sail handling. There is enough angle to the cabin sides and decks are wide enough to provide safe passage past the pilothouse. On the down side, the cockpit is perched above the raised quarterdeck and is not very comfortable. Seats are narrow and seat backs are not high enough for good support. In fact, the seat backs end at the steering pedestal, leaving the helmsperson without back support.
Interior accommodations are spacious and comfortable. Entering from the cockpit you're in the main saloon with large U-shaped dinette to port, engine access below the cabin sole, and an inside steering station to starboard. Unlike some boats of this style, visibility is excellent forward and to both sides from the inside helm. I was aboard a competitor's 51-foot pilothouse model the other day which had nearly zero visibility from the inside helm, rendering it useless.
From the main saloon there is a starboard entrance into the aft master stateroom with a double berth and small head. Forward of the main saloon, the galley is to starboard, a second head to port and a V-berth stateroom at the bow.
Auxiliary power is provided by either a 43-hp Volvo or 50-hp Yanmar diesel engine, either of which, with the standard three propeller, is a good combination to push this boat to hull speed without working very hard. Fuel capacity is slightly more than 90 gallons, giving the Nauticat 35 an impressive range of more than 500 miles under power.
Unlike traditional motorsailers, you won't have to turn the engine on in order to tack the Nauticat 35. Her displacement to length ratio is conservative (but not heavy) and the underbody features an easily driven hull with well designed low- aspect fin keel and a balanced rudder with partial skeg. Steering is hydraulic, which eliminates the feedback felt with tiller or traditional wheel steering and will take sailors some time to get used to.
Most Nauticat 35s were rigged as sloops, although some have had an inner forestay added for a second headsail. The sail area to displacement ratio is less than 15, calculated with 100% of the foretriangle, but the addition of a 120% to 150% genoa will help with light air performance.
The Nauticat 35 was introduced in 1986 and is still in production in 2003. There have been enough built that there are usually used models to be found, although boats are not always conveniently located. In early August, I found two boats offered for sale--a 1994 model in the Netherlands offered for $188,000 USD and another 1987 model in Key West, FL offered for $159,500. The most recent sale I was able to confirm was that of a 1998 model in Maryland that was listed for $194,900 and sold in May, 2003 for $180,000.
The Nauticat 35 is intended to appeal to a niche market of cruising sailors whose practical desires for interior volume and comfortable accommodations outweigh their concerns for classic beauty or contemporary style. These are quality boats that have held their value well but, because of their cost and appeal to a niche market, they are likely to require more time to find the right buyer when it comes time to sell.
Reviewed in the September 2003 issue of SpinSheet by Jack Hornor