Passport Vista 515, a Spacious Center Cockpit With a Distinct Appearance
Of all the potential choices, some may be curious as to how I pick boats to review; honestly, there is no one single formula. The criteria is varied. It could be a boat I recently surveyed that I have always had or developed an admiration for or a popular production boat model which I may have surveyed multiple times in quick succession. This month I have chosen to write about the Passport Vista 515. I ended up surveying two 515s of identical age within a span of a month.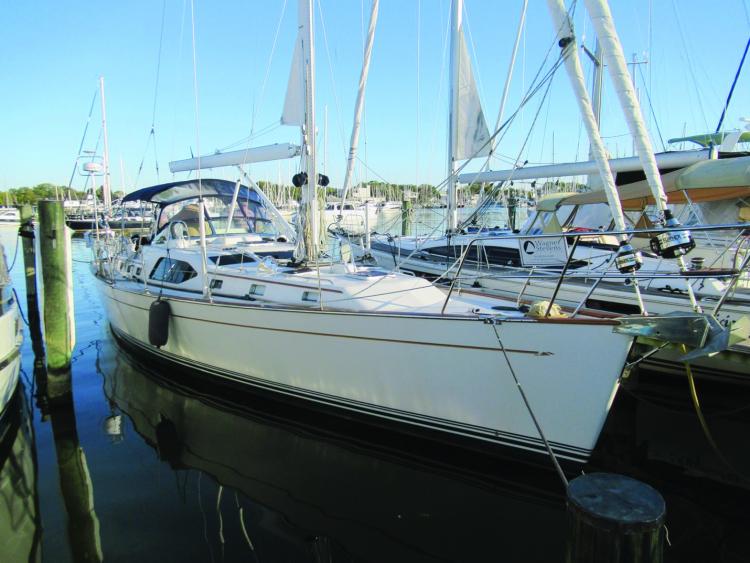 Passport, a brief history
Passport Yachts Inc. was started in 1979 by Wendal Renken with the first boat delivered in 1980. The current president of Passport, Thom Wagner, joined the company in 1981 and took over as president in 1989. Passport corporate headquarters is currently located in Annapolis. Prior to 2000, Passports were built by several different yards in Taiwan; production was moved to Xiamen Island, China, in 2000. Passport is active in the brokerage market and taking orders for new builds. Three separate hull designers that have worked with Passport over the years are Robert Perry, Bill Dixon, and Stan Huntingford.
Passport Vista 515
The Passport Vista Series was developed to "modernize" the Passport product line. The Vista 515 is the first and smallest in the series which includes the Vista 615, 585, 545, and the 515. The 615 and 585 are offered in twin-cockpit versions and were designed by Bill Dixon. The 545 was designed in house, and the 515 was designed by Robert Perry. The 514 and 545 are offered in aft cockpit or center cockpit versions. The 515 was introduced in 2006, and although still in the official lineup, the last 515 was built in 2011 with a current total of 13 boats being built.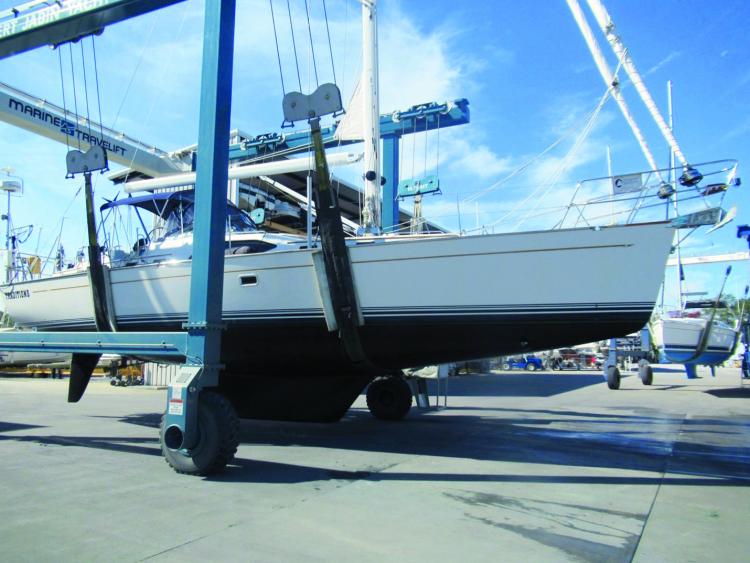 Exterior: From curbside, the overall design and appearance of the 515 is quite distinct from its predecessors especially in the deck mold. One significant design difference I noted when compared to similar style vessels was the high broad transom with a lack of a sugar scoop transom. The center cockpit is spacious with a greater sense of elevation than most. The cockpit combing was designed with cut-outs on the port and starboard sides making cockpit entry and egress easier. The aft deck is spacious with real teak corner seats in the stern rail. The aft deck lockers are designed with ample room for fenders and the like.
Most of the sail handling can be easily accomplished from the cockpit, and both versions I inspected were equipped with in-mast roller furling systems and electric winches. Attesting to her ability to sail shorthanded, during both sea trials the sail handling demonstration was done by a single person who drove the boat and deployed and retrieved the sails, while also giving often repeated instructions to the audience.
Hulls are solid fiberglass using Vinyl ester resin. The ballast is encapsulated in the modified fin keel that is integral with the hull mold. The semi-balanced rudder is supported by a half skeg.
Systems: The hull design and systems are designed and built to satisfy both American Boat and Yacht Council (ABYC) and Conformité Européenne (CE) requirements. Electrical panels, wiring, and most equipment were from quality, well-known, and easily sourced vendors. The engines in both models were Yanmar diesels, and I saw both Fischer Panda and Mase generators installed. Any newer engine installations will be Common Rail electronically controlled, low-emission diesels. The engine compartment is a bit cramped, but most commonly serviced components are accessible (see generator notes).
Both versions that I inspected were built in the early 2000s and close to 15 years old. Both vessels seemed to age well with minimal signs of age-related wear and tear. There was shared history of minor deck leaks, but this should be expected from any 15-year-old boat.
Interior: One of the key elements that sets the Passports apart from other builders is the quality of the interior woodwork. The interiors are custom or at least semi-custom with "no two Passports being identical." This requires most of the cabinetry to be custom-made in house. On a service note, it has been reported that the interior can be completely disassembled with a minimum of tools, which if true, makes tank, engine, and generator replacement a little less painful. The saloon is almost obscenely spacious with what could be almost described by nautical comparison as a cathedral ceiling.
One unique interior design feature of the 515 is the area outboard of the companionway steps on the port side. I have seen this space used as both a pilot/crew berth and a navigation station. Other uses such as a workshop or additional storage could be considered. The settee layout in general is pretty standard with the settee on the port side aft of the mast step. The settee design is more angular and without the sweeping curves seen in other settee designs.
Findings and observations
One of the vessels inspected was having trouble getting the stainless-steel trim rings on the forward facing saloon windows to properly adhere.
Generator access is limited; checking the oil on the Fischer Panda unit required some effort—mainly due to the sound shield design.
Most of the survey findings in the vessels I inspected were routine, such as aging hoses, corroded hose clamps, poor contractor product choice, and installation practices (of which there were few).
Both boats displayed signs of potential corrosion on isolated under-protected underwater hardware, suggesting further evaluation of anode placement and internal bonding,
A special thanks to Thom Wagner of Passport Yachts for general history and Vista 515 information.
Specifications:
L.O.A.: 51.5'
BEAM: 15.15"
DRAFT: 5'7" or 6'6"
DISPLACEMENT: 38,000 lbs.
Designer: Robert Perry
Builder: Passport Yachts
About the Author: Capt. Tarn Kelsey owns and operates Kelsey Marine Survey out of Annapolis.