The Bluewater Cruiser Valiant 42
During the late 1970s, '80s, and '90s there was a high demand for medium-sized heavy-displacement bluewater cruising boats. Builders flooded the market with heavy displacement boats from the United States, Europe, and the Far East. Boats such as Bristol, Hallberg Rassy, Hans Christian, Tayana, Tashing, and Mason. This included a mix of full keel and modified fin keel designs. Any serious discussion regarding offshore cruising boats needs to include the domestically built Valiant 42. To that end any discussion of the Valiant 42 (V42) needs to include at least some mention of the Valiant 40 (V40), because as you guessed it, one is a direct descendent from the other.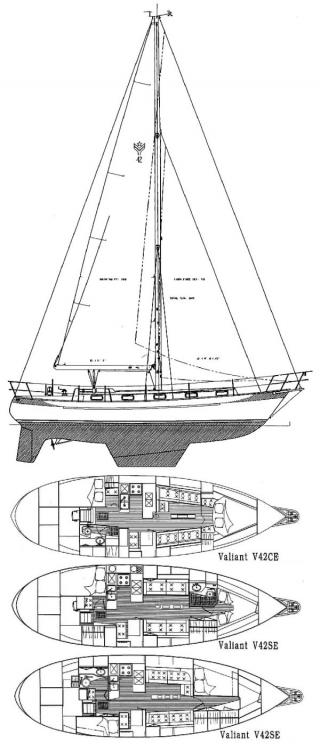 The V40 enjoyed a long production run, spanning from 1973 to 1992 with 200 hulls built. In 1976 the Valiant builder (Uniflite at the time) made a significant change in the resin used for the hull lay-up, switching to a fire-retardant resin. The result was a catastrophic blistering problem. This specifically affected boats built between 1976 and 1981: hull numbers 120-249. Boats built before and after should not be affected.
FYI: These were not classic osmotic blisters. I personally remember back in the late '80s and early '90s a V40 which sat on the berm row at Bert Jabin Yacht Yard in Annapolis for several years with blisters the size of tennis balls and grapefruits spread over both the bottom and topside surfaces.
In 1992 production switched from the V40 to the V42, thereby excluding all of the V42s from the blistering/resin issue. Production of the V42 finally ended in early 2011 with a reported 86 boats built. The V42 was offered in three configurations plus a less popular pilot-house model. Differences included center or side cabin entry and a queen forward berth vs. a smaller Pullman style berth.
The V42 was designed to be a comfortably equipped long-range bluewater cruiser that makes a very comfortable couple's boat with some (but not too much) room for occasional visitors or delivery crew. The draft is not excessive, and surprisingly the V42 can make a legitimate turn of speed in light air. The initial higher cost of the V42 tended to attract owners that also had the necessary resources for adequate maintenance, resulting in a fleet of boats that overall tends to age well. The V42 is still a sought-after design with an active brokerage market and respectable resale value. As of this writing there were seven V42s on the market with two listed as "under contract." The asking prices range between $200,000-$275,00.
After surveying many of these boats over the years, I have some observations and fun facts to share:
The aluminum fuel tanks in the V42 are outboard in the cockpit lockers. The tanks are designed to be removed and replaced without the need for cutting the lockers or tanks apart.
The stainless-steel water tanks located under the settees are easy to remove and replace.
The holding tank is easy to replace, which is fortuitous as the V42s were built originally with an aluminum holding tank. Chemistry lesson: Bare aluminum tank walls lathered in human waste, mixed with oxygen and sea water cause the tanks to fail relatively quickly (sorry if you are eating breakfast while reading this). The good news is that as of a couple of years ago, a replacement plastic drop-in holding tank was still available from Valiant.
The stock engine on the V42s was a 43-hp Westerbeke diesel engine with an option for a 55-hp. Many of the 43-hp engines have been replaced or rebuilt. There were reportedly some Volvos installed; I personally have never encountered a Volvo in a V42.
The original equipment list for the V42 included a 120-volt refrigeration system that required shore power or generator power. If the generator became inoperable, there was no viable alternative to running the refrigeration while underway, a game changer for most cruisers. Good news: with significant improvements in refrigeration efficiency and battery technology, it is relatively easy to retrofit an efficient 12-volt refrigeration system, which many owners have done.
V42s were rigged with rod rigging; good proven stuff but difficult to inspect without disassembly and advanced techniques. Any inspection history could be valuable to a prospective buyer.
~By Capt. Tarn Kelsey of Kelsey Marine Survey in Annapolis.