An Unlikely Startup and a Quality Cruising Sailboat: Cabo Rico 45
Cabo Rico, a brief history
For the purposes of this article, I will comment mainly on the pre-recession version of Cabo Rico. Between the mid-1970s until the early 2000s, Cabo Rico was known as one of several quality builders that were marketing moderate- to heavy-displacement, semi-custom cruising sailboats. If you appreciate examples of unlikely startups, Cabo Rico does not disappoint.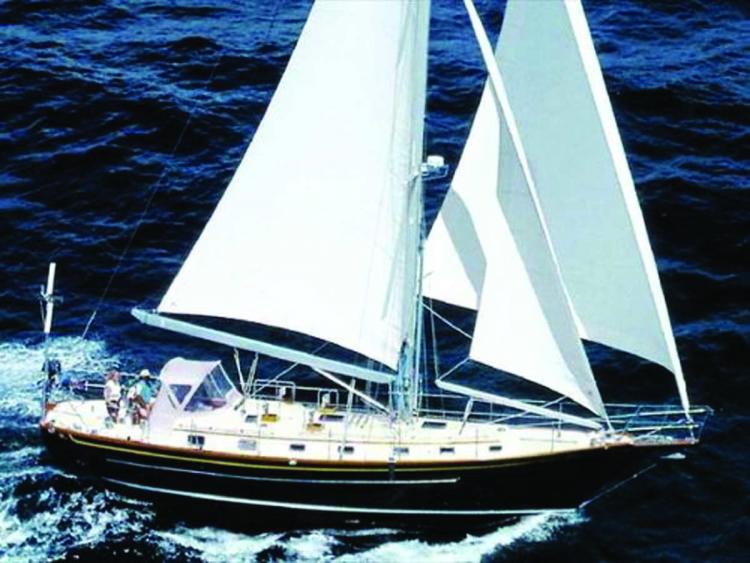 Cabo Rico was started by John Schofield, essentially in the back lot of a Land Rover assembly plant in Costa Rica. In 1971, while working for Land Rover, Schofield developed and built a Crealock (of Pacific Sea Craft fame) designed 36-foot cruising boat dubbed the Tiburon 36. As production increased in 1977, the 36 morphed into the iconic Cabo Rico 38 that ultimately became the backbone of the Cabo Rico product line for many years.
In 1987, Edi and Fraser Smith bought Cabo Rico and continued production of various models until the recession of 2007, with the company claiming bankruptcy in 2010. Most, if not all Cabo Rico cruising models of this era were designed by W.B. Crealock or Chuck Paine. Cruising sailboat models included the Cabo Rico 38, 40/42, 42 Pilot, 45, 47 Pilot, and the 56. Cabo Rico is currently doing business in Costa Rica as CR Marine S.A.; although the current boatbuilding website does not appear to have been updated since 2019.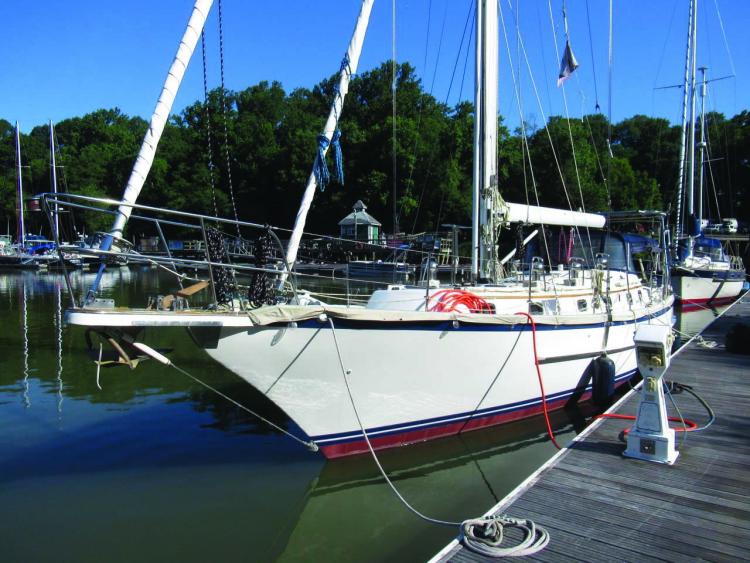 Cabo Rico 45
The Cabo Rico 45 was designed by W.B Crealock and started production in 1995. The total number of hulls built is difficult to determine, but production was limited. The last one I inspected was hull number seven.
The Cabo Rico 45 is similar in lines to the 38 with a similar full keel with a cutaway fore foot and gradual upward shearline. Cabo Rico boats are advertised as semi-custom, interior layouts that in sister ships were not identical. The layout of the last 45 I recently inspected was a standard aft cockpit, center entry with the galley to port, quarter berth to starboard, navigation station to starboard, midship saloon with a folding table on centerline, an island-style berth forward, and two heads. The interior woodwork is striking; after 20 years the woodwork was still in remarkable condition. Combined with above average head room and adequate ambient light, Cabo Rico has tamed the dungeon-type feeling that some heavily wooded interiors suffer from.
Systems
The engine and transmission are installed midships below the saloon floor. This reportedly freed up space for a larger quarter berth and aft locker storage, while keeping the weight low and in the center of the boat. The generator option would sit directly in front of the engine. The midship engine installation did result in a long shaft run aft to the shaft exit, necessitating the use of a jack shaft and thrust bearing.
Fuel tankage was made of fiberglass, which in my opinion is preferable, as it does not corrode or pit. Replacing fuel and water tanks in older boats can be a nightmare.
The vessel I looked at was equipped with a bow thruster. In general, I think builders put too much emphasis on bow thrusters; I do however strongly endorse a bow thruster installation for vessels of this heft and design as almost a necessity.
Electrical and mechanical equipment (aside from the venerable Japanese Yanmar) is quality mainstream marine equipment sourced mainly from North America and Europe, and systems are installed to domestic U.S. Coast Guard and American Boat and Yacht Council (ABYC) standards. Systems installation is clean and well executed; although much of the auxiliary equipment installations are likely done post-production and not necessarily done by the builder.
The vessel is built with adequate space for storage and additional cruising equipment, such as generator, watermaker, secondary refrigeration/freezer, air conditioning, diesel heat, and additional battery capacity.
Sail handling is done mostly from the cockpit. The version that I recently inspected had a Shaeffer in-boom furling system that makes an electric cabintop winch almost a requirement. Electric primary winches are not required but make handling a larger headsail less demanding.
Construction
Hulls are built of solid glass with no structural core installed. Some coring is reportedly added for insulation purposes.
Decks are cored. In the past I have found local areas of elevated moisture readings in the decks around the usual suspects, such as lower chainplate covers and foredeck hardware. Widespread degradation of the core in decks is not common unless teak overlay was installed.
Ballast is externally mounted with a distinctive Scheel keel type flare on the bottom. ***SEE NOTE BELOW
Market place
As of July 2021, there were currently two Cabo Rico 45s on the market with prices ranging from $289,000 to $269,000.00. Not many of these were built making availability in any market scarce.
NOTE: After the appearance of this article, SpinSheet received a letter questioning the "external ballast." Author Tarn Kelsey responded:
In my recent review of the Cabo Rico 45 one of the construction details noted was that the CR 45 was "externally ballasted." This has rightly been called into question as all other Crealock CR designs are internally ballasted. After reviewing my personal pictures and notes, I too must conclude that the CR 45 is in fact internally ballasted… (This) led me down another rabbit hole we will chalk up to "research." The bottom of the full keel is quasi-bulbous, with some resemblance to a Scheel keel if it were to be applied to a full keel design…
I reached out to CR and got a very helpful response detailing the CR 45 keel construction. The bulb is in fact part of the original hull mold with shaped, molded lead inserts fitted into the bulb from the inside and glassed in place. Additional ballast is set in the central keel cavity and secured with a slurry of resin and sand. The top of the ballast cavity is covered with an aggressive fiberglass lay-up. The similarities to a Scheel keel were no accident. Per my CR contact, Crealock requested permission from Henry Scheel's estate to design his own version, the result of which is most likely what we see on the bottom of the CR 45. Thanks for bringing this error to my attention, it led to a little more research and more knowledge gained, never a bad thing.
About the Author: Captain Tarn Kelsey owns and operates Kelsey Marine Survey in Annapolis: kelseymarinesurvey.com.
Find more great used boat reviews here