The Caliber 40 Cruising Sailboat
As a general rule I try not to duplicate previous, first-generation SpinSheet sailboat reviews. I have bent/broken the rule on at least one occasion, strictly by accident. This month's duplication is strictly intentional. It's been close to two years since I last looked at a Caliber cruising boat; for some inexplicable reason, in the last four weeks I have been asked to survey three Caliber 40s.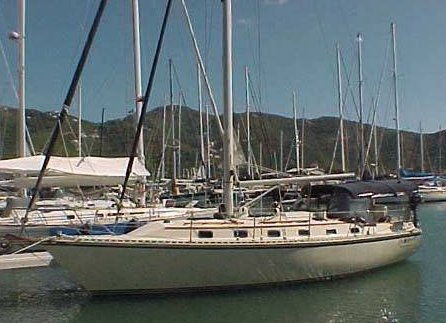 Caliber, a brief history
Caliber is/was a family-owned, American, Florida-based yacht builder that was started by George and Michael McLeary. Production started as a garage/backyard affair with the goal of building a limited number of higher quality cruising boats. Caliber quickly expanded becoming a mainstream builder with a factory located in Clearwater, FL. The company was started in 1979 and was in production until 2010. Caliber models built during that time were the 28-, 30-, 33-, and 35-foot; 35-foot Long Range Cruiser (LRC); 38- and 40-foot; 40-foot LRC; and 45- and 47-foot LRC cruising yachts. Design was done in house by Michael McLeary Naval Architect.
Caliber is no longer in the boat-building business but continues on as a yacht brokerage firm run by George McLeary, specializing in selling previously owned Caliber Yachts. I have been on several surveys with George. It's always a pleasure having the actual builder on hand to answer questions regarding construction details. Unlike many boats that are out of production, actual first-hand information regarding Caliber build, design details, and support is still readily available.
Caliber 40
The Caliber 40 came in two versions: the original Caliber 40, which was introduced in 1992, and the Caliber 40 LRC introduced in 1995. Production of the LRC continued, from what I can determine, until at least 2006. LOA, LWL, beam, draft, and displacement specifications for both boats are identical. The main difference between the two models is the significant increase in fuel and water capacity from a fuel capacity of 55 gallons to 212 gallons; water capacity was increased to 179 gallons.
It is unclear if the original 40 was produced alongside the 40 LRC or was discontinued in favor of the LRC. A total of 130 of the 40 LRCs were produced.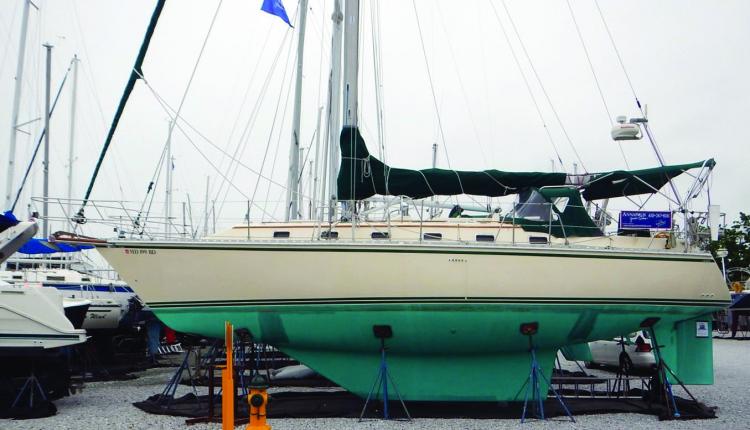 Systems
The engine and drive train in both models were similarly sized (50 to 55-hp) Yanmar engines with Kanzaki mechanical transmissions. Given the huge proliferation of Yanmar drive/Kanzaki trains, it still amazes me how durable and trouble-free these drive trains have proven to be.
Electrical and plumbing systems were originally built with predominantly domestic or at least mainstream products, making parts availability and upgrades relatively straightforward. As the boats age, I find that in general electrical systems on cruising boats can tend to get heavily modified as the battery and charging technologies change and shipboard DC power requirements change overtime.
The rig and sail plan are generally considered conservative; several online comments have been made with respect to optimizing sail technology to improve windward performance and overall speed.
Construction
The hull from the shear to the keel is solid fiberglass without the use of core material. Lamination is with Isophthalic resin with an outer laminate of Vinyl ester resin and fiberglass matt below the water line as a defense against osmotic blistering. Blistering has not proven to be a significant issue with the Calibers. Interior reinforcement is accomplished with an internal bilge grid system and a builder described "multi-bulkhead bonding system." This system has proven to be strong and reliable and is used by several other well-known boat builders.
Decks are cored with plywood squares as opposed to panels of end-grain balsa core used by many other manufactures. In practice, balsa and plywood share similar fates if exposed to prolonged moisture exposure. Review of some of my previous survey reports seem to indicate that deck moisture absorption patterns are minimal and similar to most other boats with balsa-cored decks.
Different than most production boats, the fuel, water and waste tanks are fiberglass and integral with the hull. Fiberglass does not pit or deteriorate like aluminum or stainless and should last much longer then aluminum or stainless-steel counterparts.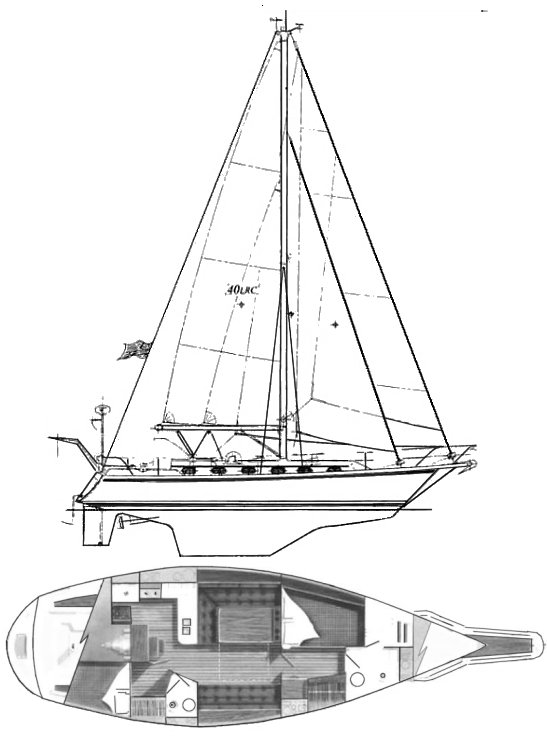 Findings and observations
Holding tank: When pumping out the holding tank with a powerful dockside system, there have been some reported cases of the vacuum from the pump creating a vacuum that can delaminate the tank ends or the hull sides or split the top of the integral tank. This could occur if the tank vent is clogged. The holding tank is quite large, and if full, adds a considerable amount of weight to the bow of the boat.
The second smaller "day" head in my opinion was not necessary; using this compartment mainly for storage is common.
The integral FRP (Fiber Reinforced Plastic) water and fuel tanks should last longer than conventional tanks; if tank replacement or repair is required on water or fuel tanks, it may require some major surgery to the cabin sole. Note: the integral tanks can confuse hull resonation and moisture readings.
Marketplace
As of February 2021, there are currently nine Caliber 40s on the market with prices ranging from $99,000 to $250,000.00. The large price differential is mostly due to the wide age as the 40-footer was produced for at least 14 years.
About the Author: Capt. Tarn Kelsey owns and operates Kelsey Marine Survey in Annapolis, Maryland on the Chesapeake Bay.