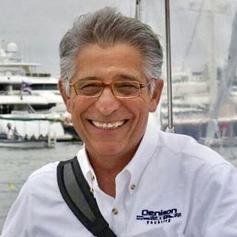 Dan Nardo is a seasoned Certified Yacht Sales Professional with over 35 years of experience.
Growing up in Erie, PA, the beaches of Presque Isle on Lake Erie shapeed Dans love for the water. He landed his first job as a bottom painter and worked on yacht refinishing projects. This ultimately led him to the Sailing Capitlal of the World, Annapolis, MD in the early '80's. He was specifically attracted to the growing opportunities in the yacht-brokerage business. Dan took a position with Annapolis Yacht Sales and, over the course of the next 35 years, made a reputation for himself as one of the company's top-performing salesmen, earning 15 Top Gun Awards throughout his career. Dan is a firm believer that the customer comes first and providing the best experience by setting realistic expectations. Now with nearly four decades of experience in the sailing yacht market, Dan delivers expert product knowledge to ensure his clients receive the best service while trying to find them the perfect boat, saying "there should never be an unhappy customer!". Besides his lovey wife and daughter, Dan continues to have a strong passion for his clients as well as the yachting industry and was excited to join the ranks of Denison's Annapolis office in 2018.
If you are looking to work with an expert, Dan is your guy!
Location: Annapolis, MD
Experience: Marine Industry since 1984
Hobbies: Boating in Herring Bay with my wife & daughter!
Email: [email protected]
Phone: (410)570-8533
---