My hands-down choice for a return charter: exploring Les Saintes and Marie-Galante
Were I offered a chance to charter in a place I had been to before, hands-down I would pick Guadeloupe. More specifically, I'd choose to spend my days exploring Les Saintes and Marie-Galante, sleepy French Caribbean islands to the south of Guadeloupe. Exuding relaxation, solitude, soft breezes, and easy sunshine, Les Saintes and Marie-Galante are, to these neophyte eyes, oh so French and oh so charming.
What would I do once I was there?
I'd pick up where we left off last winter and grab one of the town moorings at Terre de Haut. Last winter the moorings cost a reasonable 11 euros a night, and the nearby dinghy dock offered easy access into town. A ferry from Guadeloupe brings daily boatloads of tourists, so Terre de Haut has a quaint infrastructure including restaurants, bakeries, grocery stores, and shops with hand-made crafts. The enterprising managers of the local internet café, adjacent to the main square and ferry dock, let tourists clear in, check their email, surf the web, and drop off their laundry.
We arrived carrying dollars of the American and Eastern Caribbean variety and thought we were almost out of luck when it came to indulging in all the French delights around us because there is no bank on the island. Then we noticed the ATM on the main square and the crêperie across the square offering chocolate and caramel filled crêpes. Not 10 minutes later, we had euros in our pockets and sticky on our cheeks, ready to hit the town.
Shops offer bright plaid tablecloths, dresses, and children's clothes. Outdoor cafés beckon with cool refreshment. Down the main street, a fresh produce market takes place every morning next to the beach. Brightly colored fishing boats glisten in the sunlight as they rock at their moorings. Overlooking the harbor, a local doctor's office is housed in a building shaped like the bow of a ship.
Atop one of the island's hills sits Fort Napoleon. The walk to the fort offers impressive views of the island, and the fort itself has interesting exhibits on the island's history and wildlife. Most diverting to us was the sign posted above the old toilets warning visitors not to drink the water.
From Les Saintes we moved on to Marie-Galante, a sleepier cousin to the east. We rolled into the large, tranquil, shallow anchorage off Saint-Louis after a three-hour beat from Les Saintes. We set the hook in 10 feet of water with a bottom of sand and grass and took a quick snorkel to check the anchor. What a fascinating swim!
Empty wine bottles sporting six-inch long elkhorn coral and a menagerie of empty conch shells spoke to good times of the past. Butterflyfish, blowfish, and, for us, a previously unseen three-foot blue cornetfish patrolled the world under our keel. A gentle current and flat water made Saint-Louis an ideal spot to spend three days.
One day we used our non-existent French to converse with locals having only slightly more existent English. Nonetheless, we managed to accomplish our first mission: acquiring baguettes, pastries, and coffee.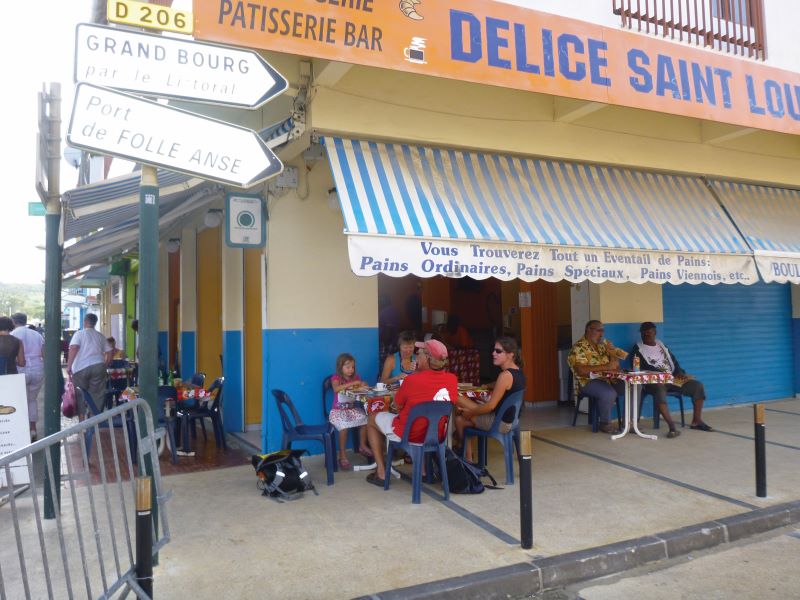 Fully fortified, we moved on to step two, figuring out how to rent a car for the next day. Marie-Galante is home to three rum distilleries that produce rhum agricole, a rum made from freshly squeezed sugar cane juice instead of molasses. The distilleries are open to the public, and when I say open, I mean open. Stick figure signs warn tourists not to mingle too closely with the sugar cane lest they get crushed by heavy rollers on the way to the fermentation vats. All the distilleries offer free tastings of their products.
A morning of rum tasting should naturally be followed by an afternoon of lazing on the beach, so we found our way to a beach on the Atlantic side with coral sand so soft and frothy, our feet sank down ankle deep with each step.
Alas, even trips as nice as this should come to an end. We noticed the French wines and cheeses, not to mention baguettes and salamis, were putting our ambitions at bay and our waistlines at record levels. So really these two islands are perfect for chartering; they offer a little dose of paradise, and sometimes paradise is best taken in small doses.
Learn More: Guadeloupe Islands Tourism and Dream Yacht Charter.
by Tracy Leonard
This article was originally published in 2014. Have you sailed to Les Saintes or Marie-Galante more recently? Send us your updates.