From Carriacou to Grenada
For racing sailors who find the winter months a bit dull, the Caribbean offers a wide range of great regattas, and one of my favorites is Grenada Sailing Week. The annual event will unfold January 29 to February 3, 2023. Unlike some of the larger, better-known events that attract big boats and big money, Grenada Sailing Week's charm is its intimate, low-key nature.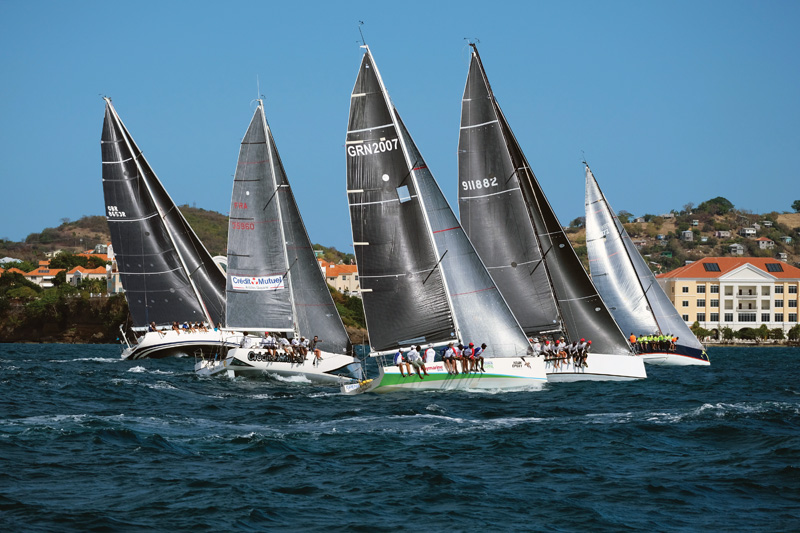 This year's regatta will start in Carriacou and end in Grenada. Carriacou is a small island northeast of Grenada that's famous for traditional shipbuilding. The first race on January 30 will circumnavigate Carriacou, and the second days' racing will go from Carriacou to Grenada. After a lay day on February 1, the final races will be held in the waters around Grenada.
The last time I raced in Grenada Sailing Week, festivities kicked off with a welcome party at Port Louis Marina, located in the capital of St. George's on the southwestern coast. The town is a bustling hub and home to the island's most famous restaurant, BB's Crabback. BB's sits right on the water and is best known for its signature dish "The Crabback" (made with local land crabs), a truly local culinary delight. You should also try BB's goat curry and "oil down" (the national dish).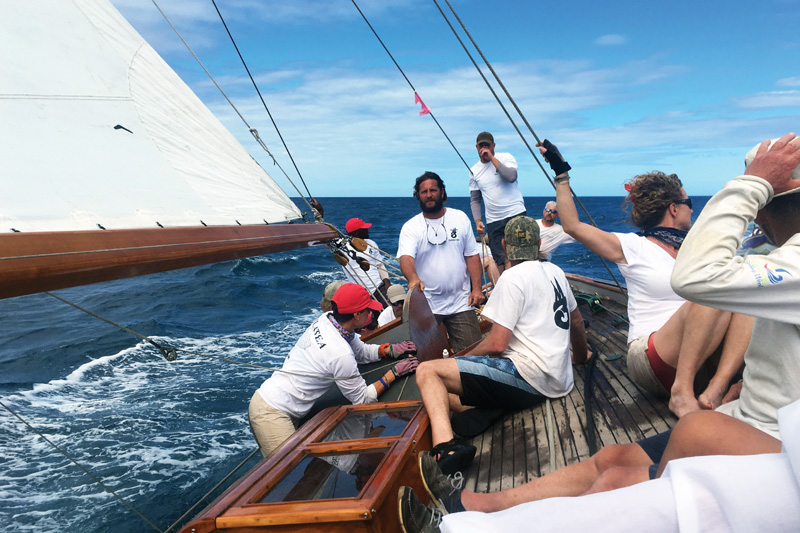 The Classics division
One of my favorite events of the week is the "classics" division. I was fortunate enough to be invited to race on Judd Tinius's 70-foot yawl Galatea. Designed and built in Sweden in 1899, Galatea is a beautiful craft that has a long history racing and sailing around the world.
Aside from being a beautiful classic yacht with elegant lines, Galatea also has a bit of stardust. She's been owned by a number of famous individuals over the years, such as violinist Jascha Heifetz, actor Dick Powell, and Hollywood producer Joseph Mankiewicz.
Before Judd Tinius purchased the yawl in 2002, she was neglected and rotting in a boat yard in Puget Sound in Washington state. Judd, realizing Galatea's history and potential, began restoring her and brought her to the Caribbean in 2005. Since then, she has gained many accolades, including winning the Antigua Classic Yacht regatta in 2007 and 2009. The year I raced her at Grenada Sailing Week, we took home the championship trophy.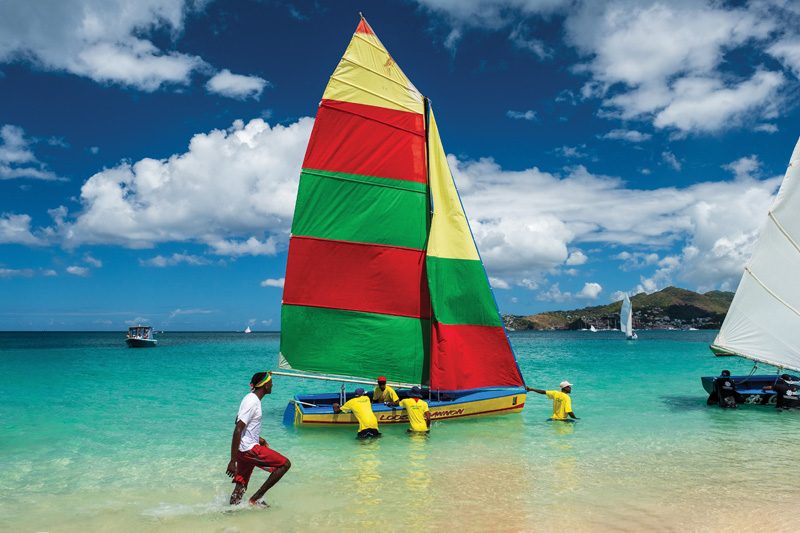 The annual Grenada Work Boat Regatta
If you get a chance to check out Grenada Sailing Week, keep an eye out for another wonderful "home-gown" sailing regatta that happens around the same time of the year on Grenada: the annual Work Boat Regatta. The event has its roots in informal races that were held between local communities who like to show their skill and love of boats by racing against each other for "bragging rights." Over the years, these races later developed into more structured regattas with cash and prizes.
The boats are roughly 16 feet long with white cedar keels, pine planking, and marine plywood. A good percentage still use traditional bamboo booms and masts. They're all built locally, mainly in Petite Martinique and Gouyave, but also on nearby Carriacou Island.
The annual two-day race is held on the expansive and picturesque Grand Anse Beach and usually follows Grenada Sailing Week. There are seven classes of boats, and each boat is supported by one of Grenada's local communities—Gouyave, Grand Mal, Petite Martinique, Sauteurs, Woburn—as well as some neighboring islands such as Carriacou, Mayreau, Union, and Bequia.
All of Saturday and part of Sunday morning are dedicated to Community Class racing. They try to get in six or seven races for each class, so the action never stops. Each crew is nominated by its local sailing community, and they take great pride in decorating their boats with colorful ribbons and banners. The boats line up on the beach until a siren signals the start. At this point, the crew jumps onto the boat and tries to fill her sails. At the finish, the crew must get close enough to shore to let the skipper jump off and down a shot of local rum. Now that's doing it local style!
By Eric Vohr and Michaela Urban
Learn more about Grenada Sailing Week and chartering in Grenada: Grenada Tourism Authority; The Moorings; Secret Harbour Marina; Sunsail.