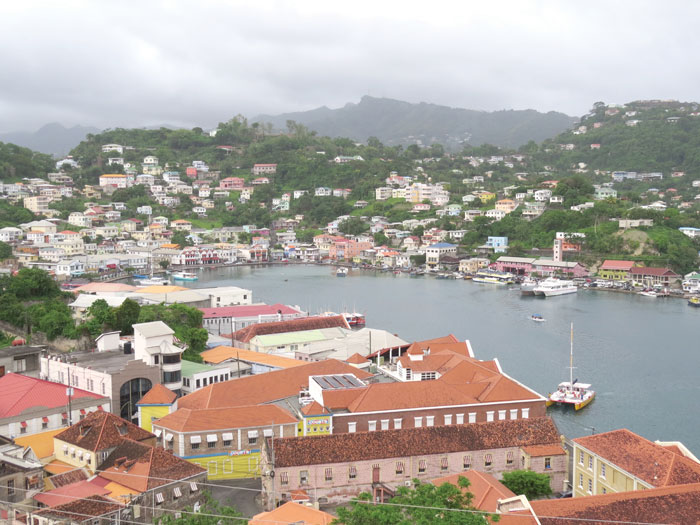 In the Eastern Caribbean, there lies a chain of postcard-perfect islands called the Grenadines that are as different from one other as snowflakes. They're divided between the two countries of St. Vincent and Grenada, and they stretch along 40 miles in a northeast-southwest direction. The better known ones include Bequia, Mustique, Tobago Cays, Mayreau, Union, and Carriacou islands, but there are dozens of islets in between with one-boat sized anchorages to drop the hook for a week and set about redefining civilization.
The islands' pristine beaches, crystalline lagoons, and proximity to one another make them a perfect charter destination with boats provided by large companies including Moorings, Sunsail, Dream Yacht, and Horizon. Although most of these organizations have their main bases in Grenada, one-way charters or ones that start in St. Vincent, are also available.
This is not a first-time charter destination, as typical conditions are 20 to 30 knots of wind and four- to six-foot seas. That said, you'll get in a lot of sailing and maybe even practice reefing in these conditions, so if you're up for a challenge, this is the place to go.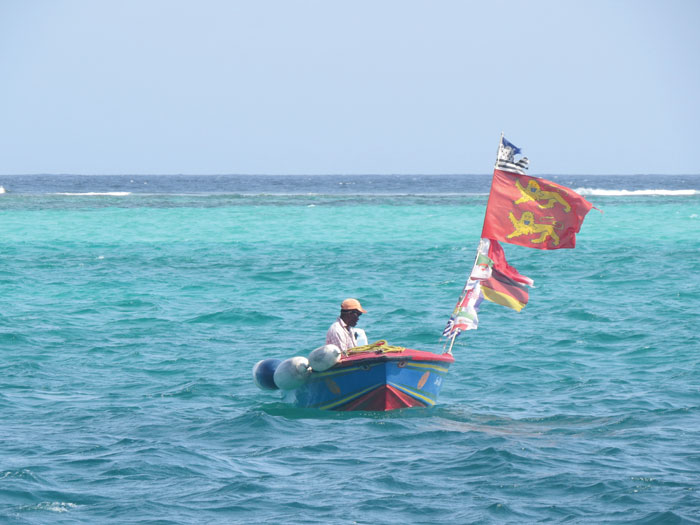 It could take a lifetime to sail all the nooks and crannies of this chain, but there are some not-to-be-missed highlights such as beautiful Bequia (pronounced Bek-way), the largest and northern-most of the Grenadines. Bequia's Admiralty Bay has moorings off the beach of Port Elizabeth as well as plenty of space for anchoring. The "boat boy" culture here includes men and women who come out in their small boats to assist with everything from hooking up to a mooring ball, to delivering fresh baked goods in the morning. They're quintessential entrepreneurs, and if you take care of them, they'll take care of you.
Bequia's waterside Belmont Walkway is a shopper's paradise, especially if you're looking for a good bar (The Whaleboner) or tasty pizza (Mac's). A taxi ride to the windward side will take you to Orton "Brother" King who has spent 20 years tending Hawksbill turtles. He rears hatchlings until they're old enough to survive on their own at age three. Who knew how much a turtle loves a good back scratching and will happily splash about for as long as you care to do the scratching.
From Bequia it is an easy 24-mile sail to Horseshoe Reef, which surrounds the Tobago Cays and protects four small islands. Because the Cays were designated a Marine National Park in 1998, rangers make the rounds and ask for $10 EC (Eastern Caribbean dollar which is about 40 cents US) per person per day. There are few distractions here and virtually no nightlife, so the Cays are about bringing your snorkeling gear, a couple of books, and a cooler of beer, and forgetting the world for a while. The snorkeling is sublime as the reef provides mostly protected water. There is even a roped-off turtle sanctuary where turtles feed on the grass only eight to 10 feet below the surface, and you can hear them munching as they graze. Enterprising locals come by in the early morning to bring croissants, T-shirts, and jewelry, and they'll organize an evening beach barbeque. The conch chowder is out of this world, but bring your own booze and bug spray.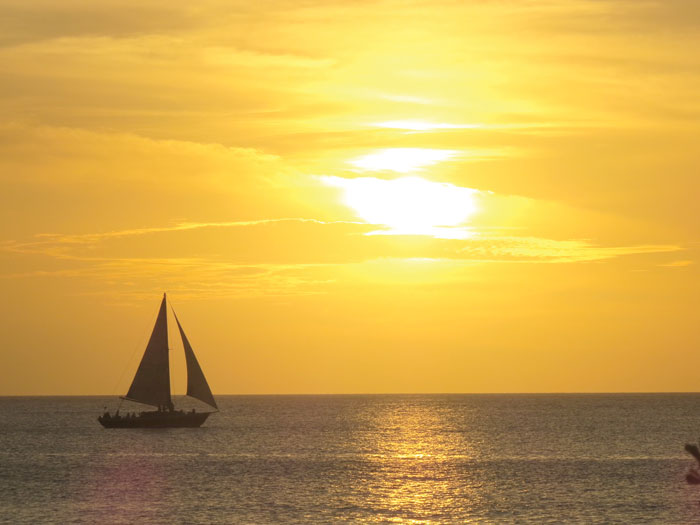 Parts of "Pirates of the Caribbean" were filmed in the Cays, so if you take your camera and stroll the various beaches, you might find a few angles that look as if Johnny Depp's Captain Jack Sparrow is about to come swaggering around the corner.
From the Cays, 900-foot Mt. Parnassus on Union Island looms on the horizon, a scant three miles away. The island's main town of Clifton provides great shopping with an open-air produce market and L'Atelier Turquoise jewelry boutique run by the very charming Annie-France DuLac. A sundowner at Janti's Happy Island in the harbor is not to be missed. It can only be reached by dinghy because it was built on the reef out of thousands of old conch shells gathered by Janti, the owner. When again will you be on a mini-island created entirely by an enterprising local?
Clifton is on the windward side of Union, and if the weather is a bit sporty, a better anchorage is Chatham Bay on the western side. This large bay with a long beach has shack-style restaurants advertising lobster dinners. Shark Attack's sign reads "Finger Licking Good Food." A rum punch is a must; finger licking is optional.
When Columbus plied Caribbean waters, St. Vincent was known by its inhabitants as Hairoun, which means "home of the blessed" (and today is also a brand of a popular local beer). The whole region around St. Vincent and the Grenadines has a tumultuous history that's a mixed bag of warring Indians, persistent European missionaries, wrecked slaves ships, and rumors of cannibalism that made for colorful, if grim, beginnings.
The remnants these predecessors left behind are like a debris field of fortresses, colonial architecture, and a mix of cultures including French, Spanish, British, African, and South American. So if sugary white beaches and turtles aren't enough of a draw for you, there's always the history to explore ashore. Either way, there's so much to do that it's easy to start planning the next visit before the first one is done, just to sip a Hairoun beer or scratch a happy turtle's back. I for one will return often because I'd argue that civilization is overrated, but civilization redefined, is sublime.
By Zuzana Prochazka